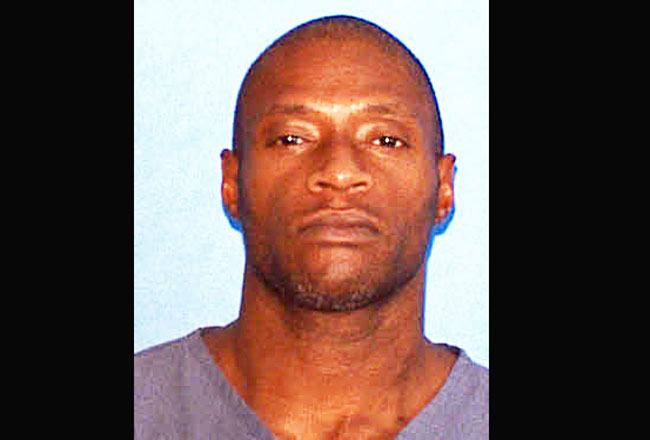 8 p.m. update–West Palm Police Department arrested escaped inmate Ronald McCoy, 39, around 5:15 p.m. today in West Palm. FDLE received a tip that McCoy was in Palm Beach County and advised local agencies. A West Palm PD patrolman spotted the stolen maroon 4-door Ford F550 truck at the corner of 45th Street and Australian after getting a citizen tip. The citizen saw information about the stolen vehicle on the news. Inmate McCoy was in the truck, still wearing his prison uniform. McCoy was arrested without incident.
The Florida Department of Law Enforcement is investigating the escape, along with the US Marshals Service, Miami Dade Police Department and the Florida Department of Corrections.
Florida Department of Corrections Secretary Michael Crews said: "The Department of Corrections takes very seriously its primary mission of protecting the safety of Florida's families. I'd like to express our deepest gratitude to the Florida Department of Law Enforcement and all of our law enforcement partners for their steadfast diligence and skill in apprehending escaped inmate McCoy. DOC is continuing to investigate the matter in order to ensure such an escape does not happen again."
McCoy escaped from Dade Correctional Institution in Florida City, on Oct. 31, 2014. At this point in the investigation, Agents believe he hid in a trash dumpster leaving the prison. McCoy is serving a life sentence out of Alachua County for robbery with a deadly weapon.
The investigation into the escape continues. Anyone with information about this escape is urged to contact FDLE Miami Regional Operations Center at (305) 470-5500.
McCoy was transported to the Palm Beach County Jail and will be interviewed by FDLE Agents.
Earlier today:
Escaped and Dangerous: Florida Police Agencies on Look-Out for Inmate Ronald McCoy
Ronald McCoy, an inmate with a very violent past who was serving two life terms on armed robbery convictions at a prison in Miami-Dade County, remains at large after his escape on Oct. 31.
The Florida Department of Law Enforcement, with assistance from the U.S. Marshals Service, Miami-Dade Police Department and the Florida Department of Corrections, continues its search for McCoy, 39, who was sentenced in Alachua County in December 2004.
Investigators continue to follow leads and say McCoy could be traveling in a maroon 4-door Ford F-550 truck. The vehicle has beige "Caribbean Tree Farm" signs on two doors and could be towing a yellow utility trailer.
The vehicle was stolen not far from Dade Correctional Institution and last seen in Homestead at SW 390 Street and SW 192 Avenue.
McCoy is 6'3" and weighs 200 pounds. He has a small scar on his neck and a tattoo on his left arm that says "Bicep Pysco."
He has a violent past. Anyone with information about McCoy, or this vehicle, is urged to contact 911. Law enforcement should exercise caution.
The escape is the latest incident to put a dim light on Dade Correctional Institution, "a state prison that has been plagued by mismanagement and allegations of corruption and the abuse of mentally ill inmates by corrections officers," the Miami Herald reports. "It's not clear precisely when or how Ronald McCoy, who was serving life, slipped away, two sources at the prison told the Miami Herald. The prison is located south of Homestead."