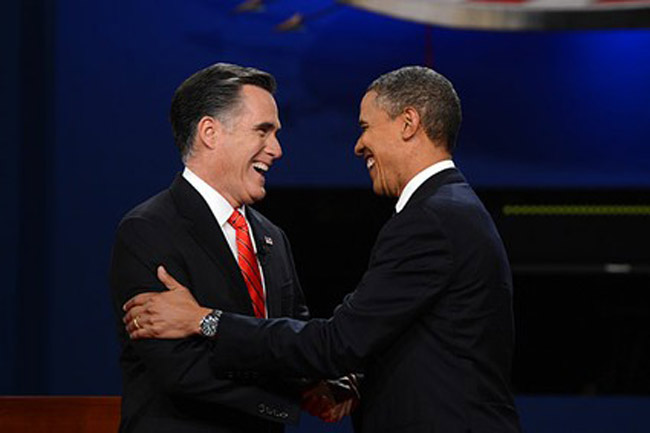 These are some of the areas of the state that are a given in terms of what the vote will be on Election Day. These can be campaign deserts for much of the time because there are so few swing voters, but they're also go-to places when it's time to get out the base.
Where Obama Will Win Easily
LITTLE HAITI, NORTH AND NORTHWEST MIAMI: House District 108, straddling Interstate 95 and Biscayne Boulevard, in the north end of the city of Miami, running along Biscayne Bay, through Little Haiti north through El Portal and into North Miami, has the distinction of being the state House district that voted most lopsidedly for President Obama in 2008 over Republican John McCain. Obama garnered just under 89 percent of the vote here to less than 11 percent for McCain. In 2010, Democrat Alex Sink got 86 percent of the vote in the area. The second best area for Obama is right next door in House District 109, taking in Opa-locka, West Little River, and Gladeview. The overwhelming Democratic strength continues through heavily African-American neighborhoods running north into Norland and North Miami Beach, and northwest into Miami Gardens, Carol City and Miramar. Miami Gardens, with more than 107,000 residents, is the largest city in Florida with a majority black population (76 percent.). Opa-locka is nearly 70 percent African-American. About 7 in 10 voters in this stretch of north Miami-Dade County are registered Democrats. House District 108 is 62 percent black, most of those Haitian-American. In fact, the communities of Golden Glades, North Miami and El Portal are the three communities in America with the highest percentage of Haitian-Americans, with nearly a third of residents claiming Haitian ancestry. With Hispanics making up another 25 percent, HD 108 is one of the least white areas of the state. Much of the area is pretty poor, but there are also some pockets of upper middle class residents, around Miami Shores Country Club and on the bayside of U.S. 1.
FORT LAUDERDALE: Fort Lauderdale west of US 1 (Federal Highway) running from roughly the Fort Lauderdale airport in the south to Oakland Park in the north and west across I-95 and out to Lauderhill, Lauderdale Lakes and Plantation in the west is also Democratic slam-dunk territory. The area is split into two House districts, HD 95, which went 84 percent for Obama in 2008, and HD 94, where Obama got just 83 percent of the vote. Democrat gubernatorial candidate Sink got more than 80 percent of the votes in both areas as well. Broward County as a whole is the center of the Democratic universe in Florida. When registration for the November election closed last month, the county had more than twice as many Democrats (593,515) as Republicans. (259,420.) Those with no party affiliation (269,566) also outnumber Republicans in the county. It's not the county with the highest percentage of Democrats, but it has one of the highest percentages of Democrats among big counties. Only Leon County, which includes Tallahassee, has a higher percentage of Democrats among counties with more than 100,000 voters.
EAST TAMPA: East Tampa is an enclave of overwhelming Democratic sentiment surrounded by a more modestly Democratic area and even some more Republican areas. Not surprisingly, this is another majority African-American area, with 51 percent of the voting-age population being black, 28 percent white and 20 percent Hispanic. It's also a poverty-stricken area: per capita income in East Tampa is about $11,000 a year, with about one in three people living below the poverty line. The area also includes historic Ybor City, built by Cuban, Spanish and Italian immigrants and for years a center of cigar making. Interstate 4 runs through the area – this is the part of the I-4 corridor that isn't in play.
WEST ORLANDO: The western neighborhoods of Orlando, starting downtown and including the Parramore neighborhood, before running northwest to Pine Hills, and southwest to Camelia Gardens and Tangelo Park are also heavily Democratic. In the new state House district that makes up most of the area, HD 46, Obama would have beaten McCain 82 percent to 16 percent, and Sink would have beaten Republican Rick Scott 78 percent to 18 percent. The area has large numbers of African-Americans and Hispanics. There also are large Caribbean-born populations and a large number of southeast Asians. The median household income in most of the area is in the low $30,000s, well below the statewide average. The Parramore neighborhood, adjacent to downtown Orlando, is the hub of the city's African-American community, and is a lock for Obama.
WEST PALM, MANGONIA PARK/RIVIERA BEACH: Just across the Intracoastal Waterway from some of the wealthiest enclaves in the nation along the barrier islands of Palm Beach, are some of the poorest. The urban core of Palm Beach County, from the city of West Palm Beach itself north through Mangonia Park and Riviera Beach, is well below the state average in median income, and well above in terms of the number of loyal Democrats. Registered Democrats are 63 percent of the electorate to 21 percent for independents and just 14 percent Republican. It's a more racially diverse area than some other Obama strongholds – the area is mostly inside House District 88 which is just 51 percent African-American with a sizeable portion of white voters, about 32 percent. Some parts of this area though are much more African-American – for example, Mangonia Park is 83 percent black. In 2008, Obama got 82 percent of the vote here and in 2010 Sink got 79 percent. There's no reason to believe that would change.
SOUTH DADE – GOULDS, LEISURE CITY AND HOMESTEAD: In the area straddling U.S. 1 going south out of Miami down to Homestead, Obama should win easily. More than half the population in the area is Hispanic – but these are non-Cubans, many of them Central American and Mexican-American farm workers who toil in Homestead's huge agricultural community producing most of the country's winter crops. It's also 37 percent African-American, and the House district that encompasses much of the area voted 79 percent for Obama in 2008.
SOUTH ST. PETE: The southern tip of the Pinellas County peninsula south of downtown St. Petersburg voted overwhelmingly for Barack Obama in 2008 and will again this year. The area is part of the new House District 70, which jumps across Tampa Bay and picks up areas of east Bradenton and down into North Sarasota. As a whole, that district is 61 percent Democrats and voted 78 percent for Obama four years ago.
SOUTH BROWARD: Hollywood, Pembroke Park and the mainland part of Hallandale Beach, particularly west of US 1, gave Obama nearly 77 percent of the vote in 2008 and the registration for Republicans is only 16 percent. Democrats make up 61 percent of voters, independents 21 percent. South Florida has the second largest Jewish community in America, after the New York City area, and while the population has shifted north to Palm Beach County some, many Jewish people live in southern Broward County. Obama got about 75 percent of the Jewish vote nationwide in 2008 and despite criticism over his administration's relationship with Israel, Democrats cite polling in saying they still expect Jews will overwhelmingly vote for him again.
TALLAHASSEE AND GADSDEN COUNTY: Leon County and neighboring Gadsden County are overwhelmingly Democratic and another area where President Obama got more than 75 percent of the vote in 2008. Tallahassee is full of highly educated professionals and state workers, the majority of whom vote Democratic. Next door to the west, Gadsden County is the state's only majority African-American county, and the state's most heavily Democratic county by far. It's not that heavily populated, so it doesn't have the pull of a Broward County, but Gadsden County's newest registration numbers make this area invisible to Republicans. An enormous 78 percent of voters as of October 2012 in Gadsden County are registered Democrats, compared to 14 percent who are Republican. In the county's House District 8, which also includes much of Tallahassee, Obama won 76 percent of the vote in 2008.
Where Romney Will Win Easily
THE WESTERN PANHANDLE: From the Alabama line to roughly where the Apalachicola River divides the central from the eastern time zone is almost assuredly going to be all Mitt Romney country. In terms of registration, the conservative voters in this area have started to register Republican after decades in which Democrats outnumbered Republicans here but voted GOP, particularly in the presidential race. Now, Republicans are more than 50 percent of registered voters in most of the Panhandle counties and all but one of the western Panhandle state House districts. But these areas voted against President Obama in overwhelming numbers four years ago – nearly 75 percent of voters in Santa Rosa County-based House District 3 voted for McCain. Romney may not do quite as well – McCain, a former naval aviator, was a particularly popular Republican in this area rich with military voters. McCain's early military career was in Pensacola, the birthplace of naval aviation. Eglin Air Force Base, Tyndall Air Force Base, and Hurlburt Field add to the overwhelming influence of the military in this area – which accounted for McCain's strength but also accounts for Republican strength, generally. Romney is certain to win in all the counties west of the Apalachicola River: Escambia, Santa Rosa, Okaloosa, Walton, Holmes, Washington, Bay, Jackson, Calhoun, and Gulf, and two more counties even farther east, Liberty and Franklin.
SUBURBS SOUTH OF JACKSONVILLE TO ST. AUGUSTINE: St. Johns County includes St. Augustine, the oldest permanent European settlement in the state – and in America – and also is one of the reddest counties in the state in terms of performance. While just 53 percent of voters here are registered Republican, McCain nearly doubled Obama's vote total in the county, winning 65 percent to 34 percent four years ago. The St. Augustine area and Ponte Vedra areas are affluent, which points voters toward Republicans. That's also the case in the southwestern Jacksonville suburbs and exurbs of Orange Park and Fleming Island, also included in this area of GOP dominance. Republican strength will continue into the rural areas to the west of St. Augustine like Green Cove Springs Starke, and Palatka.
RURAL NORTHEAST FLORIDA: The Romney dominance should extend outward to the west and north of Jacksonville, too, though the number of votes to be gained in many of these areas is small. State House District 10, for example, which includes Lake City and Live Oak, but is mostly forest land, went for McCain 68 percent to 30 percent. Same for the area north of Jacksonville, including Nassau County.
FAR SOUTHWEST FLORIDA (NAPLES): Gov. Rick Scott's old neighbors will vote for Romney. In the Naples area, running north roughly up to just south of Bonita Springs and south to Marco Island, 63 percent of voters went with McCain while just 36 percent voted for Obama. This area of wealthy executives and retirees is likely to support former private equity firm executive Romney even more.
THE VILLAGES: As recently as 1992 the Villages didn't exist. Now, it's one of the biggest planned retirement communities in the country, spreading into parts of three counties with more than 50,000 people– most of whom moved there during the last decade. It's a place where Republicans outnumber Democrats 2-1 and the retired people here turn out in huge numbers – more than 80 percent of Villages residents are regular voters. The Republican advantage spreads out from The Villages into the Ocala area and going south and west into Wildwood and Bushnell.
–David Royse, News Service of Florida