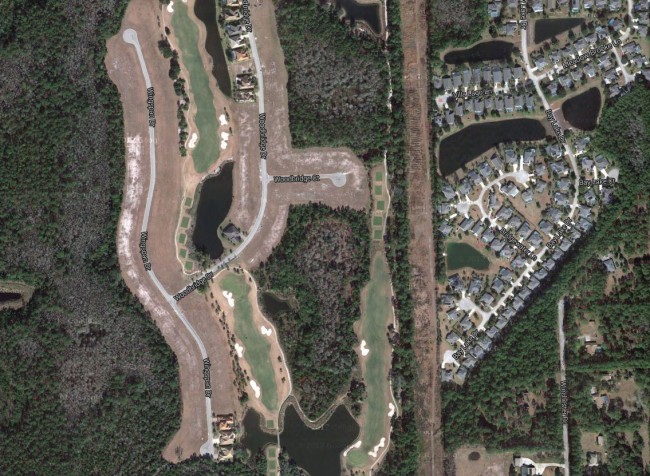 Monday morning (Oct. 28) Robero Martinez, a 43-year-old resident of Frostproof, Fla., was working on a roof at 424 Wingspan Drive in Plantation Bay when he fell and died from his injuries, the Flagler County Sheriff's Office reports.
The fall took place just before 10 a.m. Wingspan Drive is at the southern end of Plantation Bay, an Ormond Beach address that falls in the Flagler County service district, so the Flagler Sheriff's Office and Flagler County Fire Rescue responded.
Roofers in the United States have the fourth-most dangerous job, going by fatality rates in the industry–after loggers, fishers and aircraft pilots and engineers, according to the U.S. Department of Labor. Flagler County had seen a deep lull in construction-related injuries and fatalities since the end of the housing boom in late 2006. But construction activity has picked up significantly this year.
The house at the Wingspan Drive address was under construction, at the end of a stretch of road that had been cleared for development, but where finished houses were few. Martinez had fallen to the floor at the rear of the residence. He had been working with Jorge Chavez, 38, of Frostproof, and Uriel Cardona-Cruz, 32, of Lake Wales. The men were employed by Langford Services Inc. of Babson Park in Polk County, a company owned by Dean and Janet Langford.
Cardona-Cruz told police that while Martinez was unloading tile from a pallet onto the roof, he slipped and fell off. Chavez and Cardona-Cruz were on the roof on the right side of the residence, Martinez was on the rear side. Only Cardona-Cruz saw Martinez fall. Cole Beynon, 30, a Holly Hill resident also working at the site, told police that he was working in the master bedroom when he heard Martinez hit the ground. Beynon ran outside, tended to Martinez as best he could, and called 911.
There were 11 men working at the site at the time of the accident, including Martinez, who was taken to Florida Hospital Flagler. He was pronounced dead at 11:32am.
Though the Sheriff's report lists Langford Services as a subcontractor at the site, the permit Flagler County issued to the developer does not list that company. The roofing company is listed as Professional Sunshine Roofing Inc. of Orange City, owned by Santos Hernandez of Deltona. The developer listed on the permit is FF Florida Residential LLC, whose president is Mori Hosseini, owner of Daytona Beach-based ICI Homes. Florida Residential was incorporated just last year.
Alvin Gibbs, Idalie Aponte, and Richard Davis of the Occupational Health and Safety Administration arrived on scene to conduct their investigation that morning. A Sheriff's investigation is ongoing.
Though the number of fatal work injuries has been on a steady decline in the past 20 years, such injuries still claimed 4,383 workers last year, according to an OSHA report (down from 6,217 in 1992), a rate of 3.2 fatalities for every 100,000 worker. In Florida, 209 workers died accidentally on the job last year. Falls, slips and trips accounted for 544 deaths, or 12 percent of the total number of work-related fatalities. (Read OSHA's "Fall Protection In Residential Construction" document here.)
In 2010, according to the Centers for Disease Control, hospitals treated 2.3 million cases of nonfatal fall injuries among older adults, with 662,000 victims requiring hospitalization. That year, 21,700 people died from falls.