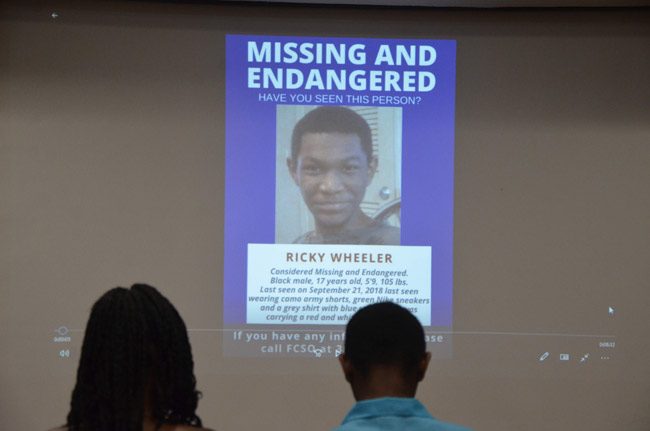 So much of 17-year-old Ricky Wheeler's life has been surreal lately, as it was when he sat this morning, facing a projection of his own portrait on a missing-and-endangered poster disseminated when he went missing from his Town Center apartment on Set. 21.
It was surreal, his mother said, the moment Flagler County Sheriff's Office personnel informed her that he had been found unharmed five days later, after a massive search that involved some 100 volunteers that final day. "I was just excited, I was really, really excited and overwhelmed, overjoyed," Ricky's mother Tyisha Wheeler said. "I cried, I was just shocked, amazed. I mean, just everything, every feeling you could think of I was going through at that moment. I just couldn't wait to get to the hospital to just see him, kiss him, to tell him how much I loved him."
It was just as surreal once she got to the hospital she said. "He was awake, just aware of everything. He was really tired," Wheeler said. "Weak, but he was aware of everything and everybody around him." He'd soon be transferred to Orlando's Children's Hospital, where he remained a few weeks before being returned to his home, and fitted with a wrist device that now ensures that if he were to go missing again, he could be located quickly.
Today, Sheriff Rick Staly hosted an appreciation ceremony for the 100-some volunteers who took part in the search, and for sheriff's personnel, all of whom received commendations and appreciation certificates. It was also the first time Ricky himself took part in a public event centered on his disappearance and recovery. He sat with his mother and 21-year-old sister Isis in the first row taking it in, with his Flagler Palm Coast High School teacher Kate Kastner nearby.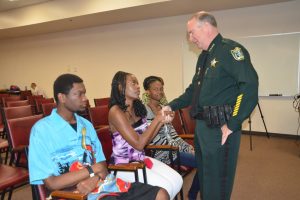 "Since he's been back," Kastner said, "he's himself, does his classwork, can't complain about that, has fun, hsi friends are all excited that he's back, having fun. We've been on some field trips, doing all that good stuff. He's doing great. I'm real proud of him."
And Rick, a senior, is graduating this year.
A few dozen people turned up for today's recognition, and when Staly called up Ricky's mother to speak, she spoke on the verge of tears, but steadily and without hesitation: "I'm so, so thankful for each and every person that came out that day to look for my son Ricky," Wheeler said. "The only reason why we're here today, he's here today, is because of you guys. I really didn't think that this outcome would be the outcome that it is. But I'm truly, truly thankful for each and every one of you here in Palm Coast. It really shows how much we can come together in a time of need, and a time when a tragedy like this can happen. So I just want to thank you so much from the bottom of my heart that everything you did, all the hours that you spent, all the time that you spent, all the money that you spent looking for my son, I will be forever grateful and so will he. I thank you so much. I cannot stress that enough."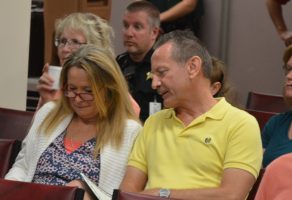 Among the audience were Dawn and Anthony Butrym, the couple who would be first to come across Ricky's clothes in a clearing near a large pond beyond where Market Avenue dead-ends, north of its intersection with Central Avenue (near the Town Center Publix).
"I have to tell you that as the days drug on, we shared that same concern," Staly said of the fears that were gripping volunteers and his ranks in the hours leading up to Ricky's discovery.
"This family experienced every parent's worst nightmare," Staly told the assembly. "Their child vanished. But our community, most of them strangers to the Wheeler family, stopped in their tracks to help find them. The support was overwhelming, and it was a testament to Flagler County and the people that live here. I believe Ricky was found alive because of the massive efforts of our great community,"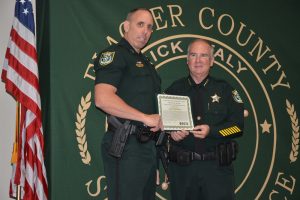 The story, he said, "could have a had a very different ending. Often we hear in the news a lot of the bad in this world. In fact we heard it this morning coming out of California. On Tuesday, September 25th, we got to see a whole lot of good. I'm proud of this community and I'm thankful that you all came out that day to help bring a family back together."
He said only a handful of people at the sheriff were receiving commendations, though "it was an all hands on deck" effort led by Chief Paul Bovino, who was among those singled out by Undersheriff Jack Bisland (along with detective Nicole Quintieri, Sgt. Jon Dopp and another sergeant in charge of investigations).
"Your leadership during this successful search operation," Bisland told Bovino, "was exemplary. With a sense of urgency, you ramped up the search efforts when it was determined that Ricky was endangered, you summoned the resources necessary to conduct an effective search of an area within a two-mile radius of Ricky's residence."