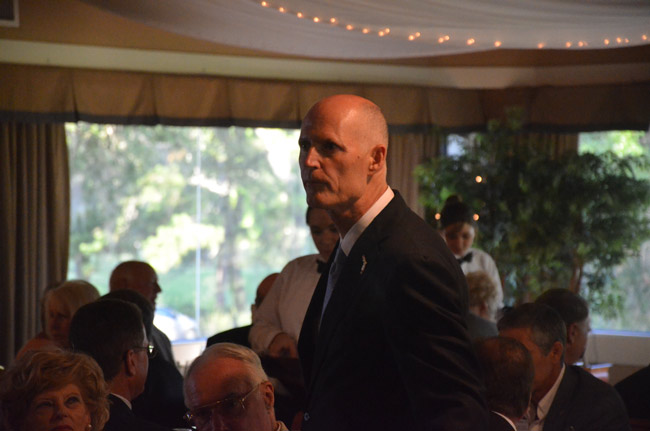 Florida's economic achievements, which have been richly touted in recent congratulatory letters signed by Gov. Rick Scott, are now suggested grist for phone calls from state employees to business owners.
A bank of 20 phones has been set up in the Department of Business and Professional Regulation's Northwood Centre in Tallahassee for a weeklong campaign called Florida Business Outreach Week.
On-the-clock state employees from a number of agencies have been splitting shifts since Monday to call businesses from a list provided by the Department of State.
People who are called are being asked how things are going for their businesses and if they have any ideas on how legislators during the 2014 session can improve Florida's economy.
"The goal of this initiative is to obtain feedback from businesses and what suggestions they might have for the state to better assist them or what challenges they are facing," Department of Economic Opportunity spokeswoman Jessica Sims said in an email.
Suggested talking points included with the phone-bank script encourage employees to sprinkle into conversations some general messages such as: "Florida is the best state in the nation to live, work, and raise a family;" "Last spring, Gov. Scott eliminated burdensome taxes on manufacturers;" and "Gov. Rick Scott recently completed the 'It's Your Money' tax cut tour and discussed plans to cut taxes and fees for Florida families by $500 million in the next proposed budget."
Through Wednesday 4,338 business had been contacted.
A list of businesses receiving calls was not immediately available. Sims said the businesses are ones that registered with the state in the last year.
A release posted Monday to herald the program, filled with quotes from state department heads, declares that "State agency officials will be calling Florida businesses this week to get feedback and discuss ideas on how to further improve Florida's economy."
Other participating agencies are the Department of Health, the Agency for Health Care Administration, the Department of Environmental Protection, the Department of Revenue, the Department of Education, and the Department of Transportation.
The phone-bank program comes in the wake of more than 620,000 letters sent by out by the state with Scott's signature that congratulate people such as law-school graduates, lottery winners and new business owners.
The letters also have highlighted the state's advances under Scott's watch.
The congratulatory letter sent to almost 400,000 business professionals — linked to the reception of business licenses for 2013 — includes a brief biography of the governor.
"Only in America can anyone from any family or zip code have the freedom and opportunity to pursue the American dream," Scott's letter said. "I know, because I have been blessed to live the American dream. Growing up, my parents struggled financially. In fact, when I started school, we lived in public housing. At age seven, I started my first part-time job selling TV Guides door-to-door."
Scott has said he views the missives as a way to applaud individuals and to promote Florida.
His critics say some of the messages include language that deviates into campaign talking points with the governor up for re-election in 2014.
State agencies involved in the latest business outreach program have been asked to provide two employees for each of the 9 a.m. to noon and 1 p.m. to 4 p.m. shifts each day this week.
Messages from state employees left on voice mail direct people to return comments to the Governor's Citizens Services Office.
According to a memo sent to different state agencies, the event is "focused on ensuring Florida is creating and maintaining a prosperous climate for business to grow and create jobs for Florida families."
A social media hash tag — #FLBizAssist — has been set up to promote the program and for the different agencies to highlight businesses that have been helped with the current campaign.
Through Thursday afternoon only the Agency for Health Care Administration, Department of Health, and Department of Environmental, Protection had posted messages with the hash tag on Twitter announcing the program.
–Jim Turner, News Service of Florida