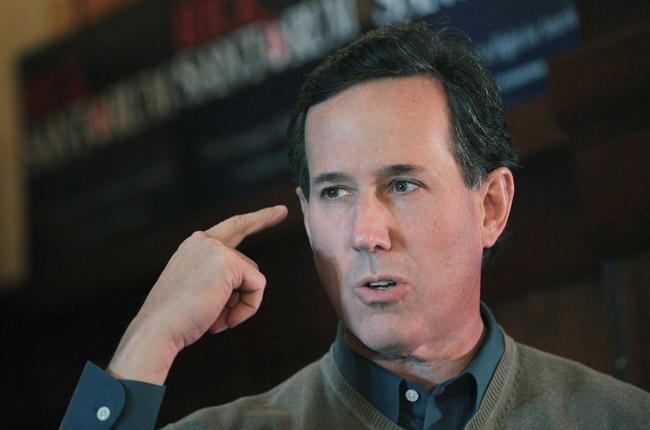 With his surprise showing in the Iowa caucuses Tuesday, former Pennsylvania Senator Rick Santorum might have won himself a second look from voters in Florida's Jan. 31 primary.
But he starts out behind and likely needing more than the momentum of a strong showing in Iowa — he is essentially tied with former Massachusetts Gov. Mitt Romney, who won by eight votes — to be a factor in Florida.
And, political observers note, the Iowa vote was the first of three contests before Floridians head to the polls at the end of the month, with primaries in New Hampshire and South Carolina likely to shake up the field again before the Sunshine State votes.
According to a poll by TelOpinion Research in the middle of December, Santorum was tied with former Utah Gov. Jon Huntsman for last in Florida with 1 percent. Frontrunner Romney and former U.S. House Speaker Newt Gingrich, who came in a disappointing fourth in Iowa, were far ahead with 27 and 26 percent of the vote, respectively.
But 31 percent of Republican voters in Florida said they hadn't decided who to back, meaning the race remained volatile.
Santorum did do slightly better in a straw poll of party activists in Orlando in September, coming in fourth behind pizza magnate Herman Cain, who has since dropped out, Texas Gov. Rick Perry and Romney.
In any case, Santorum had fewer resources available to him than competitors like Romney, Gingrich and Perry — something that could come into play when the candidates move to Florida, the most expensive state among the first four contests.
"With 10 media markets, it's not Iowa," said John Stemberger, president of the Florida Family Policy Council.
Stemberger has endorsed Perry but admitted that the Texas governor "does not seem to be resonating."
But money is not the only thing that could trip up Santorum in Florida, observers say.
Susan MacManus, a political science professor at the University of South Florida, said Republicans in the state are more concerned about electability and less worried about the cultural issues credited with helping Santorum vault to the front in Iowa.
"Without question, the Florida Republicans are more about fiscal conservatism than social conservatism," she said.
At the same time, Romney excels in money and organization but is still fighting the nagging perception that Republicans haven't accepted him. Almost three fourths of Republicans in Iowa voted for another candidate, and Romney's share of the vote was almost the same as he drew in 2008.
"Romney has challenges too," said Matthew Corrigan, a political science professor at the University of North Florida. "He's got all the weapons, but he doesn't have the passion."
The intervening contests will begin to shake some of that out. Efforts to consolidate conservatives behind one anti-Romney candidate might be stronger as the results prompt some candidates to drop their campaigns.
"The biggest thing that's brought clarity for social conservatives is Michele Bachmann dropping out," Stemberger said.
Other candidates have staked their campaigns on other states. After beginning his campaign with an Orlando headquarters, Huntsman has since staked his success on what happens in New Hampshire next Tuesday, though polls have shown Romney with a strong lead in the state.
"If he does well, then I think that he leapfrogs South Carolina and does hit Florida," MacManus said.
At the same time, Perry is preparing for something approaching a last stand in South Carolina, where he is expected to do well among rural and Southern voters that shape much of that state's GOP electorate.
"He has to do well in South Carolina," Stemberger said. "If he doesn't, it's over for him."
But Perry also faces obstacles among the conservative base in Florida, Stemberger said. The Texas governor's stock plummeted at the Orlando straw poll in part because he questioned the "heart" of those who didn't share his views on illegal immigration — which many interpreted as a swipe at conservatives.
"The question is, can the tea party forgive him for what they feel might have been an insult in the Florida debate?" Stemberger said.
If the first three states splinter among various GOP contenders, it could set up the Florida's GOP primary as "the great decider," MacManus said. But there is a flip side of that.
"The problem for Florida is, if Romney wins big in New Hampshire and somehow pulls something out in South Carolina, then Florida becomes less important," Corrigan said.
Gov. Rick Scott didn't seem to be too concerned about that possibility when interviewed Wednesday morning on CNBC.
"The place is going to be Florida," Scott said of what will make or break the primary.
He noted the state has 4 million Republicans and he said turnout is expected to be high, based on a large absentee ballot request.
"It's going to be a tough place to play, but you're going to have to play here. … You have to win Florida to win the White House. I don't know how you can do it without it," Scott said.
–Brandon Larrabee, News Service of Florida