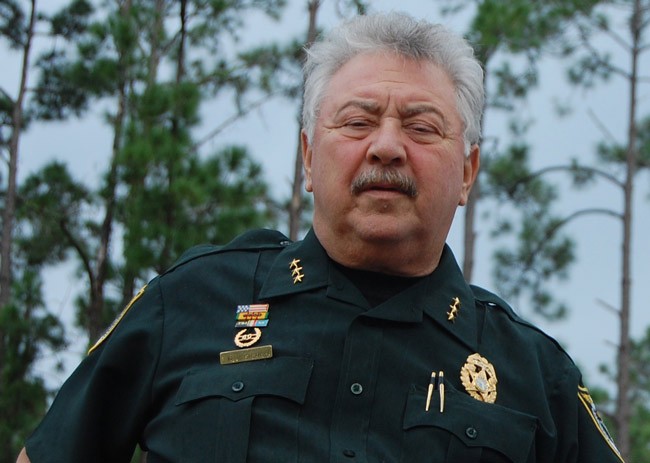 Last Updated: 2:09 p.m.
Viewing and Service Note: The viewing will be held at Craig Funeral Home at 1475 Old Dixie Highway, St. Augustine, on Monday, July 20, from 2 to 4 p.m. and from 6 to 8 p.m. The funeral service is scheduled for 10 a.m. Tuesday, July 21, at Turning Point Baptist Church at 3500 State Road 16, St. Augustine.



Rick Look, a Vietnam Veteran, a cop's cop for 42 years and the Chief Deputy at the Flagler County Sheriff's Office for seven years until three years ago under Sheriff Don Fleming, died Wednesday evening after a long battle with diabetes. He was 65.
"Since July," Look said three years ago when he took his leave from the sheriff's office, "I've had quite an ordeal, and it's sort of brought me to the point that I realize you can only go so far in this business." He said he'd miss the job, but that he was "at the end of my career here, 42 years."
Look lived in St. Augustine with his wife Karen. He had two daughters, Jovi and Kelly. Look is also survived by son Timothy E. Look, daughter Natasha Look Kreye and four grandchildren.
"It is sad. Too young, but he's been suffering for four years," Fleming said this afternoon, just back from a series of trips he'd been making to St. Augustine to see Look for the past week. The two had remained close friends since Look had left the agency. "He definitely left a footprint in life. He was a teacher, he was a friend, he was a professional, he was a leader, and he always gave me good guidance whenever I needed it. But more so than anything else he was a good friend, I'll truly miss him."
Lunsford, too, had been by Look's bedside in the last few days.
"The last few days it was rough, he was in pan, incredible pain, but he wanted to see his friends and say goodbye, he wanted to do it on his terms. He was a tough guy," long-time friend and fellow-Vietnam veteran Stephen Lunsford of Palm Coast said. The two men have five Purple Hearts between them, and cooperated on bringing to Heroes Park in Palm Coast the Military Order of the Purple Heart monument in 2010. At the time, Look was commander of the local chapter of the Military Order of the Purple Heart.
"He called about a week ago and said, 'Steve, this continuing dialysis I've put my family, it's enough, and I've put myself through, enough. I'm going into hospice. I'll see you tomorrow.'" Lunsford said he had relatively good days Friday and into the weekend, but that by Monday he was deteriorating rapidly.
"He was the toughest SOB I've ever known in my life in terms of physical toughness," Lunsford said. "He was tough but he was kind and generous and never, ever forgot his friends and the guys he served with in Vietnam. He just never forgot them. He always kept their memory alive and he was generous to a fault and kind to a fault. If he was your friend he was your very best friend and would do anything in the world for you. I've seen it time and time and time again."
St. Johns County Sheriff David Shoar was among those friends. He'll be delivering the eulogy at Look's memorial. Shoar has known Look since Shoar was a patrolman and Look worked for the Florida Department of Law Enforcement, when even then Look lived in St. Augustine. He always kept a pot of coffee going for Shoar to stop buy and "caffeine up," Lunsford said. "I think Rick was holding on to see Dave, and when Dave got back—he had  a deputy come over and have a little presence, be there on site to help—and Rick, right after he saw Dave, he passed."
So it was. Shoar had been at a sheriff's conference earlier this week in the southern part of the state. "I got back yesterday at about 4 in the afternoon and by God he held on, because he didn't pass on until about midnight," Shoar said.
Shoar is a Gulf War veteran who was a sergeant with the St. Augustine Police Department when he first met Look, halfway through Look's career. Look was with him when Shoar became chief in St. Augustine, then when he was elected sheriff.
"We all have acquaintances and we all have friends and we all have real good friends. Rick was one of those guys who if he was one of your real good friends, he was going to be with you wherever you landed," Shoar, who considered Look a mentor, said in an interview this afternoon. "We've got thousands of people lined up to tell us what we want to hear, we only have one or two who line up to tell us what we don't want to hear. He was one of those guys."
There was irony in Look's life, too, as Shoar described it: "When he came back from Nam he became a cop in Washington, D.C., so one month he's in the jungle of Vietnam, and the next he's protecting the rights of the demonstrators in Washington, D.C." Look understood that policing wasn't necessarily about arresting people, which constitutes "a very small percentage" of the work. "Rick was about helping people," Shoar said. "He's one of the guys that America should be very proud of, I'm not sure that they are, but they should be."
Look was hired as Fleming's chief deputy in 2005, when Look was an FDLE special agent in charge for the Jacksonville region. He'd been at FDLE since 1978, after starting his cop's career as a patrolman in the Washington, D.C. and St. Petersburg police departments. He was a graduate of the FBI National Academy. He remained involved in local charities and associations after his retirement.
One thing Look would always say about monuments regularly, whether at Purple Heart occasions or at other times when he was near monuments: "It's not about honoring war, it's about honoring the warrior."
"He had an influence on people not only in the law enforcement community but outside law enforcement. People loved him," Fleming said. "They wanted to be around him. The young deputies, they respected him. As a law enforcement officer, that's all you can ask for. I loved him like a brother. He was a good man. I hated to see him go but he told me last week, I just can't take the pain anymore."
Sgt. Michael Van Buren, an 18-year veteran at the Flagler County Sheriff's Office, said he wasn't close to him, but recalls that when Look joined the sheriff's office, "he adopted us and our citizens as his family and wasn't afraid to push us to be the best that we could be."
Shoar was with Look last night. "He was peaceful and OK, comfortable," Shoar said. "He looked peaceful, he wasn't sweating. He's going to join a bunch of his buddies now, and that's good."