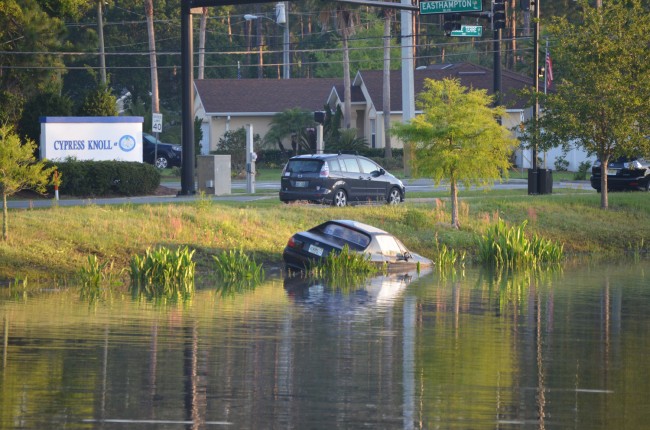 At 6:41 Wednesday morning, two bus drivers driving by the Town Center Publix at Belle Terre Parkway and Easthampton Blvd. in Palm Coast called 911 to report an odd sight: a car was in the retention pond by the store.
The car, a 1993 Honda Del Sol, was unoccupied. It was facing north, about one-third submerged, mostly on the passenger side, giving the driver's side ample room to get out. There was no one there when deputies arrived on scene, according to a sheriff's spokesman. But there were no indications of foul play, the sheriff's office said.
The car belongs to Joshua Michael Hilton of 32 Rainbow Lane in Palm Coast. Earlier, at 2:52 a.m., deputies had been called out in reference to Hilton, who was observed in the area of Point Pleasant Drive and Belle Terre Parkway–drunk, but on foot. Deputies took him back to his house. There were no indications at the time that he had been involved in a crash.
It now appears that Hilton may have driven the car into the pond, walked away, then been spotted by police and taken home, with his car spotted at daybreak.