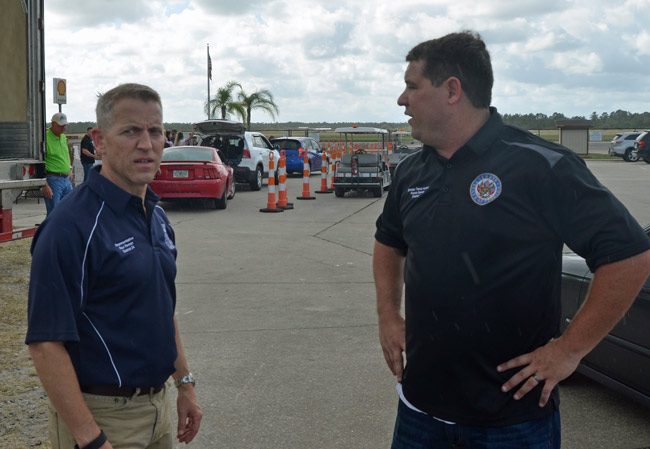 Sen. Travis Hutson and Rep. Paul Renner, Flagler County's two state legislators, have asked a L egislative oversight committee to audit the troubled East Mosquito Control District, where a $1.1 million deficit was uncovered last month. It is the first indication that the tax-supported district, which has itself so far refused to conduct an audit in the wake of the crisis, will be examined independently, and by an legislative arm with presumably considerable resources to do so.
In other words, the legislators don't want the district's financial crisis so quickly swept under the rug.
"Flagler County's Mosquito Control District recently reported a budget deficit of $1,100,000.00," the legislators wrote the Joint Legislative Auditing Committee. "The district's total budget is $1,800,000.00, making this deficit very substantial and the subject of significant concern to county taxpayers. The district incurred this deficit while spending $2,100,000.00 to construct a new facility for its fourteen employees, a facility that includes an adjacent helipad." They added: "The district's dramatic budget deficit in relation to its overall budget requires investigation and justifies an independent audit."
The Legislature created the Joint Legislative Auditing Committee. It is a panel of six senators and five House members responsible for oversight of financial operations of "all areas of government in Florida." The panel itself does not necessarily conduct audits, but does so through the office of the state Auditor General or the powerful Office of Program Policy Analysis and Government Accountability, Florida's non-partisan equivalent of federal agencies like the Government Accountability Office or the Congressional Budget Office.
It was notably involved in reviewing overspending at Flagler County's new courthouse in the middle of the last decade, where $5 million was misspent.
"Their role," Renner said in an interview this afternoon, "is going to be to look at the facts and hear from people on this issue or any other of a similar type around the state and make a request, I hope, at the end of that process, for the Auditor General to conduct an audit of the Mosquito Control District and see how we can prevent this type of thing from happening in the future." He added:
"This is a first place to start in conducting an audit to try to discover what went wrong and what internal controls are missing that would ahve alerted the commissioners and the employees to the emerging shortfall."
An audit through the Joint Legislative Auditing Committee is designed to have teeth, compelling some state agencies under review by law to submit a report responding to the audit and indicating what measures that agency will take, or has taken, to address any issues uncovered. A local government district does not appear to fall under that category–but it does fall under the committee's jurisdiction if it is determined that a financial emergency has developed. A financial emergency is defined in law. Whether it applies at the district or not will be a matter of interpretation. If that determination is reached, a series of measures are possible, including the establishment of an independent "financial emergency board" to oversee the activities of the local government entity.
Based on the mosquito board's conclusions at a meeting earlier this week, those conditions either have been staved off or never existed, since, according to district and county officials–the county administration lent its financial director to analyze the books–no bills have gone unpaid, and no deficit is anticipated next year, assuming a budget with expected revenue from asset sales and budget cuts is enacted. The $1.1 million deficit was largely at the expense of the district's reserves, which had swelled to $2 million and have since been almost wiped out. That still does not explain where the money actually went: the district attributes the loss to its new, $2.1 million building. But that has not been independently verified.
And the district's three elected commissioners, meeting Monday–Florence Fruehan, Commission Chairman Julius Kwiatkowski and Barbara Sgroi–showed no inclination to order an audit of their books even as they spoke harshly of their current independent auditor, suggesting it would be fired, and as Fruehan suggested without naming her that Rachel Knapp, the district's finance director, should also be fired. Joe Cash, the district's long-time director–he was hired in 1978–resigned a week ago.
On the whole, however, commissioners acted as if the crisis had passed (layoffs affected four part-time employees), that they were interested in changing the way they were to be informed about district finances in the future, but that a look back at the books was not necessary. They appointed Mark Positano, Cash's second in command, who's been at the agency since 2015, its new director.
Positano could not be reached by phone late Friday afternoon but he then emailed: "I have not been contacted by any state officials. We are required to have an independent audit conducted annually. That's what brought the carry forward amount issue to light to begin with. As an additional step, we invited the County's budget and finance person in to get their independent opinion as well. Anyone who wants to take a look at our finances is welcome to do so."
"Flagler residents pay additional taxes to support an independent mosquito control district and reasonably expect the district to achieve greater efficiency and cost savings," Renner was quoted as saying in a release jointly issued by his and Hutson's office this afternoon. "The lack of internal controls and safeguards that caused this deficit certainly call that efficiency into question. An independent audit will help determine what happened, who is responsible, and allow for appropriate corrective action."
"It is important that we know how the Flagler Mosquito Control District uses its budget year to year," Hutson said in the release. "An
audit will give us an opportunity to see where taxpayer dollars are spent."
Once the findings of the audit are produced, "we can take a look and see what the appropriate next step might be," Renner said.