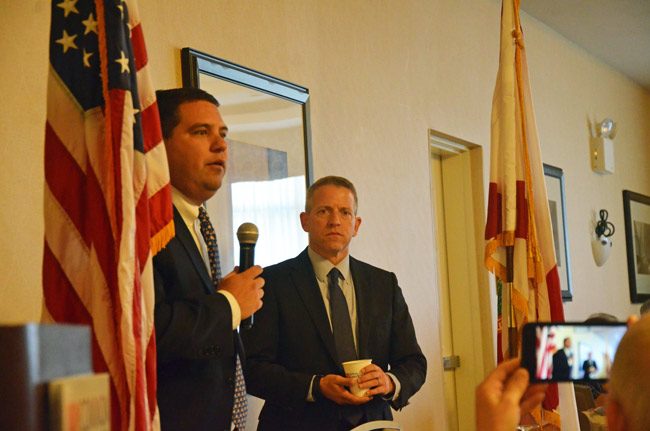 Rep. Paul Renner heard the word "congratulations" so often before and after his joint appearance with Sen. Travis Hutson at a chamber breakfast in Palm Coast this morning that you'd have thought he'd just gotten married, or had a child.
In fact, he had the political equivalent of twins: he was recently named Speaker of the House starting in 2022, assuming he keeps winning elections until then, and this week he got the chairmanship of the House Ways and Means Committee, a powerful tool of tax policy in the state. The chairmanship also gives Renner more leverage over bills that do and do not make it to the House floor while making him a full-fledged member of the House leadership.
"It's not a magic wand," Renner cautioned, "even the speaker, it's not a magic wand, but certainly it's an honor as a freshman to be asked to serve on the leadership team."
The two lawmakers who represent Flagler County in the Legislature gave an overview of what even they acknowledged was a messy legislative session—slow to get started and scrambling so much at the finish that a special session was necessary to adopt a budget and settle the manner in which a medical marijuana constitutional amendment is to be implemented.
The session was also rich in controversies and displeasing outcomes to many. Some of those voices were in the legislators' audience this morning: Flagler Beach Commission Chair Jane Mealy, prefacing her remarks with appreciation for the legislators' work overall, told them bluntly that "there was an assault on home rule," and that "cities really were upset this year."
That was the case, for example, regarding the implementation of medical marijuana rules, which Mealy feels strapped land-use decisions (her commission is considering a ban on all medical pot dispensaries this evening, even though Mealy would have rather approved dispensaries within city-crafted guidelines, but state law gives cities only two choices: ban them all or allow them indiscriminately). It was also the case regarding deregulation of wireless infrastructure, which will allow carriers to install transmission poles very permissively in municipal right of ways, giving cities little say. Mealy did not mention that issue, though sitting nearby were Palm Coast government officials, who'd had discussions about those rules a few weeks ago.
Hutson defended the Legislature's actions, particularly the new wireless rules, product of a bill he sponsored. "A lot of the bills that were filed maybe felt like an assault" he said, but only because people reacted to the originally filed bills, not necessarily to the final product. He was right in some regard, but wrong in others: the final implementation of the wireless and marijuana rules do minimize local government say, though Hutson, relishing his ownership of the wireless bill, said on its account: "I gave you a lot of flexibility."
On medical pot, he said more is to come. "We may look further ahead next year," Hutson said. "I don't think the medical marijuana issue is over. I think it's just beginning."
He also explained the messiness of the session—and that fact that "there was a lot of stuff where local governments would feel threatened"—on the make-up of the House and Senate in this last session: half the senators were new, a third of House members were as well. The coming session, Hutson said, will be "smoother" with a more weathered class of lawmakers, and "a whole different leadership style" under House Speaker Jose Oliva, a Miami Republican, and Senate President Bill Galvano, a Bradenton Republican.
Hutson and Renner each defended some of the more controversial bills of the year, bills they supported against local opposition, among them House Bill 7069, which revamped public education, shifting millions of capital dollars toward charter schools while diminishing charters' accountability, among other things, and also increased teacher bonus awards. In Flagler alone, Hutson said, 184 teachers will get $800-a-year bonuses for the next three years, 502 teachers will get $1,200, and 58 will get $6,000 a year, for the next three years.
He defended the shift of money toward charters ($329,000 in Flagler), saying districts should not get money for students they are not educating. He noted that one of Flagler's charter schools—Palm Harbor Academy, a name that slipped Hutson's mind—was to close because it received two failing grades in a row. In fact, the school got an F last year, but a D this year. "So they're not closing down," Diane Dyer, a senior district administrator, said.
As to the massiveness of the controversial education bill, which was hurriedly introduced at the end of the session, was not debated in committee and quickly approved on the floor of the two chambers, Hutson said, "if you take those pieces out individually, most of that passes and sails straight through." In fact, several provisions, including its "schools of hope" measure—which will allow charter schools to open immediately next to failing traditional public schools—had not "sailed through" when presented as individual bills.
Several Flagler County school district officials sat within a few feet of Renner and Hutson as they spoke, including Jim Tager, the superintendent. The school administration under Tager's predecessor, Jacob Oliva, and the unanimity of the school board, had written and spoken vehemently against many parts of the education bill, urging the governor to veto it. None of the school officials addressed the legislators during today's Q&A, but they have grappled with the implications of the bill in recent board meetings.
One of the reasons Renner won the speakership in 2022 is his loyalty to House Speaker Richard Corcoran, for whom he lifted some of the heaviest legislative weights of the year, including bills that would have ended funding for Visit Florida, the state's tourism arm, and Enterprise Florida, the state's economic development arm. Both bills were strongly opposed by local governments and some local businesses–which doesn't mean they were opposed by constituents at large, on behalf of whom Renner said he was speaking: We shouldn't be in the business of picking winners and losers," he said.
In the end, the two more drastic proposals to end funding for the agencies were reversed in negotiations with the governor—who supported more funding for both agencies—by restoring funding for Visit Florida and couching economic development dollars under another name, and a process that Renner says will not benefit individual companies anymore. "Those dollars must only be used in a way that benefits the public as a whole," he said. "Those moneys can't be used to benefit a single company."
The lawmakers were also taken to task for going too slowly on ending taxes on commercial leases, as Mark Langello, a commercial developers, told them: a 0.2 percent decrease in that tax amounts to $2 on a $1,000 lease, he said—not enough to be more than a symbolic gesture. But. Renner and Hutson said, the tax revenue from the levy, at $1.7 billion, is much too large to be eliminated in one swoop. It will have to be a gradual reduction, and one that ensures that what revenue is lost is made up in other ways, since it supports many public services. Still, they pledged, the tax will continue to be cut in coming years.
The Flagler County Chamber of Commerce's Common Ground Breakfast featuring Renner and Hutson was held at 8 a.m. at the Hilton Garden Inn in Palm Coast, drawing 80 people, according to the Chamber's count.