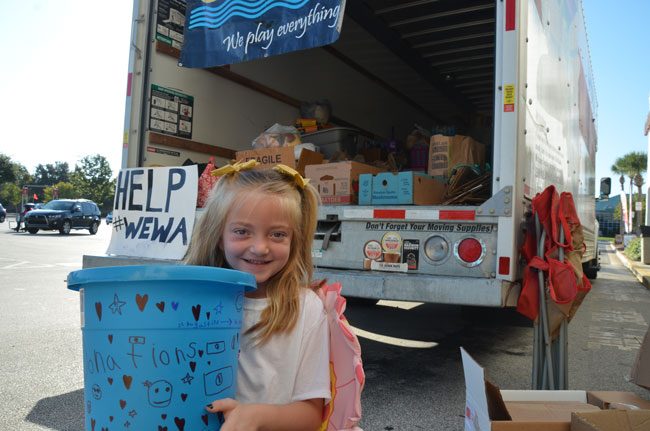 A 26-foot U-Haul truck is parked outside Winn-Dixie on Palm Coast Parkway since 9 this morning, collecting essential donated supplies for victims of Hurricane Michael, which leveled or severely damaged portions of the Panhandle and left many communities without grocery stores or basic necessities.
Tarps, diapers, hygiene products, paper towels, paper plates, cups, cat and dog food are among the most critically needed supplies. Water will be accepted but is not necessary as the Federal Emergency Management Administration is shipping in quantities of water for residents.
"We wanted to make a big difference in a little town," says David Ayres, general manager of Flagler Broadcasting, which is providing the truck. "One of our staff has relatives in Wewahitchka so we adopted them and found out some of the residents evacuated and are staying in Palm Coast. Very appreciative of what Flagler is doing and hope to get the truck filled up and on the way tomorrow or Wednesday."
The truck, provided by Flagler Broadcasting's Beach 92.7 FM and WNZF, will be outside Winn-Dixie until 6 this evening and again on Tuesday from 9 a.m. to 6 p.m. before Scott Reinhardt drives it Wednesday morning to the small town of Wewahitchka, population 1,900, about 15 miles from Mexico Beach, the town that was obliterated by the Category 4 hurricane last week.
"I know that town so well, I've been there my whole life since I was a little kid," says Scott Reinhardt, who grew up in Wewahitchka. He's a Flagler Broadcasting station manager in St. Augustine, and he and his wife Heather and his 6-year-old daughter Isabella are the nerve center of the relief operation, which started in St. Augustine Saturday and Sunday.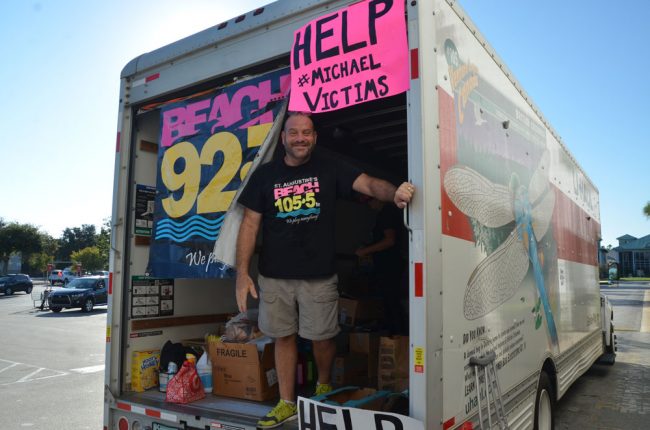 Scott will be driving the truck to Wewahitchka Wednesday, where his aunt migrated in 1947, where she taught school to most of the town's population and was the school's principal–she's 93, living in a nursing home–where his cousin was school superintendent and where his late grandparents retired in 1966.
"Knowing how poor they were, they didn't have much to start with," Scott said of the town's residents, describing the damages they sustained. "It's a good feeling being able to help out." The town's sole grocery store had its roof blown off. So right now, the closest functioning grocery store to the town is in Dothan, Ala., 90 miles to the north, making any supplies shipped in of critical importance.
As Scott spoke, Palm Coast resident Shannon McCurdy walked up with a large box full of supplies. She recalled Hurricanes Irma and Matthew in the past two years here, and the slight damage to her home. "Just a little flooding but nothing like they had in Flagler Beach," McCurdy said. "But definitely have compassion."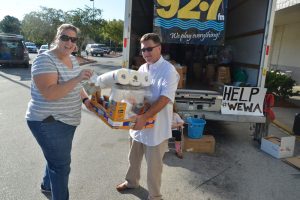 Isabella alternately sat on a tiny chair with her donation bucket she'd marked up to encourage donations or danced around the truck. "It would make me sad not to have a home," she says. "We couldn't get it back." Just after 9 a.m. she'd collected a respectable amount of dollars in her blue bucket.
"Most of the people I met this morning say they went through this for two years in a row with Irma, with Matthew, so they know the trauma, they want to do their part," says Kirk Keller, Flagler Broadcasting's director of sales. "It's kind of our community's way of saying thank you and paying back those who helped us during those two hurricanes."
The effort at Winn-Dixie was arranged through the store's fresh manager, Jennifer McKay.
"We just want this little bit to make a big difference for some people really need our help without going through Red Cross and other agencies, and red tape," Ayres said.