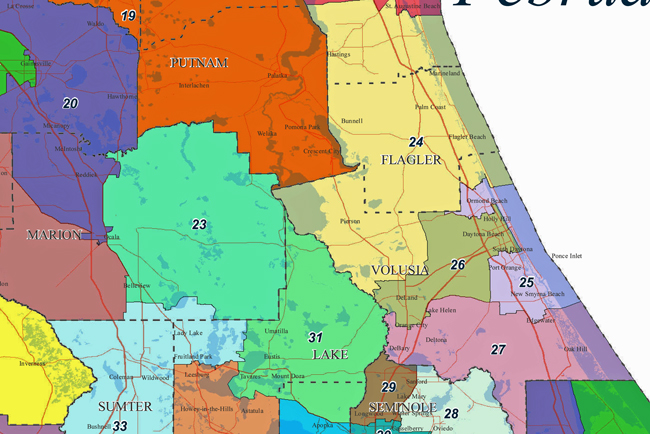 A Republican consultant trying to keep hundreds of pages of redistricting-related documents secret is asking the U.S. Supreme Court to halt the release of the records in the latest twist in a legal battle over Florida's congressional districts.
Pat Bainter on Wednesday asked U.S. Supreme Court Justice Clarence Thomas to issue an emergency stay blocking an order by the Florida Supreme Court less than 24 hours earlier that granted permission for the documents to be used in an ongoing trial challenging the constitutionality of the congressional map approved by the Legislature in 2012.
Bainter argues that the 538 pages of "confidential material" contain "protected political speech — internal deliberations and strategy, and the names and contact information for like-minded individuals who wish to remain anonymous," according to documents filed with the U.S. Supreme Court on behalf of Bainter, his Gainesville-based consulting company, Data Targeting, Inc., and several employees.
A coalition of voting rights groups, including the League of Women Voters of Florida, and seven voters contend the congressional map is unconstitutional because the GOP-dominated Legislature worked with Republican operatives through "public front persons" to create plans partial to Republicans. The groups say the map violates the voter-approved "Fair Districts" amendments, which bar lawmakers from creating districts that favor political parties or incumbents.
"In a nutshell, the respondents contend that the Legislature conspired with the applicants and others to subvert Florida's recently adopted redistricting amendments. Not so. The applicants are simply political consultants. They align with the Republican Party and conservative causes, and as a result are thus vilified by the Democratic-respondents. But this does not mean that the non-parties conspired to violate the law as respondents suggest," D. Kent Safriet, a lawyer for Bainter and the others, wrote in Wednesday's 40-page appeal.
Leon County Circuit Judge Terry Lewis had ordered that Bainter's documents be included in the trial, now in its second week, but that they remain shielded from the public. Bainter sued, and an appellate court overturned Lewis's order last week. The Florida Supreme Court on Tuesday decided that the plaintiffs could have access to the Bainter records during the trial but that the records, and any testimony related to them, remain hidden.
Safriet asked Lewis on Wednesday to excuse Bainter, one of the witnesses expected to testify before the trial is scheduled to end next week, from appearing until the U.S. Supreme Court acts on his emergency petition. Lewis refused. Attorneys for the plaintiffs in the case are expected to finish calling witnesses Thursday.
Since the trial kicked off May 19, testimony from Republican Party of Florida aides, GOP operatives and high-ranking legislators — including House Speaker Will Weatherford and Senate President Don Gaetz, who in 2011 and 2012 served as chairmen of the committees handling the once-a-decade redistricting process — has revealed secret meetings, deleted emails and admissions from at least one House aide that he leaked the Legislature's maps to GOP consultants. Districts identical to those drawn by RPOF staffer Frank Terraferma wound up submitted to the Legislature under the names of other individuals, including Alex Posada, a Florida State University economics student who later went to work for a Tampa lobbying firm co-founded by Weatherford's brother, Drew.
On Wednesday, former House Speaker Dean Cannon, who led the chamber during the redistricting process, said that he was angry when he learned that his right-hand-man Kirk Pepper, a former aide who now works alongside Cannon in a Tallahassee lobbying firm, gave copies of the Legislature's maps to GOP consultant Marc Reichelderfer, a close friend of Pepper and Cannon.
"I yelled at him and told him that was stupid," Cannon told David King, a lawyer representing the plaintiffs. "I said that was really dumb. And he apologized, and he agreed that it was."
Cannon said Reichelderfer and GOP operative Rich Heffley acted as go-betweens in an attempt "to restore good will" between the House and then-Senate President Mike Haridopolos, whose relationship with Cannon had soured during the 2011 legislative session.
King asked Cannon about an e-mail to Reichelderfer in which the speaker questioned why the Senate would release a proposed congressional map without allowing the House to vet it first.
In the email, Cannon instructed Reichelderfer to "to find out from Rich (Heffley)" why the Senate "would put out a map without everyone feeling comfortable with it, unless I'm missing something."
Cannon told King he wanted to "make sure they did not do anything that was politically embarrassing to the House … because at the time there was still a pretty chilly relationship between the House and the Senate. … I did not want the process to start out with a bunch of acrimony."
"You were wanting to make sure that the Senate accommodated your advisers Rich Heffley and Marc Reichedlerfer about what their concerns were?" King asked.
"No," Cannon said. "My expression here is, 'Look, as long as they don't put out something that is designed to in essence embarrass the House or point out some major flaw … then we're in fine shape.' "
Cannon also defended his approval of a secret meeting attended by Pepper, House redistricting aide Alex Kelly, Reichelderfer, Heffley, Terraferma, Ben Ginsberg — a prominent lawyer who has assisted national Republicans with redistricting efforts — and others at state GOP headquarters in December 2010.
Cannon said he wanted all of the individuals who had been involved in redistricting in the past or who had an interest in the new maps to meet before the process began to understand the impact of the Fair District amendments, which he had fought in court to have removed from the 2010 ballot.
"I thought it was appropriate to determine … the roles people inside and outside the process would play, because it was new and untested," Cannon said. "I thought it was very important that everybody knew what the rules were and how it was going to be carried out. …I was fairly active in my role as a presiding officer and wanted to make sure it was carried out right."
–Dara Kam, News Service of Florida