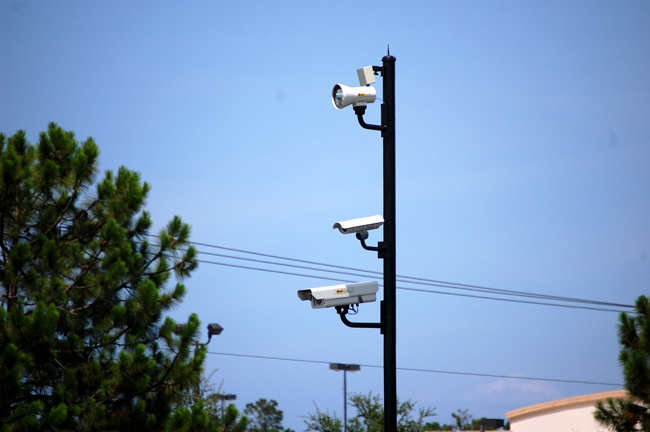 The money is virtually nil. Legal challenges may be ahead. A state law regulating the things may be repealed. And there's no hard evidence whatsoever–though plenty of anecdotal evidence–that they improve safety at intersections. But on Tuesday, the Palm Coast City Council decided to stick with its 10 spy-and-snap cameras, possibly changing some of their locations and maybe even the vendor who runs them.
The council–with only one member, Jason DeLorenzo, in opposition–decided to stick with the spy cameras even though city staff is lukewarm about them and the city attorney on two occasions this morning interceded to remind the council that the city may be on its own should it face potentially costly legal challenges in the future. One of those challenges is a class-action suit filed in October, on constitutional grounds, that aims to have all such traffic fines reimbursed.
"One life is worth more than the $19,000," City Council member Bill Lewis said, citing the sum total that the city can expect to clear from the cameras in a year, "so keeping a program like this running is very important to the safety of the citizens of this city and is worth the cost and worth the fact that we haven't lost as many people as we would have lost had these cameras not been there." Lewis had no evidence that the cameras had saved a life, though officials from the sheriff's office, City Manager Jim Landon said, are unequivocal about the cam,eras' benefits.
The cameras' benefit is unquestionable in one regard: it spares the sheriff's office, which provides law enforcement for the city, the trouble of policing intersection, a task its deputies don't cherish. It also helps the sheriff keep manpower down. But the sheriff has no evidence showing how traffic cameras have affected traffic accidents.
"If we decide to proceed," Mayor Jon Netts said, "if we move some cameras, I'd like some kind of retroactive study, maybe six months in, to see whether the incidence of bad driving has gone back up, and at some point, we've been with ATS for what, three years? A little over three years, it might be interesting to sample some of the other vendors."
When the city first installed spy-and-snap cameras beginning in 2007, the operation skirted state law by flouting a state prohibition against traffic cameras. But it was a cash cow. The cameras generated upwards of $1.65 million in the first four years, more than $1 million of that for city coffers, and $500,000 of it for American Traffic Solutions, the private company that runs the cameras.
Those days of profitability are gone. Annual revenue is projected at $55,000, and actual profit to the city, once administrative costs are subtracted, is projected at $19,000. A state law passed in 2010 ended many local governments' end-run around state prohibitions by regulating all traffic cameras. Local governments that choose to install them are now required to have a uniform fine of $158, and send $83 of that to the state, leaving $75 for local governments. Palm Coast gets just $30 of that once the ATS share is counted out.
And with the recession and higher gas prices, there's been less driving, and fewer citations. City council members like to attribute the drop in citations to drivers becoming more aware of the cameras and driving more carefully, which would argue for the effectiveness of cameras as deterrents to risky behavior. But Gail Wadsworth, the clerk of court, dispelled that guess when she told council members that traffic citations have dropped considerably across the board on highways and byways–"an average of 17 percent a year for three years running." Flagler County used to average 17,000 civil traffic infractions a year. That's down to 9,600, Wadsworth said.
In the city, spy-and-snap citations have fallen from a monthly average of 965 in 2008 to 520 last year and 341 so far this year. Monthly revenue has fallen from close to $80,000 to less than $5,000 a month over that span.
William Reischmann, the city's attorney, cautioned: "It's important for everyone to understand that there are–not the city of Palm Coast, but other local governments–are finding that there are more and more challenges being brought to these challenges, to these citations, in the county court systems. Not necessarily challenging the constitutionality of the Mark Wandall process"–the state law is called the Mark Wandall Traffic Safety Act–, but challenging evidence, challenging procedure, hearsay objections, things like that. And I think that it's a fair assumption that if we were to continue this," the attorney continued, "that may increase our costs, our costs as far as city staff time, ATS expenses and that sort of thing. The other thing. The other thing I think is important to understand is that currently, all of governments in the state of Florida are operating this process under the legislative shield, if you will, the legislative umbrella of the Mark Wendall Act. There is no guarantee that umbrella will continue to exist. It was attacked last year in the legislature, not successfully. There's already pending draft legislation for this next legislative session to repeal the Mark Wandall Act." Potentially, that would make the city vulnerable to constitutional challenges.
Landon said that from a business standpoint, not a public-safety standpoint, "if the state repeals their law, I would recommend that we discontinue, because at that point you're almost asking for someone to file a lawsuit to have the courts determine whether or not locally we can do this, similar with what they did prior to July 2010. My recommendation is we let some other community fight that lawsuit and we see how that goes and we go from there."
The city manager added: "This isn't any fun for staff. I mean, if you all said let's cut it out, we'd probably have some people in code [enforcement] that would be dancing in the aisles if not on their desk."
Meanwhile, Palm Coast is keeping its cameras on.