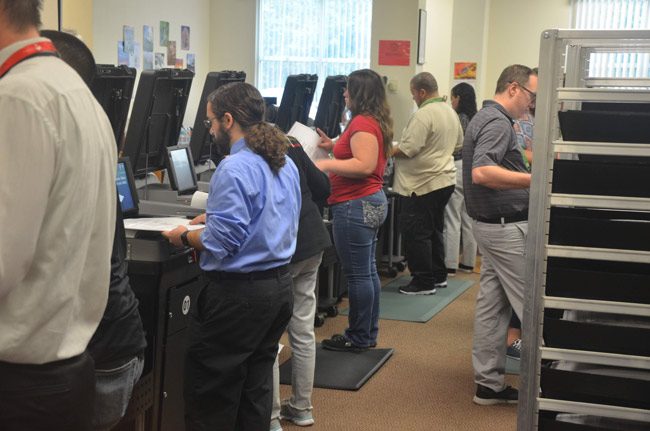 Recounts wrapping up in small and mid-sized counties are showing few changes to initial results in the races for governor, U.S. Senate and agriculture commissioner.
But bigger counties still have until Thursday afternoon to complete the state-mandated recount process. Flagler completed its recount at 9 p.m. Sunday, a process that took 12 hours and appeared hitchless.
In Flagler County, the Bill Nelson-Rick Scott race's result changed by a few votes. Scott's total saw nearly 40 more votes, going from 31,417 on election night to 31,455. Nelson's total added 31 votes, from 21,366 to 21,397. The new numbers include the addition of 25 provisional and 17 military ballots.
In the race between Ron DeSantis and Andrew Gillum, DeSantis, the Republican, saw his total increase by 41 votes, to 30,947. Gillum's total increased by 29 votes, to 21,174. But the Flagler margin in both races remained at around 20 points.
The race for Agriculture Commissioner between Democrat Nikki Fried and Republican Matt Caldwell is within a few votes statewide, so every vote in every county could make a difference. In Flagler, Fried had tallied 21,276 votes by election night, Caldwell had tallied 30,590. After the recount, Fried was up to 21,304, gaining 28 votes. Caldwell was up to 30,627, gaining 37 votes, a difference of nine in his favor. Statewide as of this evening, however, Fried's lead had grown substantially (from an election night deficit), to 5,326. See Flagler's full recount results here or see below.
In Leon County, where elections officials completed running more than 140,000 ballots through tabulating machines Tuesday afternoon, the candidates in the major statewide races all lost several votes.
Recounted numbers in Citrus County found two additional votes each for Republican gubernatorial candidate Ron DeSantis, U.S. Senate candidate Rick Scott and agriculture-commissioner candidate Matt Caldwell.
In Alachua County, Democratic U.S. Sen. Bill Nelson's lead over Scott among county voters grew by 26 votes. Statewide, Nelson trailed Scott by 12,562 votes when unofficial results were posted Saturday from the Nov. 6 election.
Democratic gubernatorial candidate Andrew Gillum, down by 33,684 in the unofficial statewide numbers, gained 12 votes in Alachua County in his race with DeSantis. And Democratic agriculture-commissioner candidate Nikki Fried, up 5,326 votes statewide on Saturday, gained 26 votes in Alachua County.
While political arguments and lawsuits have put the focus of the recount on Palm Beach and Broward counties, Leon County Supervisor of Elections Mark Earley said he doesn't expect there to be "dramatic changes" in the statewide vote totals.
"That's what I have seen borne out in most other recounts that I've been involved with," Earley said. "Even in the 2000 recount, we didn't have a lot of change, Leon County especially."
In Leon County, Scott's countywide total dropped three votes while Nelson's support went down five votes. DeSantis lost five votes. Gillum lost six votes. Caldwell's countywide number went down three. Fried lost four votes.
Earley said he expects those numbers will be made up by each candidate if a manual recount is called because of undervotes being set apart in machine counting.
In a machine recount, all ballots are fed through voting machines. Ballots with "undervotes" or "overvotes" — in which voters may have skipped races or made extra marks in races, causing their ballots to be rejected by the machines — are set aside, or "outstacked."
If a manual recount becomes necessary, county canvassing boards examine the "outstacked" ballots.
Machine recounts were called for the three statewide races because each was within a margin of 0.5 percentage points or less when the unofficial results were posted.
County supervisors of election have until 3 p.m. Thursday to submit their machine recount numbers. Races with margins of 0.25 percentage points or less at that point will go to manual, or hand, recounts.
Florida Division of Elections spokeswoman Sarah Revell said the recount numbers won't be posted for each county until after the Thursday deadline.
"We will post the second unofficial results all at one time on Florida Election Watch," Revell said, referring to part of the division's website.
Scott recount attorney Tim Cerio said that, as of Tuesday afternoon, 25 counties had completed recounting, and the process had started in all but Clay County, where 90,040 ballots were tabulated in the first unofficial totals.
–FlaglerLive and News Service of Florida