Palm Coast Imaging
3 Pine Cone Drive, Suite 101
Palm Coast, Florida 32137
(386) 446-5200
Town Center Imaging
21 Hospital Drive, Suite 130
Palm Coast, Florida 32164
(386) 446-5200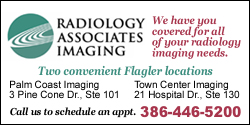 Radiology Associates Imaging's two fully accredited centers in Flagler County (Palm Coast Imaging and Town Center Imaging) offer board-certified radiologists, the latest in state-of-the-art equipment, and skilled, caring staff to provide patients with the absolute best care in a relaxing, worry-free environment.
Stellar staff
Radiology Associates Imaging (RAI) is home to 22 board-certified radiologists, who have been fellowship-trained in an array of subspecialties including Neuroradiology, Musculoskeletal & Sports Imaging, Cardiovascular Imaging, Breast imaging, Thoracic imaging, Abdominal Imaging, Body imaging, and Nuclear Medicine. Radiologists are on site at each facility daily and are always available to answer any questions our referring physicians or patients may have.
State-of- the-Art Equipment
RAI prides itself on staying current with the most recent advances in technology and has cutting-edge imaging equipment to ensure the best quality imaging at the lowest possible radiation dose to our patients. Our Time-of-Flight PET/CT scanners at Town Center Imaging – the first in the state of Florida – offer leading-edge technology for effective cancer care. Town Center Imaging also has the first 3-Tesla, Open Bore MRI machine, which offers the highest field strength magnet currently available thus producing images in highest resolution, clarity and detail.
In addition, both Town Center & Palm Coast Imaging are accredited as American College of Radiology Breast Imaging Centers of Excellence.
Customer care
The expert staff at Town Center Imaging & Palm Coast Imaging pride themselves in offering the best medical imaging care available today as well as outstanding customer service, including quick report turnaround to your physician within 24 hours. STAT walk-ins are available for most procedures, and most insurances are accepted, including Medicaid.