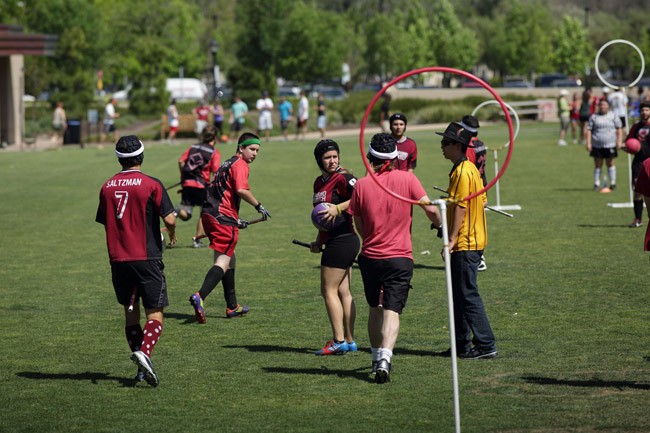 Quidditch doesn't exist. At least not officially. You won't find mention of it in the Oxford English Dictionary, the Encyclopedia Britannica or Webster's dictionaries, online or not.
Yet here it is. This weekend. In Palm Coast. At the Indian Trails Sports Complex, broomsticks and all.
No fewer than 14 teams from colleges and universities in Florida, South Carolina, Tennessee and Mississippi are converging on the complex for two days of matches, Saturday and Sunday (Feb. 28 and March 1) in a game that is entirely the invention of J.K. Rowling, and that evolved over the seven Harry Potter books with its own mythology and history, matches, results and heartbreaks (in the first volume Harry Potter apparently misses a crucial game when he ends up in hospital).
the Harry Potter Wiki entry describes the game this way: "Quidditch is a wizarding sport played on broomsticks. It is the most popular game among wizards and witches," and goes on: "The object of the game is to score more points than your opponents. Each goal is worth ten points and catching the Snitch is worth one-hundred fifty points. The game ends when the Snitch is caught or an agreement is reached between the captains of both teams. Some games can go on for many days if the Snitch is not caught (the record, according to Quidditch Through the Ages, is three months)."
That's in the books, anyway. Rules have been amended and codified by U.S. Quidditch to ensure that meets such as the one at Indian Trails keep to their scheduled hours. It's actually not that complicated: put over-simply, players have to throw a ball through sets of vertical hoops and avoid getting struck by another kind of ball by opponents, with various position players called chasers, beaters, snitches, keepers and so on. And throughout, the players run with a broomstick between their legs.
---
A once-imaginary game now played on thousands of college and university campuses.
---
Watch the video below to get a clear view of the game.
Even Ivy League universities have teams. How the tournament came to be in Palm Coast is grist for a different kind of literature: here's how a chamber news release described it a few months ago: Palm Coast and the Flagler Beaches secured the United States Quidditch South Regional Tournament thanks to Matt Dunn, the chamber's tourism director. Originally, up to 30 teams, or 500 players, were expected. The actual number turned out to be half that, but considering that it's borne of a a fiction, that's still impressive.
Quidditch, we are told, was adapted in 2005 at Middlebury College in Vermont and is now played by more than 4,000 players on 300 teams around the world, mostly based at colleges and universities. The game, often described as a mixture of rugby and dodgeball, is played on a 30-by-48-yard field on which players run with brooms or PVC pipes between their legs, throw volleyballs or dodgeballs at each other and through hoops.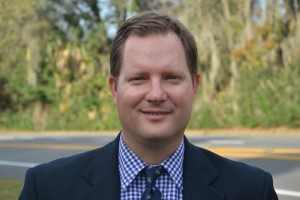 Dunn said Palm Coast and the Flagler Beaches was one of two finalists (with Kissimmee) selected out of 35 destinations that bid on the event. A primary goal of the site selection committee was to increase awareness of and appreciation for quidditch in different areas of the United States.
"We did our best to showcase all that we have to offer as a destination," said Doreen Chase, product development manager for Palm Coast and the Flagler Beaches. "That, combined with the pride the City of Palm Coast Parks and Recreation Department places on keeping the Indian Trails Sports Complex in immaculate condition gave us the edge we needed. We are thrilled to host this event due to the national and international attention quidditch is receiving, and look forward to introducing our community to this enthusiastic group of athletes and fans."
Palm Coast developed top-notch athletic fields and places a strong focus on attracting sports tournaments to the Indian Trails Sports Complex as part of its economic development plan. Two new fields opened this fall at Indian Trails. The expansion is helping attract the sort of envelope-pushing tournaments like the Quidditch South Regional Tournament.
And before long, the word quidditch, uncapitalized, will surely be making its way into dictionaries and encyclopedias.