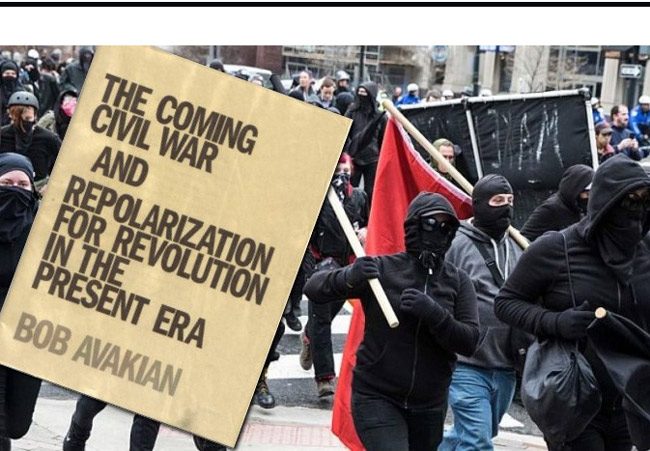 First off, no: there is no antifa demonstration seeking Donald Trump's overthrow in Palm Coast this weekend. Not at Freedom Fest at the Flagler County Airport, not anywhere real. (Antifa is short for "anti-fascist.")
And there is no truth to the rumor that there will be an attempted "overthrow" of the Trump regime anywhere in the country or the known universe, dark matter included, though groups opposed to the Trump administration are planning some protests in larger cities, as many such groups have regularly done since Trump's election a year ago. This weekend's hoped-for demonstrations draw their inspiration more from Occupy Wall Street-type protests than anything violent, though organizers don't deny that they're hoping to build toward a mass-protest movement.
The rumors of more violent demonstrations have been spreading so fast, if only in the murkier recesses of the internet, that this morning the Washington Post devoted a story to address them. The Flagler County Sheriff's Office also issued a release saying "there are no verified sites within Flagler County or the state of Florida for these demonstrations."
Consider the original source of the rumor: Infowars, the crackpot conspiracy-theory churn produced by the entertainer Alex Jones who just in the last few hours posted items about Twitter being "proud" to be an enemy of the First Amendment, Muslim teens raping a donkey, Saudi Arabia actually "staging" the Vegas massacre (you know, the way the U.S. government staged the Moon landing) and something about pot-bellied liberal predators roaming the streets on Halloween night to snatch children's candy.
That's in the last 15 hours.
The stories read like rejected drafts from The Onion, the more believable, less tasteless humor publication.
On Sept. 19, Infowars posted a "story" alleging that "Antifa is planning a new round of nationwide riots on November 4 as part of a plot to start a 'civil war' that will lead to the overthrow of the Trump administration." The post linked to a website called refusefascism.org, whose own Aug. 6 post announced not an "overthrow," but an invitation to protest "demanding that this whole regime be removed from power," words not unlike those used by mainstream Democrats on more caffeinated days. That site never mentioned or alluded to a "civil war."
The site also makes no allusions to violence except to stress that it is committed to non-violence, and it uses the language of ambitious demonstrators who want to see big numbers gather. Only when filtered through the fire-in-the-theater alarms of Infowars do the protests take on a more sinister, violent character–assuming any are held at all.
"We formed this organization around two main points," Andy Zee, one of the group's organizers, told The Washington Post in the story published this morning. "One is that the nightmare must end, and second, in the name of humanity we must refuse to accept a fascist America."
The Post continues: "Zee maintains that Refuse Fascism is committed to nonviolent protest, and scoffs at the ideas floating through the far right of antifa super-soldiers waging war on mainstream society. If anything, the jarring disconnect over Nov. 4 shows how easily facts are eaten alive by social media and regurgitated as conspiracy theory. The possible violence coloring that disconnect illustrates how truly ideologically isolated the two sides are from one another. 'It's absurd. Calling for a civil war?' Zee said. 'Pick a date for a civil war? Honestly, what do you say to this?'"
Protests are planned in New York, Los Angeles, Seattle and San Francisco.
In its release, the Flagler County Sheriff's Office noted that "Rumors have spread that Palm Coast is one of those sites. Thorough research by the Northeast Florida Fusion Center and the Flagler County Sheriff's Domestic Homeland Security Section indicate there are no verified sites within Flagler County or the state of Florida for these demonstrations. The Flagler County Sheriff's Domestic Homeland Security Section is working with other local and state agencies and will continue to monitor the situation so that we can update the community if needed."
The sheriff attributed the rumor to "an apparently false social media post from a Kansas Facebook page [that] indicated that Palm Coast will be a site of anti-fascist group demonstrations on November 4th and has since been widely disseminated. This has caused unnecessary concern for some citizens." Some of the rumors were spread on a local neighborhood Facebook page–not by its administrator, but by commenters jumping in and making claims of violence ahead, and going as far as tying antifa protests to the Black Lives Matter movement–usually a tip-off that the commenters are more informed by Infowar-type quackery and bigotry than reporting reliable information.
The sheriff's release is silent on the distinction between rumored violent demonstrations and legitimate protest, but Sheriff's Cmdr. Mark Strobridge made that distinction explicit in a brief interview this afternoon: "Legal protesting is a constitutional right that the sheriff supports 100 percent," he said, should there be non-violent protests this weekend. "There's definitely a distinction between that type of behavior and legitimate protest."