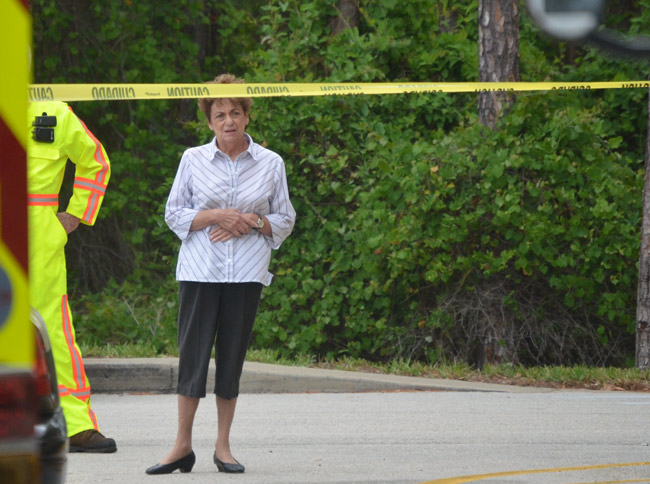 Thelma Wagenhoffer, the 76-year-old woman who drove her Toyota Camry through the glass entrance of the Publix Supermarket on Belle Terre Parkway on April 14, was found guilty of careless driving Thursday in Flagler County traffic court. County Judge Sharon Atack suspended Wagenhoffer's license for three months, though the Department of Motor Vehicles had already suspended the license on July 4 for lack of records the department had requested.
Wagenhoffer may not drive again until both suspensions are cleared. She will be required to take her driver's license exam again.
Wagenhoffer, of Louisberg Lane in Palm Coast, was insured. The Florida Highway Patrol's crash report found that Wagenhoffer had not been distracted, nor had ver vision been impaired, at the time of the crash. Her foot was on the accelerator in the parking lot and into the store, where the 2004 Camry she was driving came to a final rest on aisle 10, on top of 82-year-old Lupo Hernandez, one of the 10 victims injured in the crash. By then, the Camry had traveled in the shape of an S, stroking a side wall on the car's right side at the entrance, veering left, striking another structure on the car's left side, then veering back right.
Hernandez was pulled from under the car when store customers quickly gathered around the vehicle and lifted it.
The wreck took place at 1:24 p.m. at the Publix at 4950 Belle Terre Parkway, a store that used to be an Albertson's supermarket. That became relevant because all stores Publix builds have crash-stopping metal pillars in front of their entrance doors. That store, acquired when Publix bought out Albertson's in 2008, did not. Publix sustained $50,000 in property damages, according to the Florida Highway Patrol's crash report.
Wagenhoffer was not injured. She was seen walking around the scene of the crash, in the parking lot, for up to an hour after the crash. She was cited for reckless driving. She originally pleaded not guilty to the charge, then pleaded no contest. Her lawyer, Marc Dwyer, said in court that she had settled all claims stemming from the crash.
In an account related by the News-Journal, it appeared that Wagenhoffer, who was in court Thursday, was slightly confused about the status of her driver's license–unaware, for instance, that the Department of Motor Vehicles had suspended her license six weeks ago, which suggests that she may have driven on a suspended license, though the state mailed her a notice in mid-June telling her of the suspension. Atack made sure Wagenhoffer was aware that she could not drive.

The following is the surveillance video, originally acquired by the News-Journal, followed by two 911 calls released by the Flagler County Sheriff's Office today.
---
Crash Video from Two Angles[media id=282 width=500 height=400]