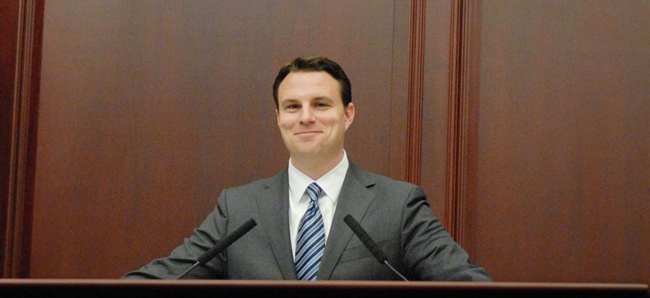 By Daniel Tilson
A determined cohort of elected officials in our Legislature is trying to turn working and retired people against each other, to better the odds of a dangerous bill becoming destructive law.
As reported in The Florida Current, the Senate Community Affairs Committee Tuesday passed a bill by a 5-4 vote that was filed Wednesday as SB 1114: Florida Retirement System.
If ever there were a legislative wolf disguised in sheep's clothing of "fiscal responsibility," this would be that perpetually hungry beast.
Just like last year, House Speaker Will Weatherford and Senate President Don Gaetz are leading the Republican charge to put future public employees' pensions and Florida's economic stability at serious, undue risk.
A 2013 bill seeking to "fix" a demonstrably and still unbroken Florida Retirement System (FRS) went down to bipartisan defeat in the Senate. So now they've got a "new and improved" 2014 version.
The big stick remains the requirement that future retirees be forced into a risky 401(k)-type "defined contribution" plan, rather than joining current FRS members in a far more stable "defined benefit" plan.
The new carrot presumably added to soften the blow of the big stick is still a defined contribution plan, but a "cash balance" one with lump sum payout and guaranteed annual interest of 2 percent.
Oh yes. If an employee's annual interest exceeds 2 percent, the state gets to keep 25 percent.
There's a "defined contribution" for you, huh?
But not nearly as bad as the 3 percent pay cut – uh, "pension contribution" – Gov. Rick Scott and Republican legislators forced on public employees a few years ago.
I'll never forget working on a video for the Florida Public Employees Partnership when that happened. The pain and fear were palpable in school bus drivers, cafeteria workers, corrections officers, health care workers and so many others I interviewed, all worrying how their families would get by, on less.

Now we have the 2014 spectacle of Republican legislators trying to exempt police, firefighters and other first responders from the impact of their new "reform" bill, shamefully cherry-picking winners and losers, trying to pit worker vs. worker.
We have the spectacle of well-to-do businessmen/politicians like Weatherford trying to turn private sector working families against public employees, suggesting the state's long-standing legal obligation to make up shortfalls in FRS funding is money that could and should be spent on education.
That's so wrong on so many levels; it'll take another whole column to do justice to such malicious malarkey.
For now, know this. Any attempt to force public employees from a defined benefit plan into any defined contribution plan is bad, unnecessary public policy.
The only ones to benefit would be private special interests —  like investment firms — and politicians in cahoots with them.
Studies show such initiatives would:
·      Cost the state and taxpayers more.
·      Put future employees' pensions (currently averaging only $18,000) at risk of depletion and disappearance before death, forcing many onto taxpayer-funded public assistance.
·      Weaken local and state economies by taking billions in spending power away from retired public employees.
Forget the rare, blown-out-of-proportion news story about some public employee retiring with a big pension. It's the extreme exception.
We're talking here about people who work tirelessly to help our families get through every day safe and sound.
We're talking about family members, friends and neighbors who so often take less pay than they could get in the private sector, because they care about public service — and because in exchange for that service and sacrifice, they can count on a secure retirement some day.
Do not let them down.

A New York University graduate, Daniel Tilson owns a Boca Raton-based firm, Full Cup Media, offering "a la carte" and custom-bundled packages of communication services.