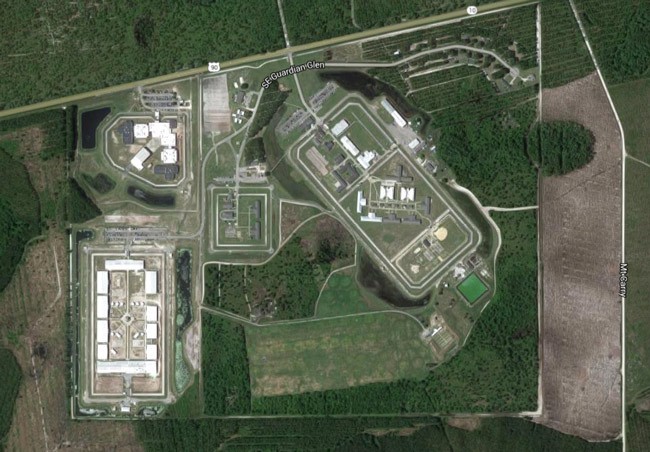 Florida Department of Law Enforcement agents arrested Correctional Officer Sgt. Christopher Michael Jernigan, 37, and Correctional Officer Donald Dwight Sims, Jr., 21, for aggravated battery and failure to report, an FDLE release stated today. Jernigan is also charged with tampering with evidence. Both were guards at Columbia Correctional Institution, a 1,400-inmate prison east of Lake City, with a staff of about 355.
It is the latest in a series of arrests and firings involving prison guards in the troubled Florida Department of Corrections. In early April, two guards and a prison worker who were members of the KKK were arrested for allegedly plotting to kill a black inmate as retaliation. They'd worked at the Reception and Medical Center in Lake Butler. Last September, 11 guards were arrested on brutality charges at the so-called Northwest Florida Reception Center and at Lancaster Correctional Institution.
The latest investigation began at the request of the Department of Corrections with investigative assistance from the department's Office of Inspector General.
The investigation shows that Jernigan and Sims beat inmate Shurick Lewis, 41, at Columbia prison on Feb. 11 while he was being moved from a holding cell to a confinement cell. Prior to the battery, Jernigan and Sims ordered other inmates to clear the area and proceeded to a small area with no video surveillance.
After the assault, witnesses say Lewis was bleeding from his nose and mouth and his eye was swollen. He was seen by a prison nurse and sent back to his cell. Several hours later, he was found unresponsive by officers on the next shift and Lewis was transported to Shands Hospital where he was treated for a broken nose and several facial fractures.
Sims told agents Lewis fell from his bunk while Jernigan said he used force after the inmate lunged at him. After the assault, Jernigan instructed other inmates to clean up the blood, put a new mattress on the bunk and throw away bloody clothes.
"The Florida Department of Corrections has absolutely no tolerance for the behavior and actions taken by these individuals. Effective today, May 5, 2015, the employment of Correctional Officer Sgt. Christopher Michael Jernigan and Correctional Officer Donald Dwight Sims has been terminated," said Florida Department of Corrections Secretary Julie Jones. "We will continue to take quick and decisive actions against those involved in abuse, neglect or misconduct of any kind and will cooperate fully with the Florida Department of Law Enforcement and the Office of the State Attorney to ensure that any employee engaged in this behavior is held accountable."
Jernigan turned himself into the Columbia County Jail yesterday and Sims was arrested, with assistance from the Suwannee County Sheriff's Office last night in Live Oak and transported to the Suwannee County Jail. This case will be prosecuted by the Office of State Attorney, 5th Judicial Circuit.