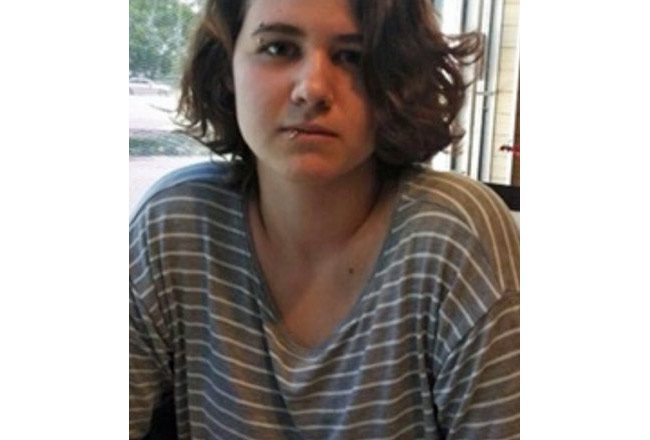 The missing-person case involving Samantha Posella is closed: Posella revealed herself Tuesday after eight months of living incognito in South Florida. But a Flagler County Sheriff's investigation of issues surrounding the disappearance is continuing.
A sheriff's spokesperson confirmed Wednesday that the Posella case remains "an active investigation," saying the sheriff's office "cannot release any more information at this time."
Tuesday morning, Samantha Posella was at 1700 Palm Beach Lakes Boulevard–a federal office building that houses Internal Revenue Service and a Valley National Bank, next to a Target in West Palm Beach. She approached a West Palm Beach police officer and identified herself.
Posella had been reported missing out of Flagler County since last October, when she left her family's Palm Coast house at 45 Llama Trail in the morning, and was last seen that evening by a neighbor who'd often cared for her and spent the day with her at Golden Corral, the restaurant on Cypress Point Parkway.
The disappearance was first reported here in mid-November, after she'd been missing three weeks, and again on Monday, as the Sheriff's Office was re-issuing the initial release in hopes of re-igniting public awareness, and out of fear that something more tragic may have happened to Posella.
The Sheriff's Office also noted an unusual development: that it had identified two "persons of interest" in the search–Kindra Dixon and her boyfriend Roy Edward Casey III. Dixon was the woman who'd last seen Posella in Palm Coast. The Sheriff's Office had been pursuing Dixon and her boyfriend for information to the point that Dixon retained a lawyer, Josh Davis, who termed the pursuit a form of "harassment," saying it was not warranted.
The Sheriff's Office's renewed dissemination of information on Posella clearly had the desired effect. Posella saw the coverage.
On Tuesday morning, less than 24 hours after news articles about her hit the web and the airwaves, Posella approached officer William Dames, a community response officer and a veteran of the agency, and told him she'd been reported missing since she was 17. Posella is now 18. Posella told Dames "that she wanted her name to be cleared and that she wanted to be free to start her new life." She did not want to come home.
Dames attempted to run Posella's fingerprints through "Rapid ID" but was not getting any results, likely an indication of the extent to which Posella has gone to essentially stay off the grid. Dames took a photograph of Posella (see above), and the image was taken to Posella's stepmother, Barbara Posella, in Palm Coast. Barbara confirmed that it was Samantha. The officer also took a DNA sample of Samatha. But she refused to reveal her address.
Davis said there had been fears or indications that Samantha Posella had run away because she'd been abused and had come out as gay, to the disapproval of her biological father, Joseph Posella, and her step-mother–claims Barbara Posella denied on both counts, saying she and her husband had been supportive of their daughter's decision to come out, and that what issues existed were related to her poor school work and her unhappiness at being denied a cell phone or access to social media. Samantha had been pulled out of Flagler Palm Coast High School and enrolled in Florida Virtual School. She would have graduated from high school last May had she remained in Palm Coast.
"I'm too emotional," Barbara Posella said in a text Tuesday after Samantha had come forward. "I will say we are beyond happy and relieved that Sam is safe and a live and we are very grateful to the Flagler County Sheriff's Office for working diligently and doing an amazing job in finding her."
But two people who knew Posella several years ago say the worries about her welfare were justified.
Gary Barth was Samantha's softball coach and the father of Olivia Barth, who had attended Imagine School at Town Center for two years with Samantha. Olivia said she and two of her friends once reported to a counselor that Samantha had been abused, and the counselor reported the allegation to the Department of Children and Families. "They came and talked to her and she denied it," Olivia Barth, now 18, said, recalling that Samantha feared DCF would split the family and place her three younger sisters in foster homes.
"After that I guess, I don't know who told them that it was me that told, but somehow they found out and gradually they stopped letting me see her," Barth said of the Posella parents. Samantha was pulled from the softball team, and the Barths eventually relocated to Port Orange.
Gary Barth, a supervisor in a grocery chain, had for several years supervised Samantha's father. In Flagler he'd been the vice president of Flagler Fast, the softball league, and between that and the fact that his daughter was close friends with Samantha, he got to know Samantha and her issues. "Whoever said that she was treated like Cinderella could not have been more right," Barth said, referring to a description Davis had provided in an interview earlier this week. (It was Davis who prompted Barth to contact FlaglerLive.)
Barth said he wanted to come forward for the sake of Dixon and her boyfriend. "My intent is for the people that was getting the finger pointed at them, they did nothing wrong, and I don't even know them," Barth said. "They should get a reward, a trophy, something. Not enough people protect kids nowadays."
He also offered to take in Samantha Posella if she wanted to return to the area, though she made clear to the West palm Beach officer that she has no intention of doing so.
Other than suggesting there's more to come in the case, the Sheriff's Office is being mum for now.