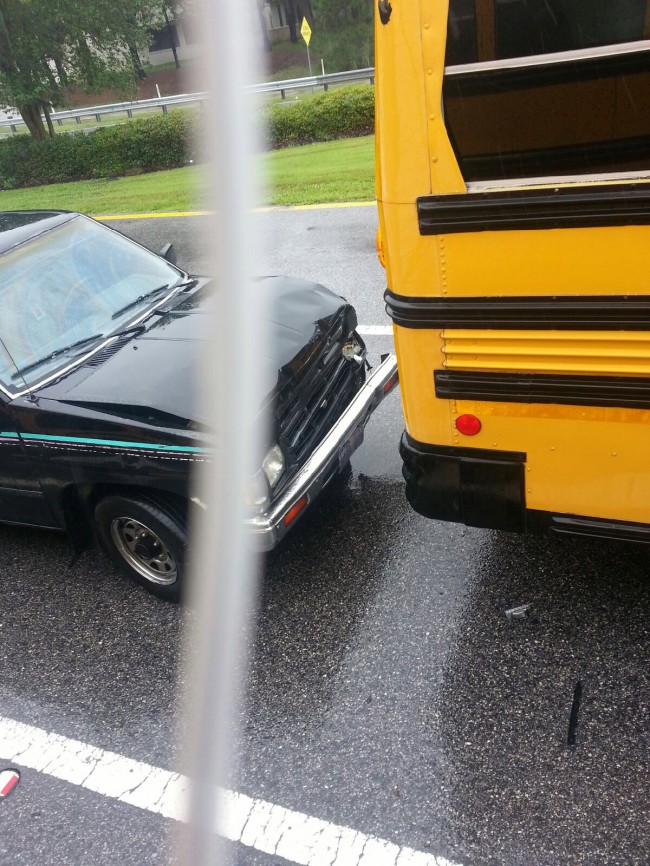 Less than 24 hours after a Flagler County School bus was rear-ended on State Road 100, another school bus was rear-ended by a pick-up truck on Pine Lakes Parkway in Palm Coast at 4 p.m. Friday afternoon. In both cases, roads were wet and slippery.
The wreck on Friday (at the Pine Lakes intersection south of Palm Coast Parkway, near the Catholic church) involved a 13-passenger special education school bus. It was not carrying any students, Bruce Preece, the district's transportation director, said. Aboard were the driver and a teacher's aide. The aide complained of back discomfort and was taken to a local clinic.
"He ended up going to Medi-Quick to get checked out.," a sheriff's spokesman said. "There was no indication that there was an injury.  The officer advised that he was going there to get checked out for Workers Comp. "
Rains have been particularly heavy i the last 24 hours.
The bus was driven by James Michael Brown, 67, of Bunnell. The aide is Louis Baron, 59, of  Palm Coast. The pick-up was driven by David Michael Moore, 48, of Palm Coast.  He was not injured, the Flagler County Sheriff's Office, which investigated the crash, reported.  The vehicle was a 1990 Nissan Pick-up, which sustained minor front end damage.
"I understand our bus has minor damage," Preece said. The bus is a Bluebird manufactured in the early 2000s. It had completed its run and was heading back to the main bus dept behind Flagler Palm Coast High School.
"Indication was that traffic was slowing down and the pick-up hydroplaned and slide into the rear of the bus," a sheriff's spokesman said.