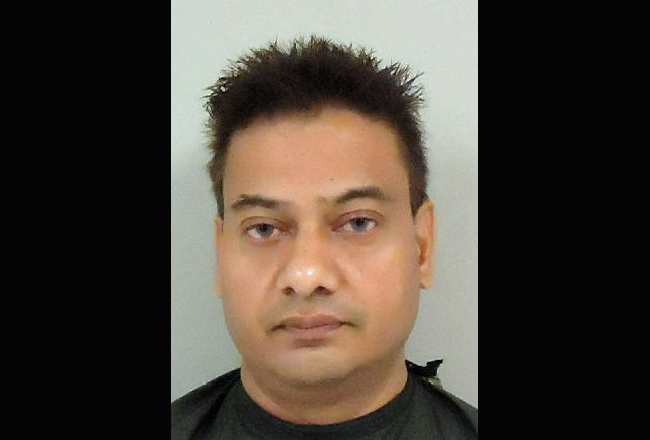 A year ago in May, the victim petitioned Flagler County Circuit Court for an injunction against her husband, Peter Jamwant, a 45-year-old resident of Birchwood Drive in Palm Coast. The injunction was for protection against domestic violence. The court granted it. Three weeks ago, the injunction expired. But by then, it appears that the couple had been living together anyway.
On Friday, Jamwant was booked at the Flagler County jail on a county of sex battery, or rape, aggravated assault and battery after allegedly victimizing his 56-year-old wife in the middle of February, according to his arrest report. Bond was set at $315,000. Jamwant posted bail and was released.
According to his arrest report, the victim told police that sometime in mid-February, likely on the 16th, she had gone to bed for the night when Jamwant woke her up at 1 a.m.. He "wanted sex," she told police. The victim said she agreed, but that "he began to hurt her and she stated that she told him to stop and he refused to," the report relates. "She stated that 'it was not normal sex, 'he was raping me.'" The victim reported that Jamwant was very angry, "and when he was done he struck her several times in the face and head."
The report states that Jamwant then "picked her up by her right hand and foot and 'flung' her to the floor," at which point Jamwant allegedly kicked her repeatedly, and that the violence went on for a while. The victim claims that Jamwant threatened to kill her if she called the cops.
The victim told police that she did not call police because she was in fear for her life. She went to work the following day, and a friend, who is cited in the report as a witness, saw "her bruises that were all over her body," the report states. An investigator confirmed the circumstances with the witness, and saw pictures that had been taken on the victim's cell phone showing bruises on the victim's arm, face and leg.
On a separate occasion, a month ago, the victim claims, Jamwant "told her he would kill her and throw her in the lake." The victim believes Jamwant took out a large life insurance policy on her, she told police.
According to a briefing by the National Online Resource Center on Violence Against Women, released by the Centers for Disease Control, some 10 to 14 percent of married women are raped by their husbands in the United States. Spousal rape is illegal in all 50 states (though may countries have yet to outlaw it, and it wasn't until the early 1990s that the act was criminalized across the country.) "Historically," the briefing concludes, "most rape statutes read that rape was forced sexual intercourse with a woman not your wife, thus granting husbands a license to rape." The briefing debunks the myth that spousal rape is less serious than other forms of rape, citing short and long-term psychological and physical injuries.
"Research indicates a need for those who come into contact with marital rape survivors–police officers, health care providers, religious leaders, advocates and counselors–to comprehensively address this problem and provide resources, information and support," the briefing states.