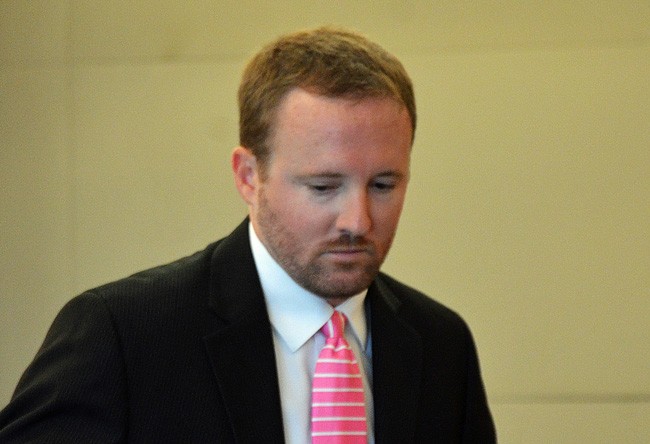 Peter Hamill says if he were able to give his life for Benjamin "Bo" Rossie, his best friend whom he killed in a car wreck on State Road A1A seven years ago, he "would in a second."
Yet a year into his three-year prison sentence, which had already been shortened by two thirds from what his minimum sentence was supposed to be, he was writing a judge for a pardon. The request was denied. He was nevertheless able to leave prison early for good behavior. On Tuesday, half-way through his seven years of probation, Hamill was before Flagler Circuit Judge J. David Walsh, again asking for clemency. He wanted his probation terminated three years early.
He did not want to be bothered with probation's conditions anymore.
"The constant reminder is always there, regardless, the fact of having to step into the office every day, see the people, the same people," Hamill told the judge, referring to the Department of Corrections facility in St. Augustine. "Same routine, walking in, taking a seat, filling out the paperwork, it's just a constant reminder of yes, this happened. I already have that in every aspect of my life."
Walsh asked him to elaborate, thinking at the time–incorrectly, as the judge would soon find out–that Hamill had not asked for clemency before. Hamill did not correct his error, even when the judge asked him if he'd tried before.
"I would just like to get back fully out there," Hamill continued to commit myself to school and jobs, as far as travel is concerned with, any possible future jobs, future education. Having to jump through hoops right now with probation, coming to court, it's just more than I'm comfortable with."
Benjamin Rossie's family wasn't in the courtroom. His mother, Julie Mathis, a Realtor in Palm Coast, had not been told of the hearing. Nor had Rossie's father. Mathis was livid when she learned of the hearing from a reporter late this morning. "I would have absolutely been there," Mathis said, along with her son's father "and probably 10 other people."
A spokesman for the State Attorney's office said that generally, the computer system automatically generates a letter to family members to alert them of coming hearings. Something didn't work in this case. "We've taken steps to remedy that," Spencer Hathaway, the spokesman, said. "We're not happy about how that worked." The State Attorney's office was reaching out to Mathis this afternoon.
---
"It's just more than I'm comfortable with," Hamill said of the terms of his probation.
---
A reporter aside, there was no audience in court this morning, other than Hamill's mother, and another man–accompanied by a woman–who was also preparing to have his unrelated probation case heard. Hamill had no attorney. He delivered his plea to end his probation directly to Walsh, standing in front of him.
"I bet he doesn't," Mathis said, referring to Hamill's wish to not continue with his probation. "I don't want to go through the rest of my life without my son."
It happened on Friday, July 11, 2008. It was Hamill's birthday. He was driving to Palm Coast with Rossie, where Rossie lived. Hamill had been drinking, though by the time he was tested he was below the legal limit. It was 3 a.m. He was driving his Honda Accord south on State Road A1A. He was going at speeds exceeding 100 mph. One of the tires was a donut replacement on which driving at more than 50 mph is dangerous. Rossie wasn't driving because he'd made a deal with his mother when she was battling Stage 4 cancer a few years earlier–that he should never do drugs or drink and drive. "I promise you I won't die," his mother said she told him if he agreed to the deal. "And we shook on it and I kept my end of the bargain and he kept his end of the bargain. That's why he was a passenger."
Near Sea Colony Drive, Hamill lost control of the car. It spun out and struck a tree. Rossie was killed when his head struck the tree. He was 24. Rossie had been a business student at Daytona State College and the University of Florida, where he earned a degree.
In March the following year, Hamill pleaded no contest to a charge of vehicular homicide. Sentencing guidelines exposed him to a minimum of 9 years in prison, a maximum of 15 years. Then-Judge Kim C. Hammond sentenced him to three years. He cited Hamill's clean past and his remorse, saying Hamill was "not an evil criminal" but had exercised "terribly bad judgment."
Rossie's family was angry after the state agreed to his plea, which enabled him to lower the sentence. Mathis expressed shock, but was more compassionate at sentencing:  "No matter what the sentence is, it isn't going to bring our son back," she was quoted as saying at the time, in the News-Journal. "And whatever the sentence is, I hope it sends a message to other people who like to drink and drive and drive fast and drive recklessly and on defective equipment. I think Judge Hammond is a good judge, and I only hope and pray that Peter decides to turn his life around and make a difference." Rossie's father, Ben Rossie, termed the three-year sentence "appropriate."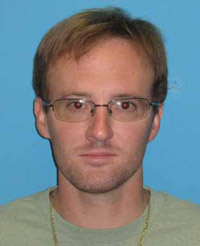 Mathis would dispute the clean past, citing a record of numerous traffic infractions that had come out during the court case, and Hamill's mother always ready to bail him out: "He did it because he could, and he did it because he never faced the music," Mathis said today. She recalled thinking of seeing Hamill when he was in prison, if only to ask him why he'd done what he'd done. She didn't. She kept up with him through corrections officials, who told her he was well behaved. When he got out, she ran into him at Publix in St. Augustine (when, as it turns out, she says he was driving his girlfriend's car, against probation's conditions: he's been stripped of his license until 2016, with certain allowances for work and school.) Mathis says she forgave him, though that doesn't diminish the reality of that night: "He killed my son. There is a price to pay for that," she says, even if it was not directly intentional.
Crash stories involving fatalities follow a predictable trajectory. News stories are published and air in the immediate aftermath of the crash. More rarely, a follow-up article might report the legal outcome of the case, usually a plea and a sentence, as in Hamill's case. The story is then forgotten as the person who caused the fatality either pays a fine (more often than not, that's all it ends up being) or, as in Hamill's case, serves out a prison term and probation.
Hamill, now 31, was released from prison on Sept. 25, 2011. He was to be on probation for seven years after that. In other words, probation was to last until September 2018, with a requirement of 50 hours of community service every year that he was on probation. He's been fulfilling every condition of his probation. He hasn't missed a payment, a registration, or community hour requirements. He lives with his mother. He just got a job this month as a dishwasher at Caddyshack restaurant in St. Augustine. He's earned 22 credits toward his associate's degree, compiling a 2.47 GPA at St. Johns River State College.
A state prosecutor commended Hamill for his clean probationary record, but "at the end of the day," the prosecutor said, "his criminal act did result in significant consequences." It was the prosecutor who pointed out that Hamill had filed a motion for modification of his sentence, which included a one-page handwritten letter that, even then, combined contriteness iover the killing of his friend with a plea for a full pardon.
"I long for my day to be released, so I can then start to honor my friend's death with hard works and good deeds," he wrote Judge Hammond in printed script. "I will not let Bo's death go unhonored. I tell myself every day 'this to shall pass.' [sic.] Not to undermine your sentencing or your judgement, I will be applying for clemency for either a full pardon or a commutation of sentence in June. Only so I may continue my education towards becoming a teacher and to also have some of this burden lifted from my shoulders." (See the full letter here.)
Hamill's plea today was an echo of that letter, calling the crash "a tragic accident." For a moment at that point his voice broke, but just for a moment. "I'm forever living with it. It's mine, I own it. If this could just be part over with, it would be that much easier to pick my life where I left off with my friend," he said.
The judge repeatedly recognized Hamill's abiding by the terms of his probation without fail, holding a job, studying. But Walsh also reminded Hamill of the "significant downward departure" from the severity of the sentence Hamill had initially faced, and that that in itself had been already been the extent of the mercy the court would show. Because of that, Walsh said, he was not granting Hamill's motion for early probation termination.
"The fact that you might be a bit inconvenienced or uncomfortable having to go to the probation offices is part of the process, it's called punishment," Walsh said.
"I understand," Hamill tried to interject. The judge didn't let him.
"I'm not finished. I'm not saying that you're not sincere in your request nor that you sincerely are–and I accepted that–that you are carrying that burden with you for quite some while, probably the rest of your life. But that doesn't change the fact that the sentence that was imposed by law is that that you must serve, it's part of the process."