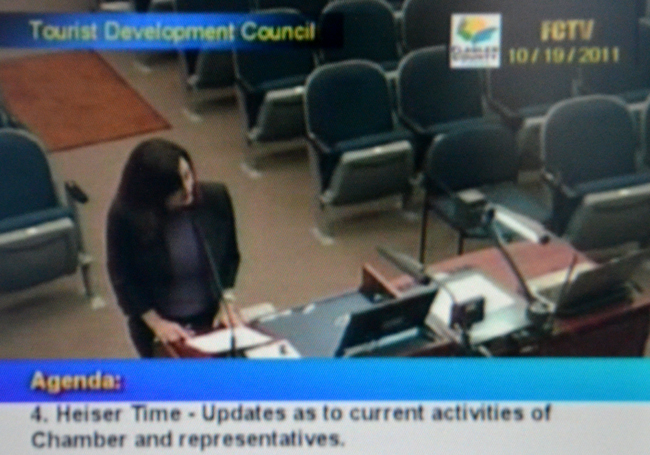 In an abrupt move that shocked even her closest ally on the Tourist Development Council, Peggy Heiser, tourism's chief executive in Flagler County for the past six years and the shepherd of its "Quiet Side of Florida" campaign, announced her resignation on Thursday, saying she'd taken another marketing position. The position is reportedly in Lake Mary, though she'll also be doing some marketing for her husband's company.
"All good things must come to an end and so, this must, too," Heiser said in a release from the Flagler County Chamber of Commerce. "It's been an incredible journey, and I'm proud of the advancement the chamber tourism team and the Flagler County Tourism Development Council have made in marketing Flagler County as a desirable tourism destination."
"Obviously it's a huge loss, there's no doubt about it," Milissa Holland, the county commissioner who chairs the tourist council, said. "I don't know if we'll be able to bring somebody comparable to her."
Heiser made back-to-back calls to council members this morning to inform them of her decision.
"It's a shock," Mary DiStefano, a long-time council member who represents Palm Coast, said. DiStefano put in her last meeting on the council on Wednesday as her tenure on the Palm Coast City Council draws to an end. "She does an excellent job. Excellent job, and she has really worked hard on tourism, and I really regret losing her. But she has a long distance to drive and I think the distance might be getting to her."
Last month Heiser experienced a rare but significant setback. She'd asked for a 7.7 percent raise for herself (she makes $70,000 a year) and a 6 percent raise for her two staffers. The council approved the raises. The Flagler County Commission, which must ratify all council actions, did not, saying its own government employees hadn't received raises in three years. "Obviously she was disappointed about that but I don't believe that drove her decision," Holland said.
Heiser's husband, Bill Heiser, owns Southern Coast K9, a company that imports and trains police dogs. Heiser, who'd been commuting 90 minutes a day to New Smyrna Beach, will be reportedly focusing her attention on that business for now, and on her 13-year-old daughter.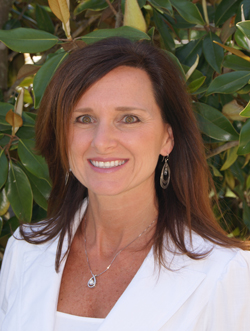 For the tourist council, the resignation will be jarring on several counts, not least of which the matter of Heiser's succession: even though Heiser essentially reported to the council, enacted the council's strategy and administered public money raised exclusively through the bed tax (which applies to hotel and motel stays and is paid overwhelmingly by visitors), she was not a council employee. Her actual title is vice president of tourism development at the Flagler County Chamber of Commerce. The council contracts with the chamber to use Heiser's and her staff's services, but her paycheck is signed by the chamber. Heiser's replacement will be hired by Doug Baxter, the chamber president. Council members, especially Holland, might like to have input in the decision. Whether they do or not will say a lot about the chamber's respect for the council, and its willingness to defer to its goals.
Baxter is big on taking credit for as many things as he can. On tourism, Heiser gradually overshadowed–and upstaged–him. Her departure could, depending on the chamber board's direction, give Baxter a chance to take back the reins of tourism by hiring someone who'd be more his ally than Holland's–and potentially hurt Holland politically, who's made tourism a central plank of her commission tenure, with visible success. There's likely to be some behind-the-scene jockeying and politicking over the position.
"Doug will go through the process of determining qualified candidates," Lea Stokes, who chairs the chamber board, said today. "As far as the chamber board I'm not sure what role we'll play at this time." She said there will be discussions with Baxter about that role.
Baxter said he and Chamber Executive Vice President Rebecca DeLorenzo will be doing the interviewing to fill the position by year's end. But, he added: "We're more than happy to invite any member of the tourism development council to come in and be part of the interviewing process if that's what they would like to do."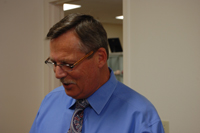 "We hope," Baxter said, "the politics doesn't play any part in this. What we're looking to do is hire a qualified person that knows tourism to fill the position. As seamlessly as possible we move from one VP top another." For now, the chamber president said, there is at least one silver lining to the situation: "The beauty of the timing is the fact that the budget is in place for another year, basically, as of right now, so everything is very organized on what the program is going to do for the next year. That gives the new VP time to get accustomed to what we do here, as well as Peggy built a relationship with the Tourist Development Council over time, and that will happen with the new person." Baxter was quick to dismiss matters of ego. "It's not as if it's an ego thing for me or has been for Peggy," he said, noting the set-up at the chamber: Heiser ran her department with significant autonomy from Baxter. "It was not for me to step in and say I want the glory. I'm not about that. And neither was Peggy for that matter." Baxter doesn't expect that to be an issue with the new person, either.
The nine-member council, a mixture of government and tourism industry representatives, has grown attached–and dependent–on Heiser and her clear, aggressively no non-sense style. Nowhere is that virtual co-dependence more apparent than between Heiser and Holland.
Holland several years ago had been at loggerheads with Heiser, when Holland first got on the council, only to become Heiser's champion and ally as both, through a lengthy process of education (about each other, the local economy and local politics), moved tourism to the center of the county's economic development strategies, raising the bed tax to 4 percent–and increasing hotel stays in the county significantly in the past year, despite the economic slowdown. For most of this year the pair put on a road show for some two dozen government agencies, community and civic organizations to better acquaint them with the council's direction and to get a broader understanding of the county's leisure diversity. They were welcomed and cheered wherever they went.
When the county for most of the year debated and agonized over how to move economic development forward in Flagler, one of the rare recurring point of agreement was that the organization should be modeled after the TDC, with an executive modeled after Heiser.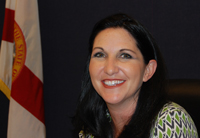 "We think so much alike with these issues, she can sit down say something and I get it immediately," Holland said during an interview a few months ago. "I can call her about this art walk, and I'm like, you know, there's this opportunity here, we need to capitalize on it, and she's–absolutely, I get it."
"We play off each other's strengths," Heiser said at the time, "and utilize those to move forward in efforts that are bringing a return, bringing a result that ultimately they wanted to see, and it's happening fairly rapidly."
Her monthly presentations to the council became dubbed "Heiser Time" as she outlined month after month various gains in bed tax revenue or Flagler's visibility or her own efforts to travel to conventions and conferences–she happens to be at one today, in Polk County–to market the county's tourist potential. Much of the council's oversight was made easier through Heiser's command of its $1.3 million budget and her efficient way of dealing with innumerable applicants for TDC grants the council and the county commission must approve. The grant process was tightened considerably on Holland's and Heiser's watch to increase accountability and ensure that grant recipients proved that their events increased hotel stays in the county. "The perception is that I'm a gate-keeper," Heiser said a few months ago. "I'm not a gate-keeper. I'm an educator."
But the council was looking to Heiser to be just that gate-keeper. Whoever replaces Heiser will have to travel a lengthy and complex learning curve, shifting the gate-keeping role back to the council.
The chamber said a complete job description and candidate qualification requirements will be posted on Employflorida.com on Monday, Oct. 23. All employment related questions, phone calls and resumes should be directed to 386/586.5171.
"We certainly wish Peggy all the best and we're thankful that we had the opportunity to work with her," Stokes, the chamber board chair, said.
"Peggy's done a terrific job over the last six years here," Baxter said. "I've worked with her now for over four and a half years. I've watched Peggy grow, I've watched tourism grow, I've watched the bed tax grow, I've watched occupancy grow. She set the bar high." The challenge is to find someone who can match that height.