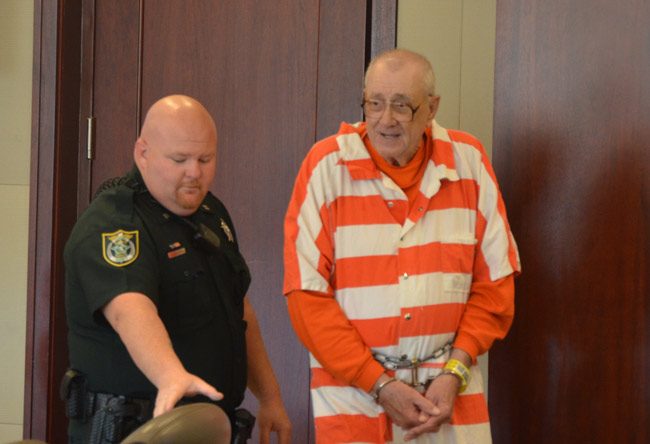 Paul Miller's attempt to challenge his conviction for murder started in a Flagler County courtroom this morning but won't end until the hearing resumes later this month. Miller, through his attorney, is arguing a motion that he was ineffectively represented at trial six years ago. The ineffective-counsel argument is frequently invoked by convicts serving long sentences. Absent gross negligence on a defense attorney—and strategic mistakes don't count as gross negligence—the motions usually fail.
But Miller this time is represented by Ray Warren, a brilliant, beguiling public defender whose hearings have the ring of academic clinics and whose arguments are often unexpected and never lack for crafty theories. He's rarely won them in the cases he's argued in the past few years in Flagler Court—always the more violent, more punishing cases—but he makes them interesting and their outcome unpredictable.
Paul Miller is the 70-year-old former Flagler Beach resident of South Flagler Avenue who, on March 12, 2012, gunned down his neighbor, Dana Mulhall, 52. It was the culmination of a dispute over Miller's barking dogs.
Mulhall had complained angrily about the dogs before and had allegedly threatened Miller, but the day he was shot he was on his side of a plastic fence, on his own property. He and Miller had argued, Mulhall had gone back into his house, Miller had gone into his and retrieved a 9 mm gun, then sat on his porch, waiting for Mulhall to reappear. Miller did not call police.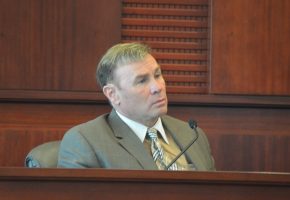 Only then the argument resumed. Miller walked down from the porch to confront Mulhall at the fence, which Mulhall, who had been drinking, shook but never crossed. Miller had the gun in his hand, clearly visible to Mulhall, who did not initially recoil (he was on his own property). At one point Miller claims Mulhall told him that he, too, had a gun, that he put his right hand toward his own back, as if to retrieve a gun in Miller's view (Mulhall was left-handed), which is when Miller started firing methodically, five times.
Miller struck Mulhall all five times he shot him at close range, twice as Mulhall was crawling away from him. Mulhall was unarmed. Mulhall died on the stoop of his house as he was crawling to cover. That day, he'd been preparing to go fishing at dawn the following day and was hoping to get some sleep.
Miller was charged with second-degree murder. His trial took five days. A jury found him guilty after deliberating for 90 minutes. Judge J. David Walsh sentenced him to life in prison.
He'd been represented by Doug Williams, the Daytona Beach and Palm Coast attorney. Williams was in court today, waiting for his turn to be called to the stand, which never arrived.
Miller's argument through Warren is that Williams was ineffective for not calling a use-of-force expert as a witness, and making a stand-your-ground defense out of that. Warren called that witness today: Roy R. Bedard, a veteran of the expert-witness circuit, particularly in cases involving officer-involved shootings, where Bedard's testimony can be key in exonerating officers. Bedard is more often a witness for state attorneys. Warren is well aware. He decided to put him in the service of his own argument—that Miller was fearful for his life and was in such a state that his reaction was not only explainable, but justifiable.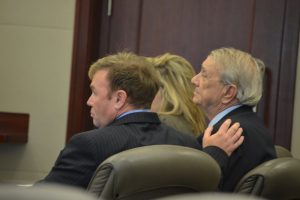 As Mark Johnson, the assistant state attorney on the case now (Jackie Roys, who prosecuted Miller, has since left the prosecutor's office) Bedard never saw Miller in person until today and has never spoke to him, nor has he any other witnesses. He's only read reports. From those reports, he concluded that Miller was justified. (Bedard is paid by Warren to appear, as are most expert witnesses, but paid so significantly that, when Williams first took the stand this morning, Warren asked if Bedard could go first so he could be excused first, because "no offense to Mr. Williams," Warren said, "I'm not convinced that he's able to charge a bill for being here today."
It was only the opening line in strategic series of what became questions to Bedard designed to disparage Williams's handling of the Miller trial. Bedard in turn, used a torrent of academic lingo and euphemisms that, through such filters, transform a homicide into a justifiable killing ("Critical amnesia," "dissociation," "rules of engagement," "proportionality," "acquisitive violence") and that compared Miller's mental state to that of a police officer facing a dangerous situation or to that of a soldier in combat.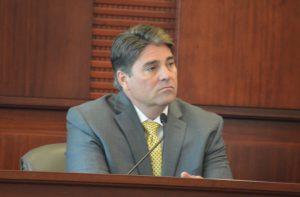 "Would the defense attorney have known that Dana Mulhall would have walked to the fence dividing the properties and began shaking the fence while he was cursing at Paul Miller?" Warren asked Bedard.
"Yes," Bedard replied. (Miller, the trial record showed starting with Miller's own call to 911, was an avid curser himself.)
"Are we talking about an escalating pattern of behavior?" Warren asked.
"Yes," Bedard answered, describing Miller as on the receiving end of "what we call acquisitive violence," while he described Mulhall as exhibiting "predatory violence."
This, despite the fact, undisputed at trial or even by Miller, that at that point it was Miller who was advancing from his porch, gun in hand, at Mulhall, who was either beyond his fence or at the fence with both hands on it, and no weapon showing. Only angry words.
A stand your ground motion, Bedard said, "is almost always my recommendation on a case like this."
Johnson's cross-examination of Bedard was much shorter, focusing on the facts of the case and starting with a simple question: "You are not a licensed psychologist, correct?"
"No."
"Basically all your opinions are based on what you've read?"
"Yes."
"And maybe on what you've been told by the attorney."
Bedard had to concede the point.
Warren had gone after Williams, who sat on the bench throughout (after the judge and the attorneys agreed not to invoke the rule that requires witnesses to be sequestered before their testimony). He was usually scrolling through his phone. A somewhat frail and thinner Miller was in also court. He did not address the court.
Johnson went after the implication of Warren's and Bedard's approach—that Bedard, without having heard witnesses in four days of trial (jury selection took the fifth day), spoken to Miller, or seen and heard Miller himself testify to his mental state the day of the shooting, knows better than the jury.
It was a simple but seemingly effective retort to Warren's attempted demolition of Williams: a lawyer is fallible. A jury is more sacrosanct. Attacking its validity or intelligence goes to the heart of the system's integrity.
That's why ineffective-counsel motions rarely work: because ultimately it's less the attorney's doing than the jury's decision that's in play.
"It is completely unreasonable, absolutely unreasonable that a juror would consider as evidence that Miller's story is untrue?" Johnson asked Bedard at one point, regarding Miller's claims that he was being threatened. (Miller's own wife Derroll, on the stand, had not been able to corroborate his claim of hearing Mulhall threaten him. They divorced in 2014.)
"It's not unreasonable," Bedard said before delving into qualifications of his answer.
It didn't get much further than that. Johnson was done, and it was close to noon. The judge and the lawyers agreed to continue to the hearing to a date later in March, and Warren hoped Miller would not be sent back to state prison in the meantime. But that's up to the Department of Corrections. The exact date of the hearing is not certain. The tentative date is March 22 at 1:30 p.m.