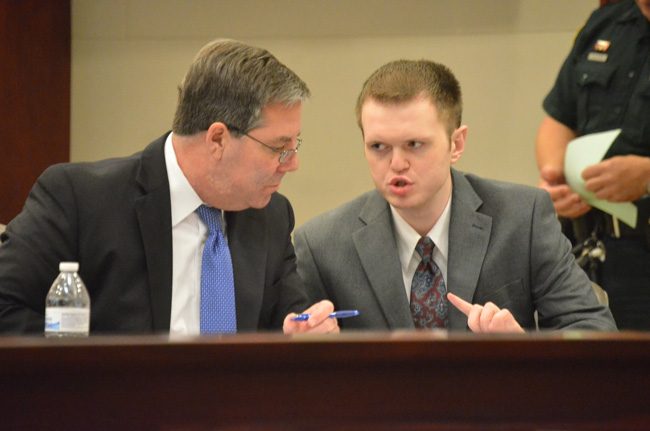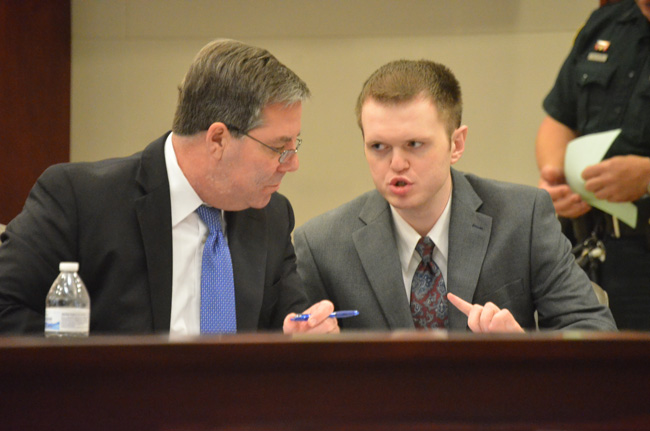 How can you serve impartially on a jury in the case of a man accused of raping a toddler, filming the act, involving another woman in the same acts alleged against a child, and collecting innumerable child-pornography images and videos? That's essentially the question, simplified into more legalese, that a jury pool of 50 Flagler County residents had to answer today as jury selection took up the entire first day of the trial of Paul Dykes, 21, of Palm Coast.
It was not until just past 5 p.m. that a jury of six women and one men—one of them a yet-to-be-determined alternate–was impaneled and sworn. Opening arguments begin at 9 a.m. Tuesday before Circuit Judge Dennis Craig.
Dykes was arrested in April 2015. The charges initially started as possession of child porn, a second-degree felony that's not usually insurmountable to a defense prepared to deal. But the charges were soon amended and worsened considerably in connection with the case of Erin Vickers. The 23-year-old Vickers was recently convicted on similar charges—raping her own daughter. The charges have been amended and increased five times to a total of 38, the last just two weeks ago when two additional grave charges were added: lewd or lascivious molestation on a minor, a life felony, and a third child-rape child, a first-degree felony.
Dykes is going on trial on 24 of the gravest charges in all, with two additional trials potentially slated for next year, though one or both trials may never take place, depending on what happens this week.
The case against Dykes appears as overwhelming as it was against Vickers, his one-time girlfriend with whom he is accused of involving her child and his in sessions in which the children were raped, filmed, photographed, and the acts transmitted through a social media app. Dykes and Vickers were themselves seldom physically together.
Both cases are as lurid as Flagler County court has known in recent memory, intensifying the difficulties of a jury-selection mechanism already complicated in simpler cases. It's a long, laborious, revealing and at times wrenching process that requires prospective jurors to speak of their personal history, their biases and prejudices, their beliefs, and at times, as was the case today, their own experiences with sexual abuse, all in front of attorneys, the defendant, the judge, clerks, and whoever may be in the courtroom, though for more sensitive questions, the judge enables prospective jurors to speak individually, outside the presence of the full jury pool.
The aim is to enable the prosecution and the defense to pick a jury acceptable to both, after each side gets to eliminate a number of prospective jurors, either without giving a reason or for cause (they get a limited number of eliminations within each category.)
Fifteen of the 50 were excused by shortly after noon, after they'd been informed of the charges against Dykes. A number of them were excused because they'd been victims of sexual abuse, including one who'd been molested by a priest. Several said they could not abide dealing with the case. Some spoke of having children or grandchildren of their own and having too much anxiety visualizing those children in situations similar to those allegedly victimized in the present case. Some spoke of their religious belief, their inability to sit in judgment. Some—more men than women, with a notable exception—spoke of having already pre-judged Dykes.
In the phase when prospective jurors were brought into court one by one—those individuals who had signaled to the court that they had no interest in sitting for the case, though the decision was not theirs to make—one woman could not even explain her reason. She broke down and cried moments after sitting down to answer the judge's questions. The only audible word was "because." She was excused.
Then came 14 more, each faced with Craig's question: "Now knowing what the nature of the charges are, do you feel you can be fair and impartial in this case?"
"I can't recall the details but it's vaguely familiar," one woman said. "I don't really want to hear it." She cited her children, though they're grown. "I don't think I would be a particularly good juror." But what did it was her past experience of getting robbed and having to go through the judicial process. "I don't want to go through this again," she said. That was enough to get her excused.
More said categorically they could not be impartial. One woman said when she was younger her father was accused of abusing her, though he had not, causing her anxiety ever since. She was excused.
Many people picked for a jury don't want to serve no matter what, so it isn't always clear to what extent the excuses they proffer are attempts to get out of jury duty. What's clear is that the excuses are sometimes made up or exaggerated. It's up to the attorneys and the judge to see through it all. A Balkan-born man was excused over what he termed his poor English, another claimed no language issue—his first language was Arabic—but said he was sick with fever. The original size of the jury pool gave the court options. Both were excused.
Other declarations: "I believe I'm sort of on the fence." "I wouldn't feel comfortable." "I'm not really sure." "I was so naïve in thinking that something like this could be on the docket." "Emotionally I wouldn't be able to handle it." "Right now I'm in a fragile state emotionally." "I've had family members that have been sexually assaulted and abused." "I've already formed an opinion how I feel about the nature of the case." "Just hearing the charges I get sick over it, I can't stand anything happening to kids."
Dykes, who's been held at the county jail on $170,000 bond since his arrest, was dressed in a gray suit, white shirt and a warmly understated dark blue and mauve tie. As with the attorneys, he sat facing the audience. He took notes, occasionally spoke with his attorney and followed the proceeds with undivided attention—a significant difference with the way he'd appeared at times in pre-trials, when he would often look as if he were tuning out his surroundings, staring ahead of himself with a vacant expression.
Today, and for the first time in a series of court appearances going back almost three years, he looked comfortable, engaged, at times almost charming. It helped that he was not in an orange jump suit with chained hands and feet for the first time in those years. When defendants appear for their actual trial before a jury, as opposed to pre-trials when only judge and attorneys are present, the jump suits and chains are removed so as not to prejudice the jury. Perhaps it helped that he could also, for the first time since April 2015, not be reprimanded for looking in the direction of his mother. He could sit in court facing his mother as she sat—as she's sat through pre-trial after pre-trial–in the furthest back row of the courtroom (the first four were taken up by prospective jurors), and who could see her son without the barrier of jail's video phone. He'd been living with her as he always had when he was arrested that morning in April 2015, when he'd stepped out of the house on Buffalo Meadow Lane to go to work at Publix. He was 18. He turned 21 two weeks ago, his third birthday in jail.
When the judge introduced the attorneys and Dykes to the jury, Dykes, in a rare moment, smiled, greeted the three dozen people in front of him and for a moment looked like a teen on school picture day. The moment underscored the incongruity of his situation: a young man who in any but the rarest circumstances would have been flashing the same expression a few dozen times a day in college, at work, at home, anywhere but to a group of strangers from whom six would, in two or three days at most, decide his fate for the rest of his life. And those were the left-overs from a larger pool already diminished by prospective jurors who'd said they could not be impartial in Dykes's case.
"I'd hang him," a woman had said earlier. If the statement had perturbed Dykes, he didn't show it, maintaining instead the composure he'd kept throughout, even betraying the hint of a smile: She'd been excused from the pool before she finished speaking, anyway.