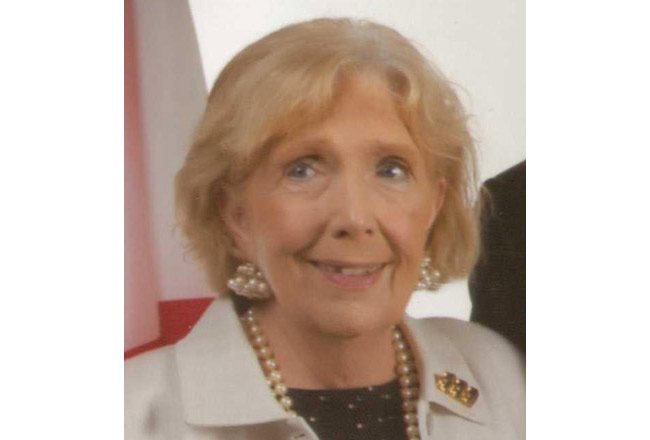 Patricia P. Sullivan, a former chairwoman of the Flagler County Republican Party married 52 years to Flagler County Commissioner Dave Sullivan, died Thursday at home following a long illness. She was 78 years old.
Memorial Services celebrating Sullivan's life will be held on Friday, November 16, at 11 a.m. in the chapel of Craig-Flagler Palms Funeral Home in Flagler Beach, with Rev. Harry Gilman officiating. The family invites friends to visit with them on Thursday from 3 to 6 p.m. Craig-Flagler Palms, 511 Old Kings Road S. Flagler Beach. Inurnment in Jacksonville National Cemetery will be held privately.
Mrs. Sullivan was a resident of Palm Coast since 2001, coming from Fredericksburg, Va. She was born in Jacksonville on June 6, 1940, daughter of the late John S. and Erdyce Vickers Perry. A true Florida native, Patricia was the former chairwoman of the Flagler County Republican Party, had volunteered with Flagler Volunteer Service, reading to children in county schools, was a Master Gardener, and enjoyed improving the life of all pets she came in contact with.
A Navy wife and mother, she enjoyed traveling throughout Europe with her Husband David and her two children, both of whom were born in Spain when David and Patricia were stationed there.
Patricia Sullivan loved being involved in politics and was a former Officer of the Republican Women's Club. A loving and devoted wife, mother, grandmother, sister and friend, she is survived by her husband of 52 years, Captain David C. Sullivan USN (Ret), who currently represents District 3 as a first-term county commissioner in Flagler. He was elected in 2016.
Patricia's daughter Leigh lives and works in the tech industry in Austin, Texas. Her son Commander David C. Sullivan Jr, USN (Ret) and his wife Patricia her grandchildren, Joshua, Anna and Luke, live in Lake of the Woods, Va. Her son David is a pilot with Delta Airlines. Her sister Jean Kelley lives in Winter Garden, Fla.
Flowers are greatly appreciated but those choosing to make a contribution to Patricia's legacy, please do so by donating to the Florida Hospital Flagler Foundation here. For online condolences go here. Arrangements are in the care and trust of Craig-Flagler Palms Funeral Home.