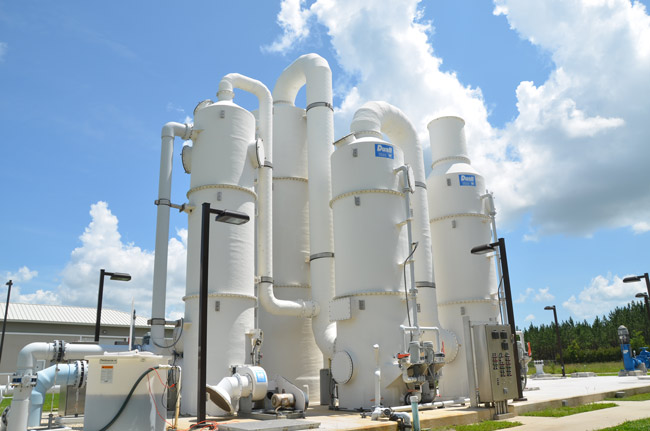 There was good news for the Palm Coast City Council on Tuesday, and bad news for Palm Coast residents. The council was happy to learn that it could refinance two huge bonds it issued last decade, when it acquired the city's water utility. The refinancing would enable a new big loan and increase the city's annual debt payments, but would also enable the city to finance $21 million worth of utility projects, even though the city is barely growing anymore.
The bad news: the city's utility rates will increase steeply for residents and businesses as a result beginning in January—by 8 percent, then by 7 percent each of the following two years. The city has 42,720 water accounts and 35,102 sewer accounts.
Population growth has flattened since the boom (there's still some growth, but it's negligible), and with it, revenue. The city isn't forecasting growth of more than 1 percent, or 100 new connections, per year in the near future, at least when forecasting its utility needs. (Forecasts tend to change from department to department, depending on the administration's steering of policy through the council.) But the utility department is looking to add eight positions over the life of its five-year capital improvement plan.
Fewer new customers means far less revenue growth, and fewer means to pay for capital improvements. Yet the city's five-year plan for its utility includes $21 million in "immediate needs," out of $78 million in total needs.
The council is receptive to both ideas: refinancing its existing bonds to facilitate a new, $15 million loan, and steep utility rate increases to pay for it, in the absence of growth.
"You've got to maintain your system," Palm Coast Mayor Jon Netts said. "It's very easy to kick the can down the road and let somebody else take care of it. It's not good for the city."
"No tax dollars go toward this fund whatsoever," City Manager Jim Landon said in hopes of quieting fears that property tax rates might increase to pay for utility improvements. "It is a stand-alone business."
But the city has long used its utility as a hidden tax on residents, deploying its powerful treasury it to help finance other services in the city—through profits to the utility—and raising utility rates, or fees, just as it would taxes along the way. The city used utility dollars, for example, to finance its multi-million dollar, ill-fated investment in a desalination consortium with many other local governments. The consortium fell apart as costs soared and the economy collapsed. The city also raised the city's stormwater fee considerably to keep up with the stormwater system's demands, yet claimed it wasn't increasing taxes. Those rates are going up again. And it has raised utility fees under the same claim. But residents' bottom-line costs for services have increased steeply, and appear to be poised for yet more steep increases.
Utility rates last rose sharply in November 2008, exactly four years ago, when—just as the economy was in free-fall and Palm Coast was already in a deep recession—residents saw their bills increase by 12.5 percent. Rates have increased just under 2 percent a year since.
The numbers behind the city's utility finances get intricate, as do its refinancing scheme. But it comes down to this.
Palm Coast owes $207 million on two bond issues that mature in 2033 and 2036. The bulk of that debt was the $100 million acquisition of Florida Water, the private water utility, in 2003, on the assumption that the city could provide a quality service at relatively low cost to residents, since the profit motive would be absent. The rest of the debt was generated by a second bond issue, in 2007, designed to pay for capital improvements: the city had needs then, just as it does now, just as it will in the future, when it's done spending its latest revenue.
Both loans had variable interest rates of between 3.6 and 5.25 percent. Both loans were backed by water and sewer impact fees. But that was when the city was growing fast, at something like 11 percent a year, and impact fee revenue was solid. That's no longer the case. The city is growing at about 1 percent a year. But debts must be paid. Instead of raising property taxes, the city is raising rates. The higher rates would also be necessary to preserve the city's good credit rating, and therefore the lower cost on its financing.
Financially, the city has two things going for it: historically low interest rates, and a good credit rating. Taking both into account, the administration, through a consultant, is proposing to refinance the city's two bond issues, just as a homeowner might refinance her house.
The refinancing will lower the overall cost of the two existing bonds by about $550,000 a year, and enable a new loan of $15 million. But the city's total debt-servicing costs, when the new loan is taken into account, will increase by almost half a million dollars, bringing the city's total annual debt-servicing bill to close to $10 million (up from $9.4 million now).
The city can "free up" an additional $6.2 million because the rating agencies have agreed, according to the city's consultant, that the city doesn't need to fund a debt-service reserve. The $6.2 million can then be added to the additional money the city will be borrowing when it refinances, netting the $21 million.
The rate-increase recommendations are based on a rate study prepared by Public Resources Management Group, a Maitland-based consultant. The rate study, Palm Coast's city clerk said this week, had not yet been finalized, and could not be provided to a reporter when requested. But the numbers presented to the council on Tuesday were not final, either: rates and fees may be revised at future meetings as the council wrestles with the proposal again.
What appears certain from what PRMG, the administration and the council have said so far is that Palm Coast is not considering how it might retrench its utility "needs" and capital improvements, but how it might pay for more of them in coming years. A new loan and rate increases appear certain. The size of those rate increases have yet to be refined.