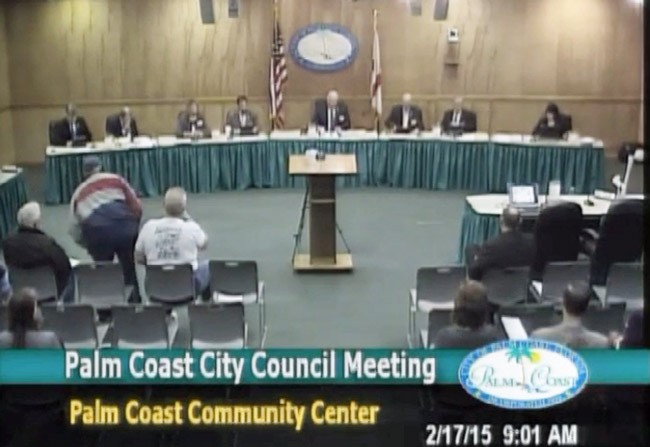 Effective Monday, March 2, Palm Coast's government access channel will be moving to Channel 495 on the Bright House Networks cable system. The realignment is part of Bright House's standardization of the channel line-up for its Public, Educational and Government programming across all Central Florida counties.
Channel positions will change in each viewing area, providing an increased coverage area and expanding the target audience and viewership. In Flagler County, the new channel numbers will be:
Palm Coast Municipal Access (PCMA-TV199), Channel 495 (formerly Channel 199).
Flagler County Government Channel (FCTV), Channel 492 (formerly Channel 198).
Satellite television subscribers will still not be able to access either channel, though both channels are accessible on the web through each agency's website–here for Palm Coast TV, and here for county government's channel, which also carries Flagler County School Board meetings and the Florida Channel and its line-up of legislative cabinet, Supreme Court and other public affairs coverage.
In response to the Bright House channel change, Palm Coast is changing the name of its government channel. Palm Coast Municipal Access TV199, or PCMA-TV199, will now be Palm Coast Television, or PCTV.
"When the City launched its government channel on Bright House Networks in early 2007," Video Production Coordinator Tom Hanson said, "we did not foresee changes to our position in the cable programming line-up. We launched as TV99. Two years later we were changed to TV199. Now we will be located on Channel 495, so it really became time to drop the TV199 name."
"AT&T's U-verse line-up is not affected by this change; U-verse will continue to carry the City channel on Channel 199," Hanson said. "To avoid confusion, it just made sense to standardize our name to Palm Coast Television, PCTV."
With the change will come a new webpage, www.palmcoast-tv.org, which provides viewers information about PCTV, the channel's 24/7 streaming interface, and programming schedules. The channel website is also available through the city's website.
A national award-winning channel, Palm Coast Television provides quality, non-commercial government and educational programming 24 hours a day, seven days a week. Its show content reflects the nature of the Palm Coast community, its residents, programs and events, while making government more accessible and understandable. The business meetings of the Palm Coast City Council air live on the channel every other Tuesday and those programs are available on-demand afterward through the webpage.
City Council member Bill McGuire has asked that the city's monthly red-light camera hearings, which the city records but does not make available to the public on its website, be shown on the city's television station. "We plan to work on this very soon," Cindi Lane, the city's spokesperson, said in late January, after McGuire made his request (which got consensus approval from the rest of the council). But the hearings take place at the city's current offices at City Market Place, which do not accommodate routine videotaping of meetings.
"Since we don't normally videotape meetings here at City Offices, we just have to look into what it would take and then make a recommendation on the best approach. Once we move into the new City Hall it'll be much easier," Lane said.
New channels for other government stations in Central Florida, outside of Flagler County, are:
Volusia Instructional TV Channel (ITV) Channel 488 (formerly Channel 198)
Daytona Beach Shores Government Channel 489 (formerly Channel 199)
Daytona Beach Government (DBTV) Channel 490 (formerly Channel 199)
Deltona Government (DeltonaTV) Channel 491 (formerly Channel 199)
New Smyrna Beach Government Channel 493 (formerly Channel 199)
Ormond Government Channel 494 (formerly Channel 199)
Ponce Inlet Government Channel 497 (formerly Channel 199)
Port Orange Government (POGTV) Channel 498 (formerly Channel 199)
For more information, contact Tom Hanson, Video Production Coordinator, at 386-986-2485.