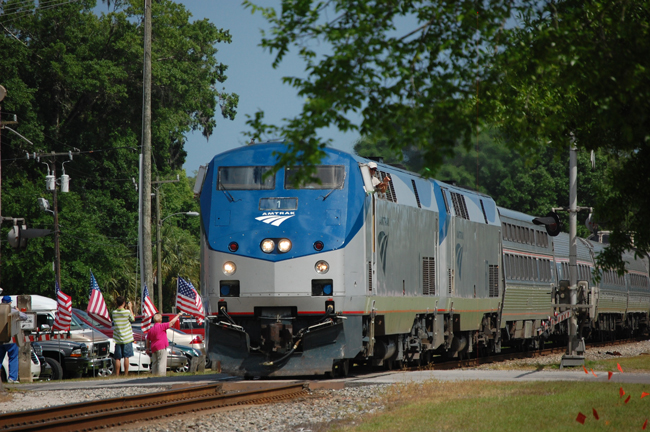 Bunnell put on a show of pleas and pride on May 1 to convince Amtrak to include Bunnell among its stops should the train line resume passenger runs along Florida's east coast. Elected representatives and administrators from Bunnell, Flagler Beach and Flagler County were there. Conspicuously, none of Palm Coast's elected officials or top administrators were there.
Palm Coast is making amends. On Tuesday morning, the Palm Coast City Council was scheduled to hear a resolution of support endorsing "the location of an Amtrak/passenger rail station in Flagler County," with some magnanimous language patting Bunnell and the county on the back. (Read the full resolution.)
In June 2009, Palm Coast passed a resolution asking Gov. Charlie Crist and Florida Department of Transportation Secretary Stephanie Kopelousos for their support in reviving the Florida East Coast Railroad, which carried its last passenger in 1968.
The state Department of Transportation, Rail America, which owns the East Coast Railroad, and Amtrak have been working on securing $268 million from the Obama administration's stimulus plan passed in February 2009 to reintroduce the passenger service on 326 miles of East Coast railway between Jacksonville and Miami. This proposal reintroduces a 2001 plan killed in the early days of the Bush administration, which had no interest in expanding rail or supporting Amtrak.
On May 1, Amtrak ran a ceremonial passenger train from Miami to Jacksonville, stopping at several potential future stations, including Daytona Beach and St. Augustine–but not Bunnell. It slowed down for Bunnell, which had assembled people, bigwigs, flags, fire trucks, and other forms of cheer to catch the train's attention. It apparently did.
Bunnell Vice Mayor Jenny Crain-Brady and Judi Stetson, the city's grants director, were on the train. At a Bunnell City Commission meeting Monday evening, Crain-Brady summed up the scene on board: "First they're seeing the flags, oh my gosh, look at the flags, and then it was the people, and then it was the banners, and once we went through that entire domed car was clapping and yelling, just the way Judy and I were, and from all the way to St. Augustine, all the way to the trolley ride once we got off the train, they continued talking about what Bunnell did."