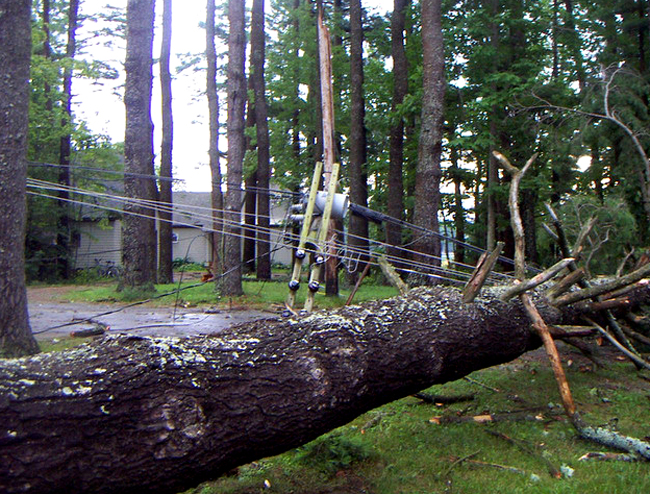 A severe storm that triggered a tornado warning on Wednesday afternoon downed trees and power lines and left, at one point, 11,000 power customers in Flagler County and 16,000 in Volusia without electricity, a Florida Power & Light spokeswoman said late Wednesday evening.
As of 9:45 p.m., some 2,000 customers in Flagler County remained without power, FPL's Jacquie Anderson said, and 8,000 more are without power in Volusia County. The company could not specify what communities specifically were hardest hit, though Don Petito, the county's fire chief, said downed power lines and downed trees had been reported in Bunnell, Palm Coast, Flagler Beach and Beverly Beach after the storm rumbled through the area between 4 and 5 p.m.
The storm whipped wind gusts of up to 70 miles per hour. FPL could not say when many of the power outages could be restored, although the company was moving swiftly. "We really want customers to focus on safety right now and to remind them to stay away from power lines and standing water in the area. If they do see downed lines they need to call 911," Anderson said.
One Flagler County resident reported having to call 911 five times before getting an answer late this afternoon. She was reporting a tree on fire in her backyard, in Palm Coast's P section.
"This was a very significant storm, it impacted not only Flagler but Brevard, Seminole and Volusia County." At 9:45 p.m., 11,000 customers in Brevard were still without power. That high number, like Volusia's, affects the length of time before customers in Flagler may see their power restored, as FPL's crews focus on the hardest-hit areas. The company has pulled in crews from the west coast of the state as well as from the Treasure Coast, Anderson said, to speed up repairs in this region. "They are restoring power as quickly as possible," Anderson said.
The National Weather Service upgraded from a tornado watch to a tornado warning for northern Flagler County from 4:15 to 4:45 p.m. That means a tornado in the area either was spotted or was imminent.
No actual tornadoes were actually confirmed in Flagler County, however. After the storm, authorities reported downed power lines and downed trees across the region, and a roof blown off of one residence in Beverly Beach, but no injuries or other serious damage. Lightning triggered some brush fires as well, but because rain was so heavy, the fires were put out rapidly.
By late evening, residents in various Palm Coast neighborhoods and and Flagler County communities were reporting lasting power outages.
Earlier today, the area was under a tornado watch. The northern half of Florida–33 counties, including Flagler, Volusia and St. Johns– was under a tornado watch until 8 p.m. this evening, according to the National Weather Service.
At noon today, a large swirl of severe thunderstorms was moving east-northeast across southern Alabama, southern Georgia and the Florida Panhandle. The south-central edge of the storm was approaching Jacksonville. Scattered thunderstorms were expected in the Palm Coast-Flagler County region by mid-afternoon, with a 70 percent chance of more sustained thunderstorms between 6 and 10 p.m.
Schools were not affected by the advisory since Flagler County schools are on spring break all week.
The weather system is the result of a low pressure area around the Gulf Coast. Cold air is flowing behind it. Cooler, drier weather is expected by Friday.
A tornado watch means that conditions are favorable for the development of severe thunderstorms and multiple tornadoes in and close to the watch area. People in the affected areas are encouraged to be vigilant in preparation for severe weather.
A tornado warning means that a tornado has been sighted by spotters or indicated on radar, and is occurring or imminent in the warning area. If a tornado warning is issued, people in the affected area are strongly encouraged to take cover immediately.