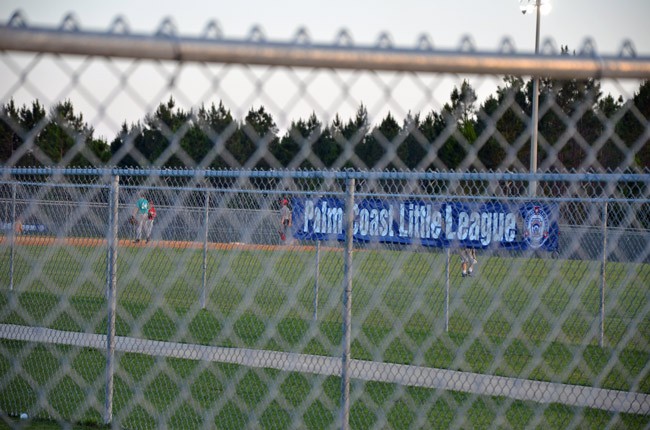 In Palm Coast, a contract means something until City Manager Jim Landon says it means something else.
Palm Coast Little League, a non-profit representing 550 players and 200 volunteers, found that out last month when the city administration arbitrarily booted the league off the fields it uses at Indian Trails Sports Complex to accommodate a for-profit tournament for two weekends in April in May, and possibly another organization in late March.
Palm Coast Parks and Recreations Director Lucianne Santangelo told Little League that it will "have use of Holland Park and Seminole Woods Neighborhood Park" on the conflicting dates, even though the city has a long-standing contract with Little League that gives it preferential use of the Indian Trails Sports Complex, and that lays out a specific process by which Little League could be shifted out of those fields. But the city did not use the process, or inform Little League of the coming tournament until the dates were set, other than to tell the organization that it would have to play elsewhere.
"We're concerned that the actions that have been taken don't fall in alignment with the agreement that we have with the city," Little League's Doug Berryhill told the Palm Coast City Council this morning, referring to the contract signed in 2007 b y Little League and Landon. He asked for council member's "feedback in terms of the process that the city believes is appropriate to work through with the Little League organization to come to some kind of conclusion that we both believe is appropriate."
An organization called Triple Crown Sports is hosting the tournaments, expecting to draw up to 60 teams. Triple Crown charges an entry fee of between $350 and $475 per team (and requires all participants to book hotel rooms through its own pipeline, forbidding third-party bookings). The organization was secured through the Flagler County Tourist Development Council. The city has encouraged recruiting such events to bring in visitors and stimulate the local economy. But such tournaments occasionally create friction with community organizations.
Berryhill was following through on a letter Patrick Johnan, writing on behalf of the Little League Board of Directors, sent council members and the city administration last week. "The Tourist Development Goals of bringing revenue to the city and its businesses thr[ough] allocating city facilities to 'for profit' tournament baseball programs provides some small measure of benefit to the community," Johnan wrote. But Palm Coast Little League, he continued, "believes that the value delivered from this action in no way compares with the value the Little League delivers to the city thr[ough] the provision of services to Palm Coast children and their families. Additionally, PCLL believes the benefit of travel baseball/softball tournaments in no way justifies the city violating the terms of the agreement between the city and PCLL. The children of Palm Coast should not be penalized thr[ough] the contracting of city facilities to 'for profit' organizations." (See the full letter below.)
After Berryhill made his case before the council this morning, citing his organization's "preferred participant rights in terms of those fields" and the city's failure to use the process that would have altered their use of the fields, Landon explained the city's perspective.
"There is a misunderstanding," he said. "The league had the privilege of not having other organizations use the field, as most of the other youth sports in our community don't have that privilege, because there's multiple groups." It was a roundabout way of saying that Palm Coast Little League is the only organization that has a contractual agreement with the city, though Landon—who usually considers contracts sacred–appeared not to want to stress that aspect of the relationship.
The contract addresses Little League's rights to the fields at Indian Trails Sports Complex as much as it addresses its use of the building it built there at its own expense. Landon focused on the building portion, downplaying the specific language of the contract defining field use.
---
The city manager defines a "tournament" differently from an "organization."
---
"That agreement makes it very clear that Little League does not have exclusive rights to the baseball fields, but the gentleman does outline a typical process if we're going to have other organizations be allocated time," Landon said, describing that process. Typically, he said, the process would apply if a lacrosse or soccer or another baseball organization were to want to use fields. Recreation would get together with the various organizations and divvy up the time.
"If we had that type of organization come in we would do the same with the little league fields," Landon said. "In this case that's not what's happening, because we have a third use of the fields. In this case we're not allocating the use of those fields to this other organization. This is a tournament."
In essence, Landon as he spoke to the council was rewriting the contract, adding in definitions it did not include and making a difference between "organizations" and "tournaments," even though, as he would concede later, the contract with Palm Coast Little League makes no such distinctions: it's "silent" on tournaments.
He went on: "So let's take what we're very used to, but Little League is not used to, is a soccer tournament. When the city has a tournament come in, then we schedule that, and we notify those different organization that were allocated that use of that field that on such and such a weekend we will need to find you another location, another location at a park to use the field, because the city is holding a tournament on those fields. And that's what this is. This is the first time we've been able to recruit a baseball tournament for a couple of weekends."
The difference he did not speak of was the difference Palm Coast Little League was stressing in its letter and its presentation to the council: it is the only organization to have a contract that directs the city's process on alternate field use.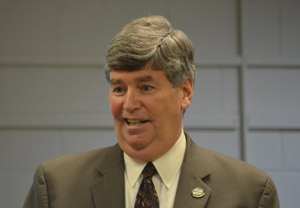 "Little League shall have primary proportional right to use the Complex between January 15 through July 31 and between September 1 through November 30 of each year," the contract states. The proportional use kicks in when a different entity wants to use fields. The use will then be based on a lottery system "in which the Little League would be awarded a number of draws proportionate to the number of participants in the programs" relative to other programs.
"Little League has received no notification from the city regarding a lottery of any ntype, and has not been granted the opportunity to exercise the primary proportional use rights provided for" in the agreement, Johnan wrote.
Landon defined a tournament as existing outside the parameters of that contract, then took the discussion in a different direction, saying local organizations don't pay for upkeep of Indian Trails Sports Complex: the city does, and tournaments help underwrite that upkeep. But eh couldn't say how much that upkeep is.
"What's our maintenance budget for Indian Trails Sports Complex?" council member Bill McGuire asked.
"We don't actually separate it out as a different cost. It's in our overall parks maintenance," Landon said.
"How much money do we spend maintaining Indian Trails Sports Complex?" McGuire asked again.
"I don't have an answer for you right now," Landon said. "Some of the crews that are out at Indian Trails may be doing other things, too, we could try to come up with an estimate for you. But it is substantial."
"This Little League," Landon said, "we've been in contact with them every year about how can we get baseball tournaments in here. They may be surprised we finally did it, but the idea of us trying to use our Indian Trails Sports Complex for tournaments to help fund the actual maintenance of the fields, also just the local economy and all the businesses that thrive during these weekends that we have the tournaments, so this is the same thing we do with soccer, lacrosse, football, and now baseball. The only difference is we've never had a baseball tournament. But that is actually very consistent."
Council member Steven Nobile was uncomfortable with the redefinitions. "Mr. Landon, are we stating that the tournaments versus the organizations difference, is that another way of tomato-tomahto, or is it specified in the contract that tournaments are excluded?" Nobile asked.
"Tournaments are silent in the contract, just like all the other organizations," Landon said, moments later again downplaying the contract and putting the responsibility for the tournaments on the council: "We've been given clear direction to go out and recruit tournaments, working with TDC. If city council wants to give local organizations priority of the fields, I guarantee you soccer would be happy to say we trump any lacrosse tournament," Landon said.
"What I don't want to do is create an unnecessary or high level heartache for a local community event," Nobile said. "I understand the dollars are there. But right now we're investing in a golf course and tennis courts, and our objective is, these are community benefits." (Nobile has been critical of the city's deficit-spending, to the tune more than $100,000 a year at the tennis club and the golf club, to keep both operations going, ostensibly as a community benefit even though they've never made money.) "I just want to make sure we're working with them loosely to make sure this isn't a great heartache."
"You can't tell us to go try to recruit tournaments, then we do, and we land them, and then turn it around," Landon said.
"But I want us to act towards them like we would, I don't want to use tomato-tomahto, or this isn't this, this isn't that, I just want to show them that we're appreciative of their community service and we're going to do what we can. But we have responsibilities too to the rest of the taxpayers to help pay for that."
Landon said he'll be meeting with Little League officials soon.

Patrick Johnan's letter to the city on behalf of the Palm Coast Little League board: