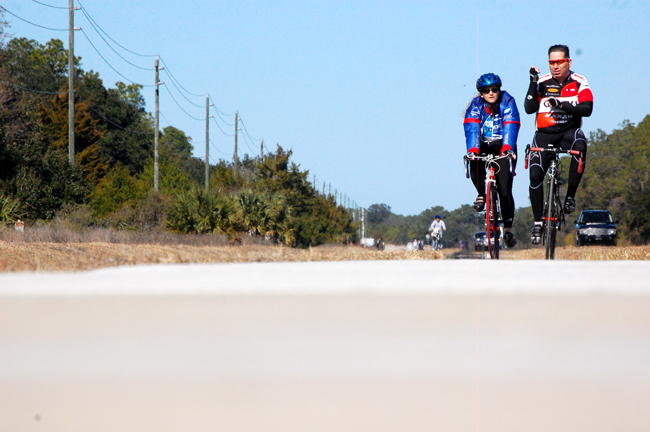 Palm Coast's "Joy Ride," an attempt by a promoter and the city to build up interest in BMX biking in the city, finally got rolling Saturday morning from Central Park in Town Center, three weeks after it was initially scheduled. The event, dubbed a "Holiday Joy Ride" and first scheduled for Dec. 18, was canceled, ostensibly due to the threat of rain.
Turn-out on Saturday was considerably lower than anticipated. By the time bikers lined up, in two groups, to ride through town and trails, a sheriff's deputy estimated the first group to have about 30 riders, and Bob Pickering, a Flagler County emergency management technician pulling duty with other volunteers as a member of React, said the second group–for the shorter ride–had 50 riders, or 80 in all, including children. The original schedule had planned a third group. That proved unnecessary.
The event was organized by promoter Renny Roker, who's hoping to see the city build a BMX track (a spot around the Indian Trails Sports Complex was discussed during a Palm Coast City Council meeting last year) and stage a BMX reality show in town, allegedly starring Erik Estrada, the 1970s TV star currently hosting "The World's Funniest Moments" — a contractual rather than a network show, meaning some local stations run it individually on a contractual basis, at times and on days of their choosing. The show is not available in the Palm Coast, Orlando or Jacksonville markets, but it may be available to some Dish Network customers. The BMX show, if it is produced, would be shown the same way, without guaranteed or blanket exposure nationally.
Before the rides, a few hundred people — many of them volunteers who'd turned up to help run the event — gathered in front of a big banner and a camera to give David Letterman a "this is Palm Coast" shout-out. It was Roker's and the city's idea, both to draw participants and to capitalize on Letterman's recent "discovery" of Palm Coast, to invite as many people, businesses and politicians as possible to thank Letterman for the riff and videotape him a message that may or may not get on the air on "Late Night."
Roker's schedule, distributed organizers ahead of time, had listed an elaborate succession of events, including an "audition group" meeting at 9:15 a.m. to "prepare to meet prospective talent" and "audition table and audition persons in place" by 9:45, with auditions beginning at 10. But the auditions turned out to be nothing more than brief chats with Roker himself, at a table. By noon, he said he'd spoken to some 20 people. A volunteer standing by said there'd been about 10, with a few more to go.
"Turnout wasn't as big as we'd hoped," Roker said, but he was happy with the way the event had unfolded. The weather was ideal–cool, dry, virtually cloudless, a slight breeze–though the few vendors who'd set up shop in a half-arc around Central Park drew few customers once the riders left. The park had the feel of a regular weekend rather than the more successful special events the city has hosted there recently.
Long-distance riders logged a 26-mile loop that took them along Royal Palms Parkway, the Lehigh Trail, Colbert Lane up to Waterfront Park, Linear Park (along Palm Coast Parkway) and back down. The shorter route turned around at the Graham Swamp Trail Head a little north of the Lehigh Trail.