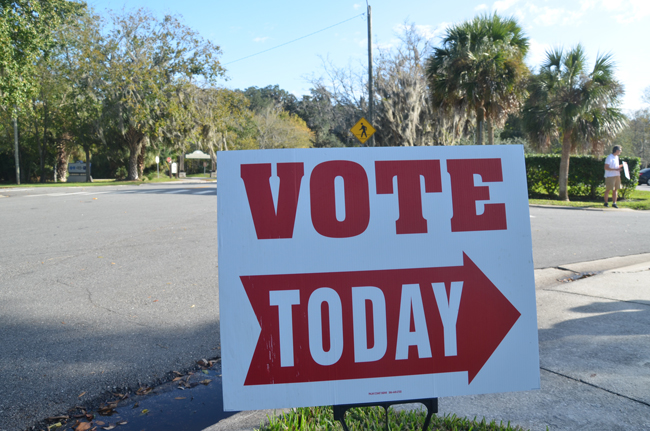 Palm Coast City Manager Jim Landon is digging his heels against Flagler County Election Supervisor Kimberle Weeks' "demand" that the city turn over its larger room at the Palm Coast Community Center, or her request that the city not charge the supervisor's office for use of the center. Hearing the issue Tuesday, the city council is letting Landon proceed on his terms: the council will not cede the larger room, and it will let the administration charge the supervisor for any staff hours outside the normal work day.
"Are you looking for council input on this?" Mayor Jon Netts asked Landon.
"You can provide input but you're talking about managing our community center," Landon replied, making it clear he was not keen on the council interfering with his administrative decisions.
He summarized the situation as he saw it, and as he had in a midnight memo to council members earlier that morning. He downplayed the matter of the city charging the supervisor, saying "that's not really what the issue is for us." And he criticized Dennis McDonald, a resident who's been a thorn in the council's side, for sending a "misleading" email to members about the issue, which Landon derisively termed "another typical McDonald."
"As the makers of policy for this City we the Citizens do not expect to pay twice with Our tax $$ for a need that is one of the most basic rights as Americans, The Right To Vote !" McDonald wrote four council members, to the exclusion of Netts, the morning of Aug. 12. "We the Citizens of Palm Coast will not have Our City charge it's [sic.] residents to Vote!"
The style is overwrought, as McDonald can be. He criticizes the council, and particularly Landon, at almost every council meeting, often making either baseless or poorly sourced accusations. But there is nothing inaccurate or "misleading" about his note: if the city will let the supervisor use the community center for the 13 days of early voting in the 2014 primary and general elections, it will charge the supervisor's office. It would do so even though the county's public library on Belle Terre and Palm Coast Parkway, where early voting has always been held, has never charged the supervisor's office for use of a room there.
Palm Coast has never charged the supervisor for use of the community center on Election Day itself, nor does it propose to, but that's not the issue either McDonald or the supervisor is raising. A new early voting location is. McDonald's email is not the issue, either, though Landon made it so; Weeks has been trading emails with the city clerk and the recreation director over the matter.
But McDonald's email doesn't tell the whole story, and could be interpreted as misleading because of what he omits: Weeks' own intransigence about the room she wants to use.
The larger room at the community center is set up for council meetings with the city's television transmission equipment. It's also roomy, for a relatively large audience. And it's used by innumerable other groups. The council could theoretically hold its meetings elsewhere for the duration of the early voting period, but it could not televise the meetings. Netts doesn't want that disruption. The community center has another room available. Weeks has used that smaller room in the past on Election Day, though the larger room has also been used previously (as was the case with Palm Coast's last municipal election and the recent school board tax referendum).
Why not reserve the smaller room?
"The small room is too small as voters and poll workers have complained, and prefer the larger room," Weeks said in an email this morning. "We would have more room in the larger room to set up more voting booths, and the larger makes voting more convenient for voters.  We have not paid for the use of any room (large or small) at the Palm Coast Community Center.  As voter registration increases, as it has over the past several years, more room is needed to accommodate the voters.  We cannot predetermine how many people are going to vote on election day, and we cannot predetermine how many people are going to vote early or how many people are going to vote in an election at all, but we must be prepared to serve all voters at all times; we do try to make voting as convenient as possible.  This location is centered around our largest polling places and we would expect that the voters would appreciate and take advantage of the opportunity to early vote at this location."
Weeks said she also doesn't want to move voters from room to room at each election, or "day by day of early voting."
"I want to maintain as much consistency as possible, and feel by proving an extensive notice that the city would be able to accommodate," Weeks said. "I cannot offer early voting at a site for one election and not another.  Moving sites and rooms creates confusion."
Weeks can be combative and aggravatingly persistent, as was the case in the early part of her first term. But she has been much less aggressive and more accommodating in recent years. Landon was inaccurate—and himself misleading—when he claimed, in his memo to council members, that Weeks had found his recreation director's response "unacceptable." Weeks had merely questioned who she should direct her inquiries to, because she'd written Virginia nSmith, the city clerk, and received a response from Luanne Santangelo, the parks director.
"Who exactly is it that I need to work with as far as securing this room at this location for voting?" Weeks asked Smith in an Aug. 12 email. "It may be that I need to meet with someone personally or that I need to bring the matter before the City Commissioners as I don't have funds budgeted to pay for the use of the room at this location for the dates needed, and we have some details that need to be clearly understood and agreed upon."
There was no mention of an "unacceptable" proposal, though she made her preferences clear without as yet ruling out a different arrangement. Weeks is set to appear before the city council on Sept. 3.
During the discussion on Tuesday, Landon said the supervisor should be charged for use of the city facility just like anyone else. He said if the city wanted to make an exception for her, it could make an exception for anyone, though numerous worthy non-profits with good causes ask for free use of the room, and are turned down. Neither Landon nor council members made a distinction between such groups, who represent particular concerns and interests, and early voting, designed to accommodate a very large segment of the population. (Some 40 percent of votes were cast in early voting in the last general election.)
Landon was adamant against letting the supervisor use a room without paying, though theamount in question is a matter of a few hundred dollars.
"If you do that, only Palm Coast residents are going to pay for that election cost, because that's the only reason they'd be there is for the election," Landon said.
"But the only people that are early voting probably are going to be Palm Coast residents," Netts said. "In other words I doubt anybody from Bunnell is going to early-vote in Palm Coast."
"From an equity standpoint," Landon said, "what we're saying is that the total cost of that election should go into the budget for the election, and then all the entities that are on the ballot, she divvies it up. That's the way we'd normally do these types of things."
Actually, at the moment, given that the county library does not charge for early voting days, and that mostly Palm Coast residents vote there (since Flagler Beach residents travel straight across State Road 100 to the Bunnell early voting location), the county is subsidizing Palm Coast voters, free of charge. So is the supervisor's office and its staff, which remains open late on early voting days, and where some Palm Coast voters go to vote early. If the supervisor were to bill all jurisdictions for her early voting costs, she would actually be splitting only Palm Coast's facilities cost.
Landon called it "ironic" that the supervisor would still be charging the city for the election. But that was an incomplete—if not misleading—claim. "The City has been charged only for actual election expenses for their elections like all other municipalities," Weeks said. "My budget doesn't contain funds for their elections.  Currently the City would be responsible for ballots costs should additional ballot pages be required due to their election."
Two council seats are up for election in 2014. The city moved its elections to coincide with even-year cycles, and other elections, in order to save money. It would have been spending far more money had it held on to odd-year cycles, as it would have essentially had to continue paying for its own, exclusive elections.
Council members were mostly muted during the discussion. Jason DeLorenzo alone spoke against charging the supervisor, though Netts at least appeared willing to dispense with the fee as well. Both were clearly in support of more early voting locations, but they stopped short of giving Landon any direction different than he was giving the council.
"We cans schedule this and make it work, she just needs to work with us versus demanding that we give up whatever she wants," Landon said. "I think we're going to be able to work it out but she's going to have to be reasonable about the spaces we have and the uses we have out there."