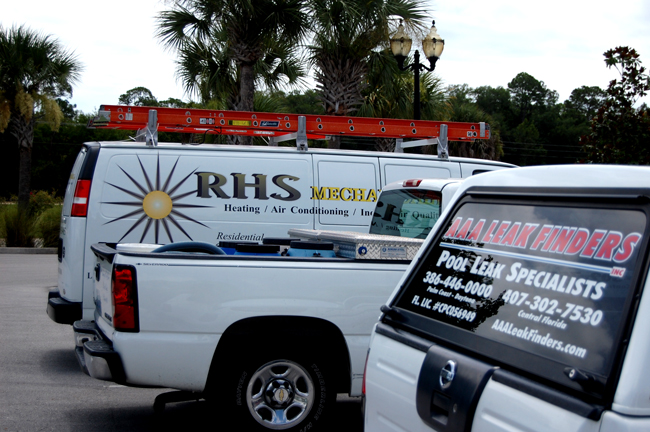 During the public comment period at the end of the June 1 Palm Coast City Council meeting, Al Wagner, owner of a couple of new auto businesses in town, briefly addressed the council just to "let everybody know that we're still plugging away on the good note of trying to bring business to Flagler County and to Palm Coast." Mayor Jon Netts called it—in jest, and to great laughter—"a shameless plug," then added: "That's all right. We'll take all the businesses we can get."
But do they?
One of the council's most recurring themes at every meeting is job creation. The council's words don't quite match its policies, at least not when a certain type of small-business, working-class jobs are concerned—the type that requires 24-hour operations such as handymen, air conditioning repairmen, plumbers, taxi drivers and the like to park their vehicles in residential driveways. The city's code doesn't allow it if those vehicles exceed a certain size, are "equipped with a hoist or other similar mechanical equipment," or display signage larger than three square feet.
The very next speaker after Wagner at that June 1 meeting was Patrick Thomas, owner of the local Rent-A-Husband handyman operation, who wanted to let the council know "how certain aspects of the code just need to be maybe perhaps relaxed or updated to be less hostile toward small-business owners." Thomas' primary vehicle is also his work vehicle. It's a van with signs on the side and a ladder rack on top. He received a code-enforcement warning saying he had to keep the vehicle at a storage facility, "which for me, really is an impossibility, because how am I going to get to it?"
Wagner made an equally key observations that resonates with other small business owners in the same situation in Palm Coast, where non-working retirees have a propensity to play code cop in their idle hours: "There are people who seem to like to use code enforcement as a tool to harass people. For example I got a warning three days ago—I got one today, and I wasn't even home. My wife called me up and said yeah, you got another citation for the van in the driveway. I said it's not in the driveway, I'm in it. And they said yeah, there's a trailer and a van in the driveway. In the three minutes it took me to take my trailer out of my garage, hook it up to my van and drive away, someone had already called code enforcement. So I think it has become a tool of the idle-minded, and they should be cited for abusing the system."
Wagner wasn't kidding. Barbara Grossman, the city's code enforcement manager, says one neighborhood watch group near the Palm Coast golf course "will ride around and they'll give us all the violations they feel are violations there." Code enforcement is required to follow up on those complaints. "It's not me going and looking for them, it's me being reactive" to the complaints, Grossman said. But Grossman doesn't write the code. The code is city policy. And the council writes those policies.
On Wednesday, some 30 people representing small businesses impacted by code enforcement's residential restrictions gathered at the Flagler County Chamber of Commerce to decide whether and how to approach the city and either change the code or at least change its restrictive interpretation. It wasn't clear at the end of the nearly two-hour meeting how they would proceed, or whether they would assign a smaller committee to develop an action plan and perhaps meet with City Manager Jim Landon. A second meeting is scheduled for July 14.
"We ended it with a list of concerns, and they're going to put their heads together and decide what to do next," said Jay Livingston of Livingston & Wolverton, the Palm Coast law firm. Livingston volunteered his time there as a member of the chamber to give the group some tactical clarity on the difference between legal and policy issues. "These types of restrictions are given a lot of deference by the courts, so the city is definitely not doing anything wrong," Livingston said, so it's an uphill battle if the businesses want to get the restrictions loosened, at least through a legal challenge.
But they may have recourse as a matter of policy—and the city's interpretation of the policy. That may well be the route the businesses takes. "The group is more inclined to use their voices as opposed to the law to get what they think they need," Livingston said.
That, too, won't be easy, given the city's most recent stance on the matter. As a follow-up to Thomas' and other complaints, the council discussed the matter on June 29. Council members—only one of whom currently holds a job—watched as 39 images of vehicles of various size (from sedans to backhoes) displayed various examples of vehicles that have drawn code violations. The council wasn't inclined to change its interpretations of the code. (See the presentation.)
At one point, Landon showed two images of stretch limousines parked in residential driveways. The cars looked clean, well kept, visually unobtrusive. "Why does the neighbor complain?" Landon asked. "Because it's seven o'clock, six o'clock in the morning. What are they doing? They're unloading the dirty dishes, all the alcohol bottles, all the things they're cleaning up and the vacuums, and then they're putting all that trash out on the curb. It stays out there for two or three days." (There were no images of either alcohol bottles or trash sitting out.) "So all of a sudden this looks like a nice car, the business aspect of it does irritate the neighbors, and why am I having to watch this business activity, and it's waking me up, etc., and that's when we get the phone call. So even though it's like, well, why is that objectionable, it's the activity that's associated with these commercial vehicles sometimes that's the objectionable part, not just the visual part. And that's what you don't hear many times, is that other side of the story."
The next set of pictures showed vehicles almost psychedelically covered in signs and drawings. This is becoming more and more prominent. I call it the tattoo society," Landon said. "We are tattooing our vehicles now similar to what some people do to their bodies. And they paint the whole vehicle. That's a little car on a driveway that then—this is one that my staff assures me we drive on by—but when we get the phone call and that neighbor knows that that sign is over three square feet, we don't have much choice right now. So when you have just a little passenger car, a van with no rack, it's just their paint job, you're starting to get into more difficult issues."
The 39 pictures presented graphic examples of what the city is contending with, but even the pictures weren't the full story: there was no gauging how many semi trucks are being parked in driveways as opposed to, say, over-painted cars or vans with ladder racks on top. That's what small businesses are objecting too as well—the lumping of all such vehicles into one category that ranks the inadmissibility of a semi truck or a backhoe on the same plane as an air conditioning repair truck.
"They're showing us pictures of backhoes and dump trucks in the driveways. We understand that," says Paul Aiello, owner of RHS Mechanical and one of the business owners at Wednesday's chamber meeting. But "a service vehicle that's clean and neat and parked in the driveway is not an eyesore." Nor is it an indication of a business being run out of the residence (also a city concern). The city, Aiello says, doesn't know where to draw the line, especially with small, service businesses whose customers want immediate relief in emergencies. A service van in the driveway can mean getting to a service call 30 or 40 minutes sooner. Aiello's suggestion: small businesses like his could pay an annual permitting fee of about $50 to enable the parking of such vehicles in residential driveways.
Don't tell that to Mike Johnson, a former New York City cop who nine months ago started All County Taxi in Palm Coast. "No, for the simple fact that if we're providing service that's going to help people, why should we have to pay for that?" Johnson, who was also at Wednesday's meeting, said. "We pay our insurance on our vehicles, which is very expensive, we pay our repairs, why should we have to add another expense if we're providing the community with 24-hour service? We don't charge them extra money if they call us at 2 or 3 o'clock in the morning, so why should we have to pay more for it?" The local hospital and some nursing homes have contracted with Johnson's service for prescription and patient pickups, which can take place any time of day or night. Johnson's neighbors have been pestering the city over the presence of his cabs.
Back in their workshop, council members had their own disagreements of where the line should be between an overtly commercial operation and a mere commercial vehicle parked in a driveway. They didn't, for example, seem bothered by tattooed cars sitting in the driveway during the day, though they didn't want them sitting there day and night. They certainly didn't want semi trucks in driveways. But they were glad to hear the city manager tell them that for now, the city had no recommendation to go one way or another: the presentation was merely for their information. That lifted the responsibility from the council to more actively address the issue, though it's likely they'll have too sooner than later.
Council member Bill Lewis said the ordinance should stay as it is, and tied commercial vehicles in residential driveways to negative impacts on home values. There is no evidence that the odd commercial vehicle in a residential driveway affects home values anymore than does a higher ratio of pine trees as opposed to oak trees in any given neighborhood. Jon Netts, the mayor, was willing to look more closely at drawing a line that's more reflective of where problems really are. But other council members were not as interested. "If you like Palm Coast because it was a nice, clean city, that's why you came here, well, keep it that way," Lewis said.
"I can't figure out where I sit on this one," Council member Frank Meeker said. "I feel sorry for the guys that are struggling right now, in a very tough economic environment, and have had to cut their costs, and part of the reason they're cutting their costs is they're bringing their vehicles home. I bleed for people like that. I really do. On the other hand, I also agree with Mr. Lewis. I don't want to trash up the city of Palm Coast and make it look like—I don't want to say the name of a town in another county nearby. Clearly, this is the first time where I don't know where to go."
Which left the council where it was all along: championing job growth, but only up to a point, and only for certain kinds of businesses. Landon warned of "a very strong" movement from those small businesses—not from residents—for change. That movement was mobilizing Wednesday at the chamber, but so far without a clear direction of its own. "The ball," Livingston, the lawyer, said, "is really in the court of the business owners."