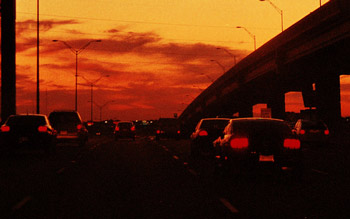 Ormond Beach Police were called this morning by a man who reported that he was abducted early today in Boynton Beach, Fla., and forced to drive some 220 miles north on I-95, to Ormond Beach, where the man executed a getaway. (Boyton Beach is some 240 miles south of Palm Coast on I-95)
The victim, 50-year-old Mark Kaszubski of Boynton Beach, told police that he had just gassed his car up at a local station and was stopped at an intersection when a man abruptly jumped into the back seat of his car. He reported that the man said, "drive or I'll shoot you." Kaszubski said he was forced to drive north on I-95 for a couple of hours with the suspect keeping one hand inside his jacket as if he had a gun. Kaszubski reported that later the suspect ordered him to pull over to the side of I-95 and to open the trunk of the car.
The suspect then began rummaging through the truck. Kaszubski reported that he shoved the suspect aside and was able to jump in the car and drive away leaving the suspect on the side of the road. Kaszubski drove to the next exit and pulled into the gas station at US-1 and I-95 in Ormond Beach, just south of the county line with Flagler, and called police. Patrol units searched the area described by Kaszubski which was determined to be north of the State Road 40 interchange, but did not locate the suspect. Two elementary schools within a couple of miles of the interstate in that area were notified of the search out of precaution.
Kaszubski suffered a small abrasion to his forehead but was otherwise unharmed. The Palm Beach County Sheriff's Office has been notified and has initiated an investigation into the abduction. The only description of the suspect is a white male with a scruffy appearance with a bushy brown beard. The suspect was wearing a hooded sweatshirt and kept the hood over his head during the encounter.
Anyone with information on this crime is asked to contact Ormond Beach Police at 386/677-0731 or Crimestoppers at 386-277-8477 or 1-888-277-8477.