Another Grand Slam tournament, another thrilling match for Reilly Opelka.
The former Palm Coast resident made his Wimbledon debut Monday in epic fashion, capturing a marathon win in the first round of the Boys Tournament Monday, defeating Australia's Alex De Minaur, 4-6, 6-3, 13-11.
Opelka came through with some big serving and assists from the net cord on two crucial points.
"I didn't play my best but I found a way to win, and that's what I'm most happy about," Opelka said by phone two hours after the match. "I competed well and am glad I get to keep going and play here again tomorrow."
After dropping the first set, the 17-year-old Opelka scored an early break of serve and rallied to win the second set, before each player held serve until 6-all in the third.
At most tournaments Opelka and De Minaur would then play a tiebreak, but in every Grand Slam except the U.S. Open, players in the deciding set must win by two games.
"I'm glad we got to play it out, because with a tiebreak, you play a few bad points and you could be gone," Opelka said. "With me usually being the bigger server, I feel good about playing it out."
At 4-5 in the final set, Opelka saved one match point to square the set at 5, and the two players then kept holding serve until 9-all, with the crowd on court 7 ("about 99 percent Australian fans," Opelka laughed) growing all the time.
"He's a real crafty player, really hard to play against," Opelka said of De Minaur. "I don't think I was too nervous today, just took a while to really get going."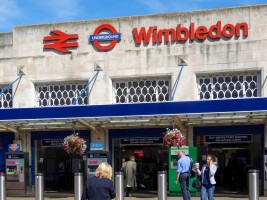 At 9-all, Opelka finally broke De Minaur's serve and seemed to be in a great position to serve out the win. But De Minaur managed to squeak back in by breaking Opelka in the next game ("I made two terrible groundstroke errors," Opelka said), sending the match onward.
Opelka, showing great resolve, then got a couple of fortunate bounces to help close out the match.  He broke again at 11-all when a slice backhand winner hit the tape and dribbled over on break point.
"I got very lucky," Opelka laughed.
Then at 30-all in the next game, Opelka got another net-cord winner before the 6-foot-10 giant drilled a service winner down the middle to grab a well-earned win in 2 hours, 22 minutes.
This was the first trip as a player to the All England Club for Opelka, a former Palm Coast resident who attended Indian Trails Middle School before moving to Boca Raton at age 12 to train at the USTA Training Center there. (Reilly's parents, George and Lynne Opelka, still live in Palm Coast.) He arrived in England in mid-June to prepare. On June 22, he tweeted: "Been in England now for almost a week, and have been to Five Guys at least 5 times." He then added a flag for each of the five trips to the American burger joint.
Opelka came into his first-ever Wimbledon on a pretty good roll. After not playing tournaments for most of 2015 due to a series of nagging injuries, he had a fantastic performance at the French Open, winning three matches, including a win over then-No.1 ranked junior Orlando Luz, en route to reaching the quarterfinals.
He followed that up with a run to the semifinals at a junior tournament in Roehampton, England last week, where he lost to eventual champion and fellow American prospect Michael Mmoh. It was also Mmoh who ended Opelka's run at the French Open.
The 17-year-old Opelka, who turned pro in April but is still eligible to play junior tournaments this year (he's currently No. 18 in the ITF junior rankings), ran into a buzzsaw in the 16-year-old De Minaur, a rising Australian prospect ranked 71st.
Opelka, who served 15 aces and smacked 48 winners in the match, was broken in the third game of the first set, as the 16-year-old De Minaur took advantage of some first-serve misses. The two then held serve throughout the rest of the set, with De Minaur being pushed to deuce in the final game of the set before holding on, 6-4.
But Opelka, who pulled several tight matches in Paris, struck back and broke De Minaur early in the second set for a 2-0 lead, only to see De Minaur break right back to get the set back on serve. Opelka regained the advantage by breaking again for a 4-2 lead, and held on during a tight final game to win the second set, 6-3, to level the match.
Opelka's next match will be Tuesday against France's Corentin Denolly, the No. 3 seed at Wimbledon who Opelka defeated, 7-6, 6-4 just last week at Roehampton.
"That was a hell of a match last week, and if we both serve well, it should be great again," Opelka said. "It's a unique experience," he said of playing at Wimbledon, "I want to keep it going."
Opelka will also be playing in the doubles draw, starting Wednesday, with partner Akira Santillan.
–Michael J. Lewis for FlaglerLive