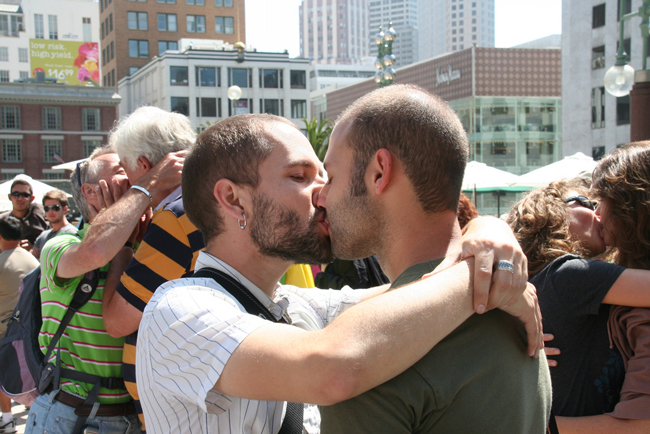 By Daniel Tilson
Florida is nearing what could be a major step forward on marriage equality. And we have some ugly reminders that the ignorance, prejudice and downright stupidity that plagued us in a dark past, are still alive and unwelltoday.
A ruling is expected soon in a lawsuit filed in Miami District Court in January. Equality Florida Institute, the educational and charity wing of Equality Florida, filed suit with six same-sex couples seeking equal marriage rights. As a January press release noted, the case for justice is straightforward and strong:
"The lawsuit argues that Florida's laws barring same-sex couples from marriage violate the United States Constitution by denying them the legal protections and equal dignity that having the freedom to marry provides."
The six long-time couples from different parts of Florida feature plaintiffs who run the gamut from physician, to artist, to successful business people and entrepreneurs. Four couples are raising children together. All have struggled for far too long to gain equal rights. As one of their lawyers, Elizabeth F. Schwartz said:
"The protections we are able to cobble together without marriage pale in comparison to the comprehensive security provided by marriage recognized not just by the federal government but by the State of Florida."
While the plaintiffs and millions of supporters in Florida and nationwide wait for a court ruling, there's opportunity — and news — reminding us how far we've come, and how far we have to go.


This week, a Pennsylvania court issued the latest in a steady string of rulings overturning gay-marriage bans. Gov. Tom Corbett didn't take long to announce the state wouldn't appeal the ruling.
Like a set of social justice dominoes knocking down marriage equality barriers in state after state, the writing on the courthouse wall in Florida seems to say, "We're Next", if…
If the Florida court rules in favor of equal rights, which seems likely, that leads to a much bigger if…
If the state of Florida — translation: Gov. Rick Scott and Attorney General Pam Bondi — chooses not to appeal such a ruling. Hmm.
Too bad we can't move that gubernatorial election to next week, huh? But no, I checked. So if you're guessing this case ends up in Florida Supreme Court…it's not a sure thing, but a good guess.
As we wait it out, two stories emerge to help to frame the "Big Picture." First was this week's fascinating,frightening NY Times story, revealing how our federal government went on a mad witch-hunt for years, trying to identify and fire government workers labeled as gay. Read it and weep.
Then came a lunatic homophobic rant captured on video in March but revealed this week. It features Florida State Rep. Charles Van Zant telling a school privatization love-fest that Florida's new Common Core educational standards will "attract every one of your children to become as homosexual as they possibly can." Read PolitiFact Florida's "pants on fire" assessment of that insanity, then weep or laugh, take your pick…maybe both.
Point of all this being: as we stand on the verge of progress, we are still going to have to fight like hell. We have to face up to and share the awful truth about our government's shameful history of gay persecution.
We have to make the calls, send the emails, and sign the petitions to force our government to do the right thing. And we have to publicly condemn, marginalize and be rid of madmen who spew hate for any reason, but most especially politicians pandering for right-wing donations and votes. 

Daniel Tilson has a Boca Raton-based communications firm called Full Cup Media, specializing in online video and written content for non-profits, political candidates and organizations, and small businesses.