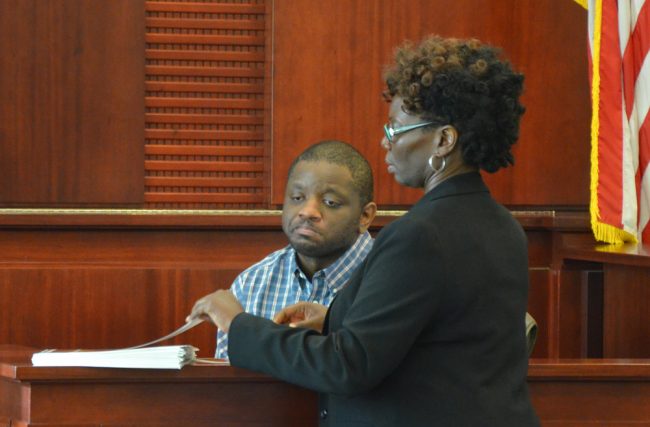 At 35, Obtravies Watkins is not likely to see another day's freedom in his life. A Flagler County jury of five white men and one black woman after three hours' deliberations convicted him this afternoon of rape, attempted murder and kidnapping.
Watkins had stood to hear the verdict with his hands behind his back. As soon as a clerk read the guilty on the first count, a bailiff handcuffed Watkins, the sound of the cuffs sounding in the courtroom at the same time as the clerk read the guilty verdict on the other two counts.
Defendants are almost never handcuffed that quickly–least of all in the presence of the jury. But Watkins had gone to trial in Volusia and been sentenced on two similar charges a few months ago, and when the verdict was read, he lost his temper. Bailiffs were not going to take a chance here.
After dismissing the jury (Watkins did not get up when the jury walked out), Circuit Judge Terence Perkins sentenced Watkins to life in prison.
The defense initially wanted the sentencing delayed so four witnesses could be called. "I am extremely limited in the discretion that I have based on the charges and the verdict of the jury," Perkins said.
Watkins, clearly tired of the week's proceedings and the result, then spoke up: "Let's get it over with," Watkins told the judge.
So the judge started those proceedings, which were mostly formalities–until the victim asked to speak. She took the stand.
"It is my belief that had that man picked any other female out there that they would not have been here today," the victim said, "so I would like him prosecuted to the full extent of the law." Asked if she wanted to say anything else, she said: "I think he needs help, a lot of mental help," and described her many white nights when she is "still trapped in that moment in time."
When the victim returned to her seat, the judge asked if the defense had any witnesses. It did not, because it wasn't given time to gather them. The judge asked Watkins if he wanted to speak. He again said: "Let's get it over with."
He was sentenced two consecutive life terms and a 15-year term. As a prison-releasee reoffender, who committed the most recent felonies within three years of his last prison stint, his sentence was substantially aggravated.
Watkins went from a felon convicted seven times over to one convicted 10 times over. He is also a sex offender for crimes against children, and is now a sexual predator. And whatever the outcome of his week-long trial here, he'd already been sentenced to two life terms on charges involving the same victim in Volusia County. Because the incident stretched over several hours and across the two counties, each county's law enforcement authorities charged him with parallel crimes, and each tried him. He was tried in Volusia last May. One significant difference: he'd not been charged with attempted murder in Volusia, as he was in Flagler.
Because of its alleged brutality, the incident had caught significant attention when it took place last fall.
The morning of Nov. 27, drivers on Old Kings Road near Pecos Drive stopped to help a 25-year-old woman who stood roadside naked, bruised and disoriented. The woman said she'd been raped, beaten and strangled, and later said she'd been kidnapped.
Watkins was soon arrested and charged in Volusia and Fagler. He had picked up the woman, a prostitute he'd known before, on Ridgewood Avenue in Daytona Beach. What followed, according to authorities, the woman's testimony and in several regards Watkins's own account, was a harrowing ordeal that stretched over several hours between Volusia and Flagler and that ended with Watkins allegedly twice strangling the woman and brutalizing her in woods off Old Kings Road as the sun rose that November morning.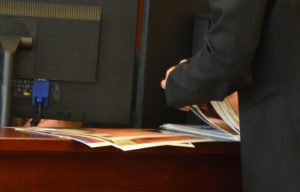 Watkins claimed it was all consensual rough sex that at one point got out of hand when the woman got angry that he was going to stiff her and leave: he owed her $140. He had only part of it, and in the end decided to take back even what money he'd given her. He claims she lunged at him to punch him. The two fought, Watkins said, and he was regretful about that, but there never was anything like strangling or an attempt to kill her, nor had he kidnapped her.
"I did, I left her naked, I took her money that I gave her, and I was wrong for that, I admit that," Watkins said on the stand this morning. "But in no way, form or fashion did I rape this woman."
The woman sat in the first row in the courtroom, her head bent so as not to look at Watkins. She held the hand of a victim's advocate, who also placed a hand around her shoulders for the duration of Watkins's testimony.
"After the acts I was trying to get out of there and I wasn't planning on taking her with me," Watkins said. She saw him take her clothes and try to get away. "She lunged, she threw a punch, and I threw her to the ground, face first." Then the two fought. "In no way I tried to hurt her that night," he continued. "We got into a fight, I wasn't trying to hurt her." H claimed she was dragged 15 feet because she held onto his leg as he was trying to get to his car and get away. "This is a white female, I'm a black male, this was bad," he said, explaining why he needed to get out of there.
His defense attorney, Regina Nunnally, was confronted with significant evidence against Watkins, including 69 pictures–all of them 8-by-11 glossies–showing the victim's bruises and the area of the alleged attack, plus DNA evidence. There was also the fact that Watkins had allegedly dragged the woman deep in the woods and left her for dead, naked.
When Watkins took the stand today (usually a sign that the defense is desperate) Nunnally even looked like a prosecutor at one point as she deliberately and slowly flipped through every single one of the 69 pictures, stacked an inch and a half thick in front of Watkins, and showed him one after another as she stood inched from his face. The prosecution couldn't have staged a more effective moment. Every few pictures she'd stop to get a better explanation about the evidence of violence.
---
"These are marks all over her body, you're aware of that, right?" the defense attorney asked him. "Yes I am."
.
---
"They're bad," Nunnally told him.
"I understand," Watkins said.
She kept flipping. "You're telling me this was due to your dragging her, trying to get out of there?"
"Yes it was," Watkins said.
No attempt to loop a belt around her neck?
No.
"These are marks all over her body, you're aware of that, right?" the defense attorney asked him.
"Yes I am."
She again told him how bad the pictures looked. He agreed. She kept flipping. He kept looking, nodding. He rubbed his eyes once with one hand, pursed his lips. She flipped.
"These marks came from the struggle?"
"Yes, ma'am."
More flipping. "The back of her legs," Nunnally says, pointing to injuries there. "I mean, this is…"
"Not intentional," Watkins said.
"And that? The back of her legs?"
In her closing, Nunnally would refer to the bruises on the victim's knees and blame them on the victim kneeling during oral sex, a not-so-subtle insinuation designed to discredit the victim's morality while explaining away the bruises. But she never mentioned the bruising at the back of her legs.
Nunnally's strategy was to discredit the victim. "She has a bias." "It's a fairy tale." The victim told conflicting accounts of the events. Nunnally painted the accuser as a liar with no credibility who spent five days at the hospital "watching TV, eating hospital food," a shocking statement about anyone that would need to recover from consensual sex in a hospital bed for five days. It's the sort of statement that can easily misfire with a jury, and Melissa Clark, the assistant state prosecutor, did not let it slip: "Ladies and gentlemen for five days she was recovering from her injuries," Clark said. "Hospitals don't keep patients for five days just so they can rest up and watch TV."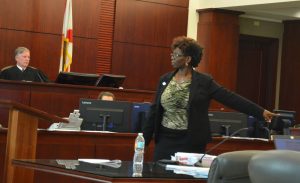 Judges and attorneys know each other's ways and styles. They know Nunnally's approach–scathing and unafraid to discredit accusers to the point of demeaning them on her clients' behalf, especially when she has nothing to lose, or when she's already lost, as the case happened to be with Watkins (though the jury did not necessarily know about his conviction on the same charges in Volusia). Juries of course are exposed to defense attorneys and prosecutors for the first time, so the performance, however recycled, always looks fresh. Lawyers know that too.
But if there was a fine line between trying to make Watkins seem more sympathetic, less vicious or malicious, and vilifying his accuser, Nunnally unhesitatingly crossed it several times: "If my client is as depraved as they claim, there's a lot more that could have happened to" the woman, Nunnally said in her closing, literally saying that since she wasn't anally penetrated, Watkins couldn't have been that bad. "No injuries to her vagina, no injuries to her mouth," Nunnally told the jury. "If my client was depraved, the anal would have been on the list." Perhaps Nunnally was attempting to take advantage of a nearly all-male jury in Flagler, where medievally prejudicial assumptions about anal sex can be used to absolve those who don't engage in it.
"That man might have been wrong for what he did but these pictures are not proof of rape, kidnapping or attempted murder," she ended.
If the jury had been paying close attention, Nunnally had made the prosecution's job easier.
"His story is just not reasonable. It's not logical. It doesn't make sense," Clark told the jury. "This is a man who raped this woman and then tried to kill her. He tried to strangle her twice." Clark refuted the defense's claims point by point, without nearly the passion Nunnally had brought to her defense.
It proved enough. The State Attorney's Office likes to try high-profile cases with two assistant state attorneys, one as co-chair. Clark in this case handled it on her own. That too proved to be enough.