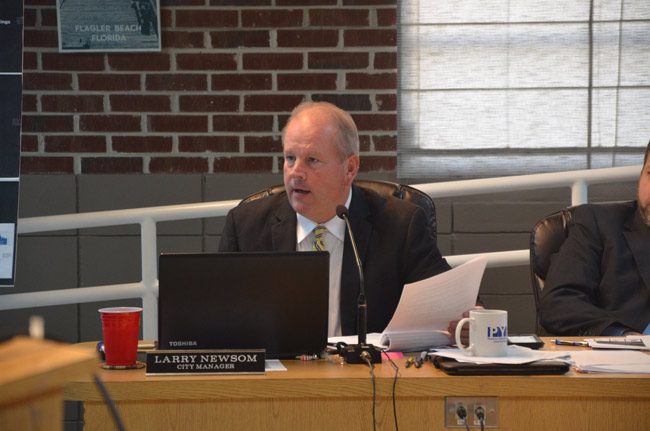 They love their city manager in Flagler Beach.
Larry Newsom had asked city commissioners for a 7 percent raise to his $92,500 annual salary. At a budget workshop today, "they blew that right out of the water," Newsom said, as commissioners offered him 30 percent instead, what would amount to a $27,500 raise.
Whether Newsom takes the full raise is another story. "There's a long way to go," he said this evening. "In good conscience it's not just about Larry, it's about Larry and his staff," Newsom said. "My goal is regardless of what my raise is, is to bring a certain millage rate to the commission. My raise may be sacrificed to that. I will cut my own salary if I feel something else is more necessary."
The budget workshop today focused on the city's general revenue fund and what amounted to every department's wish lists, including a 4 percent across the board raise for all city employees, including directors. The city has some additional maneuvering room this year, with an 8 percent increase in property valuations–the largest since the boom years of the last decade. But Newsom's marching orders are to match as many of the wishes on the list with a property tax rate that commissioners–and taxpayers–can live with.
The current rate is $5.21 per $1,000 in taxable value. For a $175,000 house with a $50,000 homestead exemption, that equates to a $651 tax bill (not including school, county and other taxes). The tax rate that would be necessary to match up with the full wish list is $5.85 per $1,000 in taxable value, or a $731 bill, an $80 percent increase. Neither Newsom nor the commission are likely to go that high.
"He's going to give us different scenarios with different percentages," said Jane Mealy, who chairs the commission. But as far as Newsom's salary was concerned, "everybody was good with that."
The proposal for a raise was put forth by Commissioner Marshal Shupe.
"He wasn't here two months and he was planning for an emergency, and lo and behold, six months later we had an emergency," Shupe said. "That comes with experience, the way I see it. He's been able to do things that we haven't done to my knowledge in the last 10 years that I've been here. He's been able to do things in the last year, year and a half, that maybe should have been done six, seven years ago, or two and three years ago." That, Shupe said, speaks to Newsom's experience.
Newsom himself had applied for city and county administrator or manager jobs in a few other localities since arriving in Flagler Beach, most recently in Putnam County, where he's now among the four short-listed candidates. The four have been invited for a community meet-and-greet Thursday evening. Newsom said he's turned down the invitation and the job for good, and told his commissioners as much today.
"I don't apply for these jobs as leverage," Newsom said. "These things can backfire on any individual." Rather,m he said, he applies to test his marketability, though he'd previously said that if the money was right, he could not in good conscience turn down a substantial offer. And there appeared to have been little question that absent a serious raise, Newsom's days in the city would have been numbered–and the commission would have lost a commanding, unpretentious manager who gets things done without the heavy hand or abrasiveness of a couple of other fellow-top government executives in the county.
Shupe said Newsom's job search in Putnam had nothing to do with his proposal of a substantial raise, which Shupe had been working on for the past several months. He'd made calls and carried out his own research, studying top executives' salaries in other coastal cities the size of Flagler Beach's. (Mealy did not think the comparisons were always accurate, since some of the cities were more touristy spots than full-service cities like Flagler Beach.) He examined about 40 cities and presented his findings to the commission today.
Liz Mathis, the city's human resources director, had research of her own that showed that if a city manager was being hired at the beginning of his or her career, the going rate for a city Flagler Beach's size would have been just under $100,000–still considerably more than what Newsom is making now.
"We all agreed that he deserved far more than what he was making," Mealy said. "He's been nothing but very good for us, and very hard working." So commissioners settled on the $120,000 figure.
"We threw it in his lap," Commissioner Rick Belhumeur said, also citing Newsom's foresight before Hurricane Matthew. "He might decide to come back with something else."
The commission still has another budget workshop and two hearings before the figures are formalized.