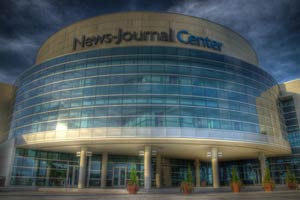 The $20 million sale of the Daytona Beach News-Journal to a group of investors was delayed again today for two weeks or more when U.S. District Judge John Antoon II granted an objection by the Davidson family and asked for appraisals of several News-Journal properties not included in the sales agreement.
PMV Inc., parent company of The News-Journal which includes members of the Davidson family, filed the objection on Jan. 19, arguing that the paper was being sold too cheaply compared to the $252 million value Antoon set for in 2006, that the economy should be given time to recover, and with it the value of the paper, and that all News-Journal properties should be appraised by three appraisers before the proposed sale moves forward. In his order today, the judge left mute any concerns for the disintegrating value of the paper, but agreed that "[g]iven that the apparent value of the real estate comprises approximately half of the entire price," or some $9 million, the legal requirement for three independent appraisals of property involved in a sale cannot be skirted.
---
Click On:
Complete Coverage of the Cox-News-Journal Battle at the News-Journal
---
---
Jim Hopson, the receiver Antoon appointed to run the News-Journal and prepare the sale, argued with Cox Enterprise (the minority shareholder that sued the News-Journal and triggered the case in 2004) that appraising all properties wasn't necessary "as this is not a liquidation sale" and "would be a waste of the receiver's limited resources."
Antoon gave both sides seven working days to submit two "agreed-upon appraisers to conduct independent appraisals " of the parcels at issue. Should the two sides not agree on appraisers, each must submit two names, leaving the court to pick from the combined list. The court is delaying the sale pending submission of actual appraisals. That could push the court's next move deep into March.