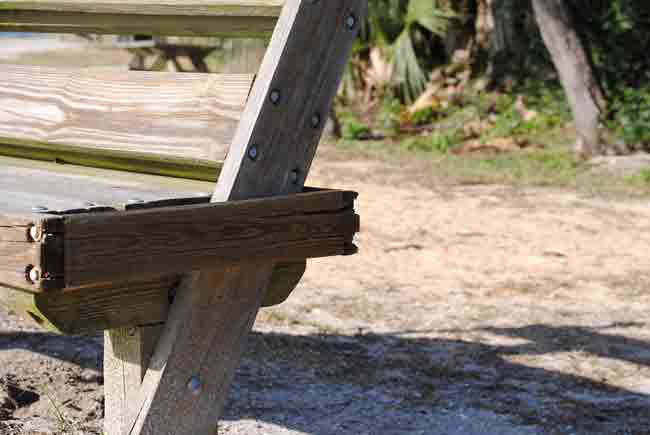 It's a New Year's Day ritual. Look outside your window. You'll see them. Walkers. Joggers. Cyclists. The armies of the New Year Resolution, burning up the calories with a convert's conviction.
Five years ago, FranklinCovey, the time management firm, surveyed 15,000 customers about their New Year's resolutions. The top resolutions were the usual ones: Lose weight. Exercise. Get out of debt. Save. Spend more time with family. The firm also found that four out of five resolutions made on Dec. 31 won't survive a month.
But that's beside the point. New Year's Day exercising is like eating turkey on Thanksgiving or cussing out the IRS on April 15: it's an American tradition. And two local state parks want to help.
Washington Oaks Gardens State Park will celebrate the New Year with a First Day Out guided hike on Tuesday, January 1.
You can join a Florida park ranger on a guided hike through the maritime hammock and estuary of Washington Oaks, while stopping along the way to discuss flora and fauna native to Florida. For those who haven't exercised since last Jan. 1, the stops along the way may be a good idea. Participants will learn about the wildlife that may be seen in the park, and a brief historical overview of the area will be discussed.
You're also invited to do the same at Faver-Dykes State Park, where you can join a Florida park ranger on a guided nature hike along the beautiful Hiram-Faver Nature Trail. This 2.6 mile loop trail will take you on an adventure through pine Flatwoods and oak hammocks that will be sure to delight your senses.
Participants may wish to bring cameras, water, sunscreen, bug repellant and comfortable walking shoes for the hike. Just don't expect defibrillators on the trail, unless you bring your own. Participants should meet at the Main Garden Parking Lot. The price of the tour is included in the regular park entrance fee of $2 per person on bicycle, $4 per vehicle for single occupancy or $5 per vehicle of up to eight people.
Advance reservations are not required. For more information, please call (386) 446-6783. Faver-Dykes State Park is at 1000 Faver-Dykes Rd. in St. Augustine. Washington Oaks Gardens State Park is at 6400 North Oceanshore Blvd., or A1A, north of Flagler Beach.