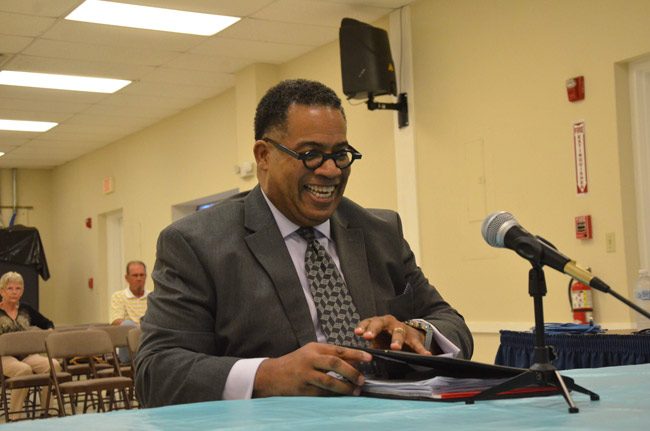 The Bunnell City Commission ratified City Manager Alvin Jackson's choice for a community development director Monday, but not before publicly questioning and undermining Jackson's decision, calling on the candidate to justify himself, and openly wishing the job had gone to someone else: a majority of commissioners said they'd have preferred the job go to Nate McLaughlin, the former county commissioner who's been shopping around for work, even though local contacts aside, McLaughlin has zero administrative experience either in community redevelopment or economic development.
The commission voted 4-1 to approve Jackson's recommendation to hire Rodney Lucas, a former interim manager and community development and economic development director in Groveland, Fla. Lucas only a few months ago was a finalist for the city manager's job in Bunnell, where he interviewed with the commission and won plaudits for his performance at the time.
What is normally a routine and unquestioned manager's prerogative–commissioners only hire and fire the city attorney and the manager, leaving the hiring of all staff to the manager–turned into an unexpected slap in the face to Jackson's authority, largely because commissioners who've long known McLaughlin were volubly aiming to curry favor with him: one commissioner said he was giving the manager "a pass" on the choice of Lucas, another said he was "disappointed" that McLaughlin wasn't the pick, and Mayor Catherine Robinson said "we'll see, we'll see," as to Lucas's coming performance.
All the while, Lucas had sat before commissioners after Commissioner John Sowell had asked him to explain his goals for the city. Another commissioner privately said later that he wouldn't have been surprised if Lucas had changed his mind and turned down the job.
The appointment appeared headed for the routine when Jackson announced it toward the end of the meeting. Unlike in Palm Coast, in Bunnell department-head appointments require a ratifying vote by the city commission.
"I think this is a homerun right here, bringing Rodney on with his background, his education, with his demeanor," Commissioner John Rogers said. "He'll fit right in with the staff and with our community."
"We interviewed him for the city manager position and I must say you interviewed very well," Robinson said. But after Rogers motioned to ratify the manager's recommendation, and Commissioner Bill Baxley seconded, Commissioner Elbert Tucker, a friend of McLaughlin's, intervened.
"Nate McLaughlin is another candidate who I thought could do the job, I know he could do the job," Tucker said. "I'm just disappointed that Nate was not the finalist here." He said McLaughlin's contacts in the county would have been helpful. McLaughlin served two terms as a county commissioner, losing the Republican primary to Joe Mullins in August. Mullins eventually won the seat.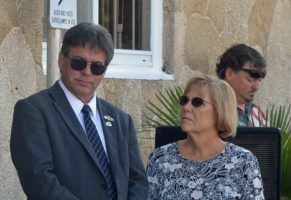 "I would somewhat concur with Commissioner Tucker," Commissioner John Sowell said. "My first choice obviously would have been Nate as well, however I do not dispute the qualifications of Rodney. He has an impressive resume, he interviewed well for city manager as well. My concern is that we have a new city manager and a new person from outside that together are well qualified but don't know the local area a lot yet. So I'd like to hear from Rodney what is his idea for the job before we vote."
Lucas addressed the commission but spoke only in general and vague terms about economic development and perhaps restarting the city's redevelopment district, known as a CRA (for Community Redevelopment Agency), disbanded several years ago during the housing collapse. "I'm a workaholic, and strategic and cerebral, so I look forward to working at you guys's pleasure," Lucas said–actually, at Jackson's pleasure. He offered neither goals nor a vision, saying he'd wait to take his marching orders from the commission and Jackson after an anticipated Dec. 5 goal-setting session with the commission.
"You did interview Mr. McLaughlin?" Baxley asked Jackson.
"Yes, that's correct," Jackson said: McLaughlin was the only other candidate interviewed for the job, which drew four applicants. The two others were Jennifer H. Robertson of Palm Coast and John F. Moore Jr. of Altamonte Springs.
"And based on your interview you found this gentleman more qualified? Is this correct?" Baxley asked.
"Yes, sir, and let me just say this: we are really busy in the building and that community development department, the growth that's coming in," Jackson said. "We needed someone who understood how to do what I call hands in the dirt work, and we needed someone not learning on the job but someone that's actually had that experience." Jackson had been familiar with Groveland, Lucas's former city, and its rapid growth spurts, which Lucas navigated with a small staff. "Outside of not knowing the area, just like myself, I think we can quickly do that."
"So you feel that that would have been Nate McLaughlin's downfall?"
"I wouldn't say downfall, I think he would have had a learning curve on the actual technical part of the job," Jackson said, in essence resisting what would have been a nakedly political appointment that would have damaged his administration's credibility at the start of his tenure.
"The city manager needs to bring his own, people on his own team. We hire and fire the manager and the lawyer. He hires the rest of the staff," Rogers said.
Sowell persisted, as did Robinson. "I would have preferred the other, as I mentioned, but I'll give you a pass because I want you to be able to pick your team, so I'll support it," Sowell told Jackson, "but I'd think the doors we could have gotten opened going the other route."
McLaughlin–who'd attended Sowell's and Rogers's swearing-in in April 2017–was not in the audience. He had told commissioners before the meeting that he felt he had the three votes for his appointment. He did, but he didn't have the manager's vote, which in this instance carried the day.
Immediately after the 4-1 vote Robinson said she agreed with two colleagues' preference for McLaughlin, "but," she said, "I have to yield myself to the city manager in hiring a staff so that part is difficult for me because I've known Nate a long time and Nate has done a phenomenal job for the county and I believe that he may have had some shortcomings on this, but I also believe that he had a lot of strengths. So we'll see. We'll see. Welcome, Mr. Lucas."
Tucker also questioned Lucas's salary: it was advertised at $59,000. Lucas was hired at just over $62,000 (McLaughlin was making about $53,000 as a county commissioner). "He brings significant on-the-ground experience," Jackson explained of Lucas, "so we wanted to at least be close to commensurate."