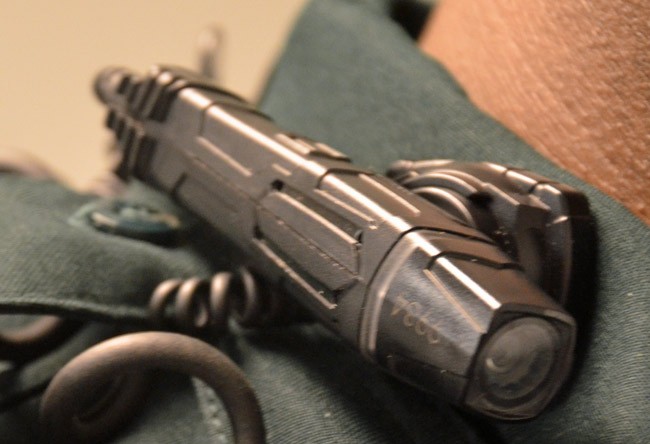 So far this year, 944 people have been killed by police in the United States, including 58 in Florida, according to The Counted, an ongoing project of the Guardian newspaper. A fifth of those killed were unarmed. Blacks were more than twice as likely as whites to be killed. So when it comes to police matters in their communities—and to police technology and methods—black audiences reason to be particularly interested, if not concerned.
Flagler County Sheriff Jim Manfre recognized the fact Tuesday evening in the context of a presentation by one of his directors on police body cameras, a presentation before a crowd of 60 to 70 people at the NAACP Flagler branch's monthly meeting.
"I just wanted the community to understand, especially the black community, how important this technology is," Manfre said.
The presentation was as much boasting—if not campaigning, now that the premature election season has begun, with Manfre announcing his run for another term last week—as it was information and explanation about a technology with its share of supporters and detractors: body cameras are spreading, but not without some resistance, problems and questions, even in Flagler.
At the NAACP, however, there was a palpable sense of reassurance.
"I thought the audience was relieved to get as much information as they did about the body cameras," NAACP President Linda Matthews said, "because the whole issue of the body cameras is because of what transpired with Ferguson and some recent incidents that you're well aware of, and people had questions as to its reliability, who controls it, who's around to see it, how it's operated and whether you can still trust the mechanism. I think they came away feeling good about the questions they asked and the answers they got. Trust is the biggest issue, so we wanted to dispel the mistrust that many people in the community have regarding law enforcement, and I think body cameras are becoming more popular on both sides, law enforcement and the community, because it helps both."
The Flagler County Sheriff's Office had some internal numbers to boast about, such as a 75 percent reduction in the use of force and complaints related to the use of force, which the office attributes largely to deputies' work in conjunction with body cameras.
Of the 3,017 arrests made in 2014, only 46 required a use of force, said Jim Troiano, the sheriff's chief spokesman and a director in the agency, who gave the body camera presentation Tuesday evening. Traffic fines in Palm Coast paid for the 95 cameras, he said, with each camera costing $1,255. Footage is stored in the cloud, on servers provided by Amazon.
"Some people have an issue with Big Brother is watching them," Troiano said, referring specifically to deputies perceiving themselves under surveillance. "I guess the response back to that is it's too bad."
An encounter with police is by definition an encounter with Big Brother, though cameras are designed to give members of the public the reassuring presence of a third, objective eye, which can also benefit police and prosecutors, in matters in dispute or questionable or criminal behavior on either side of the camera. But a new law passed in the last session of the Legislature exempted extensive uses of body cameras from Florida's public record law, effectively undercutting the cameras' usefulness as a means for the public of policing the police while leaving intact the prosecutorial aspect of cameras: while defense lawyers have as much access to camera footage as prosecutors do in specific cases, the public at large does not.
"The transparency issue is a big issue in the minority community," Matthews said.
The NAACP's goal Tuesday evening was to educate members on how the body cameras work and what law enforcement procedures are when recording and storing video. The aim, Matthews said, was to address concerns about potential abuse.
Eric Josey, the first vice president of the group, said body cameras are an important topic after national instances of alleged police brutality in a series of incidents since the shooting death of 18-year-old Michael Brown by a police officer Ferguson, Mo. Brown was unarmed.
"There was a lot of information there that I didn't know," Josey said. A main concern by audience members was who could delete footage, and under what circumstances.
Troiano said there are designated "evidence custodians" who are the only authorized personnel who can delete footage, and only after documenting each step of the process. Footage is stored in compliance with state law.
A camera is theoretically always "on," but for footage to be saved, a deputy must tap a button twice. Once that happens, the camera records, starting from about 30 seconds prior to the moment when the deputy tapped. The camera can record for up to 13 hours. It transmits its data from a charging station when the deputy comes off duty.
Pressing a button does prove to be a problem at times, Troiano admitted. The official policy of the Sheriff's Office is for deputies to turn on their device before arriving at a scene. That doesn't always happen, and may leave gaps in a video recording, he said. The NAACP crowd picked up on the fact.
"You're really caught in a lot of different motions that happen and you're trying to deal with them all," Troiano said, "and it's not as easy to say 'turn on each and every time.' I can tell you there are going to be situations where I'm going to forget to turn it on just based on the stimulus that is presented to me."
Troiano said he hopes with advancements in technology that the system will respond to a voice command to turn on instead of the current manual method.
And nothing prevents deputies from turning the system off during a call. Troiano eased this concern by addressing how an Internal Affairs investigation—when the police polices its own—acts as a safeguard against misuse. The Sheriff's Office would itself address why a deputy stopped recording, especially in cases involving use of force. The deputy would most likely be disciplined.
"It is what it is," Troiano said. "We have procedures in place to defend against that and we take it very seriously if our deputies are turning them off."
The Sheriff's Office's goal is that presentations such as the ones at the NAACP will spread the message about body cameras. Troiano showed body cam footage of the recent case involving a group of deputies facing a woman who appeared ready to commit suicide by cop: she was armed (with what turned out to be a BB gun) and was eventually subdued by Taser after a tense confrontation.
Manfre talked about the case in South Carolina where a school resource police officer threw, dragged and brutalized a black female student across the classroom after she refused to put away her cell phone and leave the room. Manfre said such incidents would not occur in Flagler County because of the training his deputies receive, and the agreement in place with the local school board, which leaves all discipline matters to faculty and the administration.
"I think that we're fine here," Matthews said in an interview. "I have talked to a lot of people who don't have a problem with our police department, with our sheriff's office. The number of arrests are down, the number of complaints are down in regard to incidents involving arrests or physical take-down." Referring to the presentation, Matthews added: "Seeing things like that, being able to ask questions and having them answered are things that keep trust ion this community."