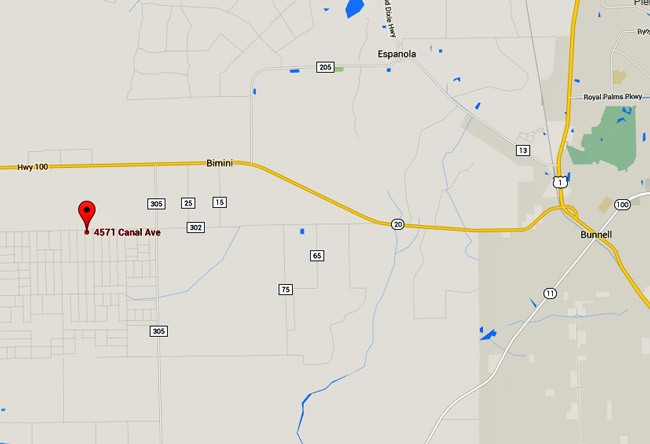 Last Updated: 9:53 p.m. p.m.
See an update to this story here.
A dispute over car parts led a man to shoot up a car with what's believed to be an AK-47 in Daytona North, also known as the Mondex, in mid-afternoon today. No one was hurt. The Flagler County Sheriff's Office has been searching for the man since, though it has not been an active pursuit, and it was awaiting a search warrant to enter the man's house Monday evening.
A section of Canal Avenue in the Mondex was closed to traffic around the house, at 4571 Canal Avenue. The property is owned by Russell Iglesias, 58, who was booked at the Flagler County jail two years ago for contracting without a license. Two other occupants of the house were also booked at the jail in recent years—Cody Iglesias, 24, once on a charge of knowingly driving on a suspended license five years ago, and again on a larceny charge the same year, and Casey Iglesias, 25, on a battery charge.
The Sheriff's office is not identifying the individual involved in the shooting. But Jim Troiano, the sheriff's chief spokesman, said that those who know him should encourage him to turn himself in.
"This was a disturbance over some auto parts, we do know that shots were fired into a vehicle," Troiano said, "and nobody was injured. The suspect was able to leave the scene. We've gotten good cooperation from witnesses." No one was in the car when the man shot at it. Some nine shots were fired, and shell casings were recovered at the scene, with the sheriff's Crime Scene Investigation unit dispatched there.
The man is facing a charge of criminal mischief and possibly other charges. It isn't known whether he pointed the weapon at anyone, Troiano said. He described the weapon as "an assault-type weapon," and said "we've got indications that it's an AK-47," the world's most popular assault weapon.
Troiano said he didn't know if anyone was in the house. (Five or six people are known to live in the house, a 960-square-foot mobile home in the Iglesias family since 2000, according to property appraiser records.)
Just after 9:30 p.m., a purple Kia ran over the stop sign at County Road 302 and State Road 100, and the occupant fled the scene. Authorities are not saying the incident is necessarily related to the incident on Canal, but are taking precautions, as they are concerned about the man fleeing from Canal being armed. (It was turning into a busy evening: at the same time, a trailer hauling thousands of pounds of cheese caught fire on I-95 southbound, at mile marker 186. The driver was not hurt, but cops and firefighters had converged on that scene as well.)