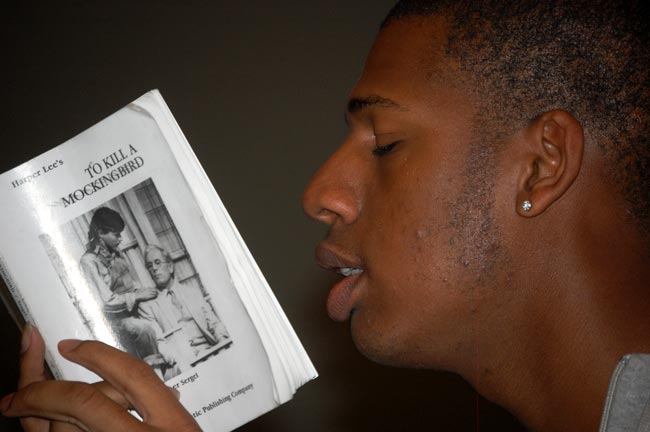 For most of the last few months, the Palm Coast High School Drama Department's production of "To Kill a Mockingbird" has been starring a motley crew of impostors: district administrators and principals, school board members, loud-mouthed community members, reporters, commenters and the odd national playwright association as the play went from being cancelled to debated to reinstated as if it were itself on trial, with Flagler County standing in for Maycomb, Ala.
---
Mockingbird Schedule at the Auditorium
Thursday, Feb. 24: 7 p.m.
Friday, Feb. 25: 7 p.m.
Saturday, Feb. 26: 2 p.m. and 7 p.m.
Tickets: $12 for adults, $8 for students, except Saturday, students get in for half price.
All faculty and school staff may get in free.
---
---
On Thursday the real stars, the only stars worth the name, take the stage as the play finally launches its three-day, four-performance run at the Flagler Auditorium: Eddie Green in the title role of Atticus Finch, the noble lawyer called on to defend an unjustly accused black man; Patrick Farris as Tom Robinson, the accused; Sean-Michael Manniel as Bob Ewell, the drunk lout and bigot; Tera Cieri as Mayella Ewell, the lonely and abused daughter of  Bob who turns her advances on Tom Robinson into an accusation of rape, and Karsyn Bembry as Scout, the young girl through whose eyes Harper Lee told her tale of growing up in Depression, Jim Crow-era Alabama.
The cast of 25 is complemented by a crew of five (see the full list below the story).
"Hard to believe we are less than 45 hours away from opening this show. Even after nearly five months of living with it on a daily basis, I wouldn't mind a couple more rehearsals," Ed Koczergo, the drama director, said late Tuesday evening. "I wanted the play to have an impact on the students directly involved with the production. The show is deceptively simple. We focus on the words, the message, the theme; but, we do it as theater. Keep in mind, this is neither the novel nor the film. It's a retelling of the story as a theatrical experience."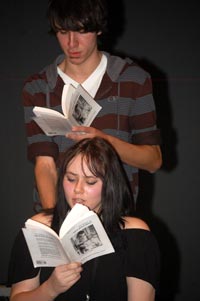 In a recent rehearsal on the auditorium stage, the troupe was going through the critical (and most controversial) courtroom scene, where Finch and Mr. Gilmer, the prosecutor (Nicholas O'Connor) face off over Tom, Bob and Mayella, with the irascible Judge Taylor (Chris Skraba) presiding. The student-actors read from their texts—it was still a few weeks away from opening—as they went through their paces on stage, learning to turn words on a page into living, breathing characters conjuring heartbreaking emotions or spewing vile words. The word was there too, of course—the fragmentation bomb that is nigger—launched at Robinson-Farris with that rote, revolting routine of the era. But it was a word like any other for the actors: itself a character to be brought to life with all the brutality it represented.
From time to time Koczergo would intervene to steer his actors where their emotions should be, reminding them how their lines relate to the other characters in the scene or to the era's historical compass. It's not as easy as it sounds. The actors had to be in character and in history. But his interventions were few: the actors were seizing their moment.
"The courtroom scene, that really got to me," Farris said on Tuesday. "It just gave me a feeling about how people acted and reacted, it really got me. I feel like I was there. In that part I feel like I'm him, Tom Robinson, because the people I'm working with, the other characters they're really good at their characters." There were times, Farris said, when he was so much in character that he would second-guess himself: "Am I really him?" He was treading on the sort of line actors—especially good actors—often deal with: the line between their own and their character's reality. Eliminating that line for audiences is the trick of convincing them to suspend disbelief.
Consider how Sean-Michael Manniel prepared for his role: "It may sound funny but I always thought that Eddie [as Atticus Finch] was Batman and myself was the Joker,  because Bob Ewell does a lot of things that the Joker does. He takes two people hostage, therefore Atticus's two children—in the movie he takes the lawyer and the one girl that the Batman likes. So I figured that If I played it like how he does it, Heath Ledger does it, then I can make it how a bad guy is supposed to be, like a crazy maniac."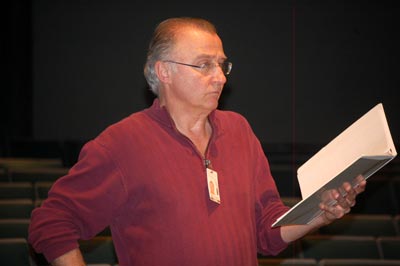 Manniel's Ewell, of course, delivers some of the harshest lines in the play, and draws the least sympathy. Manniel, for whom "Mockingbird" is only his second play, is OK with that: "I'm in character, I'm acting as him, I'm not Sean-Michael at that time, I'm Bob, I'm supposed to have the people hate me, that's my job. And from taking people's hatred to me, I can take that and make it even better on stage. I'm the bad guy: it's supposed to be like that."
It is remarkable—and likely to Koczergo's credit—the extent to which the drama club's actors have thought about their roles. They've had time. But the controversy had nothing to do with it. It's how they were going to approach their work regardless.
Eddie Green, who's been in numerous plays (including eight with Koczergo), has been immersed in the role since fall: "Honestly," he wrote in response to a question about his preparation, "this was the most difficult show I've ever had to prepare for. It's such a prestigious role to begin with, but the fact that Gregory Peck played Atticus to absolute perfection made it that much more challenging. The minute you hear the name Atticus Finch, you think of Gregory Peck. So everyone going into the show (everyone who has seen the film, that is) will automatically be looking for an imitation. That's not what I want to present to them. We've seen his interpretation before. I want to bring my own characteristics to the role. So to do that, I avoided watching the film. I have seen it in the past, but it isn't fresh in my mind. I also decided not to focus on a distinct voice (like I do for other shows). For this show I'm going to use my own voice, but with a lower tone. And I'm going to play him as a civilized and reserved person (like in the book and film)."
The actors have been quite conscious of the controversy preceding this weekend's productions. It couldn't be otherwise. Most were somewhere between disappointed and angry that the original production was cancelled in fall, having by then already rehearsed half of it and worked up excitement about it. Like others involved in the controversy, they've looked past it to the play itself.
"The events that followed the cancellation of the show had absolutely no effect on my performance or perspective," Green said. "I knew what I wanted way before any 'controversy' came about. If anything, it only enhanced everyone's performances because we now know that it has gotten the attention of the public and we want to send a strong message out to the community."
The play will be followed by a round-table with a few people, including FPC Principal Jacob Oliva (but no students) who will discuss Harper Lee's book in its historical and literary context. Jim Guines, the former school board member, will participate by video.   One of the members of that panel will be Koczergo.
Green speaks with affection of hi collaboration with him. "The past seven productions have produced memories that I will cherish forever," he says of the drama teacher and director. "I have gained so much knowledge about acting and life in general from him that I could write a New York Times bestseller and become a millionaire if I wanted to! I will be forever grateful for having the opportunity to work with him.

"To Kill a Mockingbird": Cast and Crew
Eddie Green…………………………………………………………………..Atticus Finch
Karsyn Bembry………………………………………………………………………….Scout
Patrick Pielarz………………………………………………………………………Jem
Leana Gardella………………………………………………………………Miss Maudie
Shawn-Michael Manniel………………………………………………….…Bob Ewell
Ryan Mateo………………………………………………………………………………….Dill
John Kearney………………………………………………………………….….Heck Tate
Tera Cieri……………………………………………………………………………….Mayella
Patrick Farris………………………………………………………………..Tom Robinson
Nicholas O'Connor…………………………………………………………….Mr. Gilmer
Teniyah Christian………………………………………………………………..Calpurnia
Kaitlyn Sanson…………………………………………………….Stephanie Crawford
Tupac Jawandar….………………………………………….…..Reverend Sykes
Brianne Burnett……………………………………………………………..Mrs. Dubose
Chris Skraba………………………………………………………….…Judge Taylor
A.J.Torres.…………………………………………………………..Walter Cunningham
Harley Skrzypinski…………………………Boo Radley/Mob Member/3rd Man
Matt Sousa………Nathan Radley/Mob Member/4th Man/Link Deas
Agata Sokolska…………………………………….….Townsperson
Aaliyah Smith………………………………………….Townsperson
Kara Diap……………………………………………………………………….Townsperson
Javonte Walker……………………………………………….Choir Member/Balcony
Shella Oleus………………………………………………………………….Choir Member
Vanessa Pearson…………………………………………………………..Choir Member
Arcaya Glover………………………………………………………………..Choir Member
CREW
Jason Cazella
William Johnson
Foster Langford
Donald Gitschier
Shayna Goldsbourough