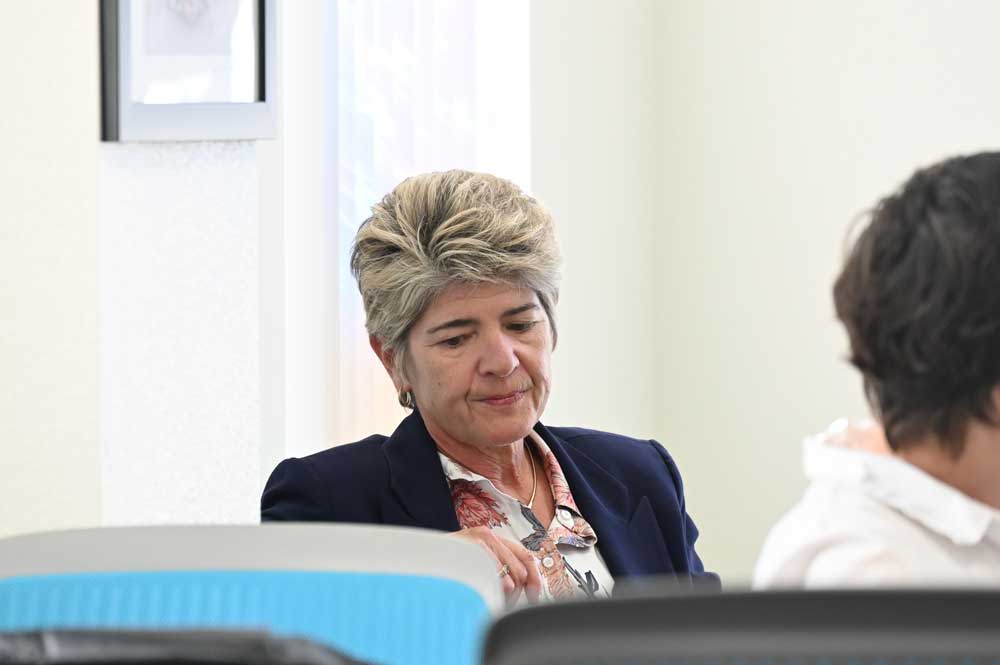 With three rookie members, latent ideological tensions, foot-dragging and a ticking clock, the Flagler County School Board is at risk of losing Superintendent Cathy Mittlestadt, just as it lost her predecessor, Jim Tager. Mittlestadt all but explicitly told the board as much on Tuesday.
Absent an obvious, internal shoe-in lined up by a succession plan, it usually takes a local government four to six months, preferably longer if the process is to be thorough and deliberative, to find a new top executive–a new city or county manager, a new superintendent.
Mittelstadt's contract is up in four and a half months. Until Tuesday, the school board hadn't said a word about it.
Mittlestadt attempted four times in the space of three hours, over two different meetings with the board that day, to get a consensus as to whether it was interested in continuing with her or not. She dropped explicit hints that she has a career to think about, that she could be looking elsewhere, and that she would also be just as happy to continue here.
She got nothing all four times. Or almost nothing. After she brought it up the fourth time, and after board members discussion stuck to matters of evaluation and timelines, without giving a hint of support (or dissatisfaction), Colleen Conklin gave Mittlestadt the closest thing to an endorsement. But it was just one voice.




"I can say, you don't want–the district does not want–to be in the position of looking for anybody," Conklin said, half addressing the superintendent. "And we also wouldn't want to be in the position where Cathy is like, 'Okay, I don't really know what my future is here. I'm looking, I'm going to leave,' because you don't want to be left at the end of spring, summer, looking for a super[intendent]. That's not going to happen. It's unrealistic."
Mittlestadt is nobody's fool. She couldn't have survived the last two years, the most toxic on this school board since the days of Superintendent Robert Corley 18 years ago, without the kind of cool-headed shrewdness that outmaneuvered hers or her staff's detractors–former Board members Janet McDonald and Jill Woolbright among them–at every turn. Not necessarily the fittest superintendent in the county's history (Jim Tager, her predecessor, rivals her on that score), she's always remained many steps ahead of those who might want to trip her up.
She's also aware of how Tager was ambushed and unnecessarily pushed out four years ago. Tager was at the top of his game, riding on the first A-District designation since the Bill Delbrugge era going back seven years, when McDonald declared at the end of a workshop one afternoon, without prior notice to Tager, that it was time to look elsewhere. Tager had to "retire" in compliance with a Florida Retirement System rule, but as is frequently the case with valued leadership–and innumerable top district staffers–he could have left the reins to a deputy for six months and returned, had the board signaled its approval. He had the three votes to stay. But they dragged their feet, and Tager wasn't going to take the chance. He left for good.




McDonald and Woolbright (who filed a criminal complaint against Mittlestadt) are no longer on the board. But their replacements–Will Furry and Christy Chong–are cut of the same stringy ideological cloth as their two predecessors, with others beyond the board pulling on those strings. They've been mum about Mittlestadt's future, likely for different reasons than Conklin's and Cheryl Massaro's silence, two members who have championed Mittlestadt and perhaps assume that their support is unquestioned. Chong was non-committal about Mittlestadt in an interview during the election campaign, while Furry deflected a question about the superintendent with truculence.
But with the clock ticking down and no one speaking up for weeks–the new board has been seated for three months–it wasn't surprising that at the end of Tuesday's "retreat" she brought up the matter of her future. The retreat, in a room called "The Beach" on the third floor of the Government Services Building, was designed to allow the board to speak more freely in a more relaxed atmosphere.
An unusually relaxed Mittlestadt had herself set the tone to that end three hours earlier. But when she spoke about her contract, the board might as well have been teletransported down to the stodgy board chambers on the first floor and into a quasi-judicial hearing.
"If you're not aware, my contract ends June 30, 2023," Mittlestadt began. "So that's four months from now. I've been here for three years. I'm proud of what we've been doing. We've been moving a lot of things forward. I believe we're visionary in planning for the future. So I think what's important to consider is four months to find the new superintendent: I want to put that out there, if that's this board's pleasure. I would also put it out there: I will be more than honored to continue to serve. But I think it's fair to the organization for you as a board to start having these discussions because change is a ripple effect, and you know how that happens to the organization. So if you can make those changes sooner than later, I would welcome those conversations."




There was a nine-second silence. Not one reaction from board members. Earlier in the session, the board members had filled whiteboard after whiteboard with one-word descriptions during an exercise about how they wished to relate to each other: "Honesty." "Respect." "Heard." "Kindness." "Graciousness." The words, written in big, bold script, were literally staring the board members in the face.
Mittlestadt–who'd actually led the whiteboard exercise–got zilch. Not a "thank you," not an off-the-cuff word of appreciation or gratitude, not a single compliment. It couldn't have been too reassuring.
So Mittlestadt broke the silence: "Our agenda meeting starts at three o'clock." That was in 20 minutes. Only then Conklin jumped in, saying she would bring up the superintendent's contract at the end of the workshop for a discussion.
The board took its break, moved to the larger conference room on the third floor where it holds its workshops, and as promised–almost three hours later, under "old business"–Conklin brought up the question formally. She was more direct, referring to "the superintendent's contract," not her future, signaling that the contract would be discussed, not Mittlestadt's fate.
Sally Hunt, one of the newer board members, was interested in a "360 review" that would include gauging public sentiment (or "stakeholder" sentiment) about the superintendent. The board has gauged public sentiment before, but when it was hiring a new superintendent, not when it was evaluating its existing one. Massaro said board members individually could speak to their constituents.
Changing the evaluation tool midstream would be premature, if not illegal: "Currently, Cathy is under a contract that is in place and in that contract, there's an evaluation tool," Conklin said. The evaluation tool could be changed at the end of the three-year term. "Right now we can't. We wouldn't be utilizing the tool that's been agreed upon as part of the existing contract."




That wasn't giving Mittlestadt enough clarity about what she needed to know: is her future in Flagler safe or not? She tried a second time.
"This board inherited me, right? So that's unique in of itself," the superintendent said, acknowledging the new board members. "And my contract does have language in there that says, if there's consensus, that can be extended. And so the path going forward–four months, I just want to be considerate, if you're going to make a significant change to the school district, four months it's going to happen very fast. And I think, again, in full transparency, continuing to serve is something that I would welcome those conversations on." She stressed that the conversations must happen, and happen very soon.
Kristy Gavin, the board attorney, told the board members that their first step was to decide by consensus whether they wanted to keep the superintendent, implying that they could have done that then and there. "Once that's decided, then we start taking a look at her actual contract," whether to change her pay, her benchmarks, her bonuses, any parts of her compensation package, Gavin said.
For the third time, Mittlestdat raised the question, and put the board on notice: she could be looking elsewhere. "Is this going to be workshopped?" she asked. "I just think it's important for clarity going forward, because I also have a career in education, and I can continue services–not that I want to–in other parts of the state."
Conklin asked Gavin to send out the evaluation tools to the board members, who could have one-on-one, closed-door meetings with the superintendent. They could then bring back their impressions to a workshop "where we can then discuss: do we offer, move forward with the contract or not." Conklin said that process would be "in fairness to you and in fairness to the district."




The superintendent is required to provide a self-evaluation. That's normally due by April 1, when a lot of the necessary testing scores are in. But that's too close to the contract's expiration date. Mittlestadt tried for the fourth time to get some breathing room: "I don't want to put the board in position to have to within a couple of weeks try to secure a new leader for this district," she said. "So that's why my language says it could be a consideration of an extension, so even if you do a six-months extension or a year extension, I think it just allows there to be a bridge for where you choose to go as a school board, based on where we have gone the past three years."
Again, the board members said nothing to that effect. Not so much as a few months' extension to allow them legitimately to work through performance reviews. That's when Conklin spoke her support most directly, asking for the self-assessment much sooner, and for a March workshop when the superintendent's fate would be discussed.
It could not possibly surprise anyone if, with a board as tepid about the superintendent's future as it's been timid about securing it–and with memory of Tager's putsch so recent–Mittelstadt's resume doesn't soon end up in the hands of head-hunters.
Reader Interactions