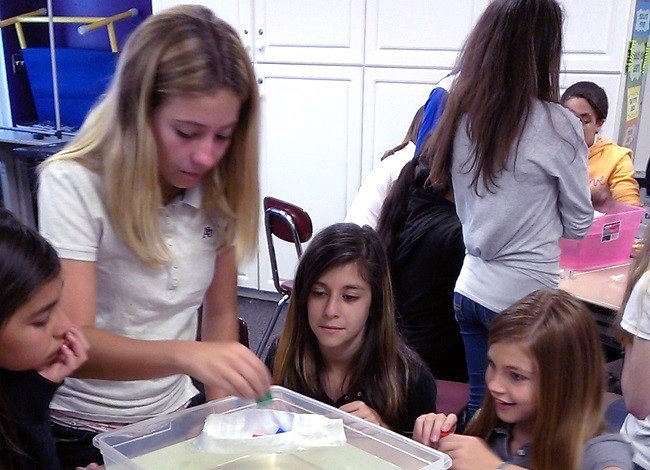 The non-profit Flagler County Education Foundation has awarded $16,000 spread over 17 mini grants to Flagler County School District teachers, as part of its Dell Trayer Teacher Mini-Grant Program. The full list of teachers and projects is below.
The 17 teachers were selected from 30 applicants based on criteria that included innovation, impact, replication, the number of students involved and project documentation. According to estimates provided by the teachers, some 6,700 students, or half the district's student population, will be affected one way or another by the projects being funded by the grants.
"We are thrilled each year to award grants for teachers to implement such a wide variety of impressive projects designed to improve hands-on learning in their classrooms," said Deborah Williams, executive director of the foundation. "These teachers have demonstrated year after year that with a few extra dollars for resources, their projects' impact on the students is invaluable."
The grants were awarded to teachers from all school levels, including elementary, middle and high school, and each received a maximum of $1,000 for his or her project.
This year, the projects were designed to assist Flagship School programming. The teachers were encouraged to consult with school leadership to design a project that compliments the school's efforts to measure increased interest in STEM (Science, Technology, Engineering and Math) education.
"Deciding upon the 17 out of 30 teachers proved especially challenging this year," said Shelley Chapman, FCEF board member and Dell Trayer Teacher Mini Grant committee chair. "We were impressed with the innovative ways in which all the teachers were able to connect their individual schools' Flagship programs with their classroom projects."
The Dell Trayer Teacher Grant mini-grant program rewards and empowers teachers who receive grants for innovative projects that improve student performance, especially in science, technology, engineering and math.  Students participate in hands-on learning using their skills and knowledge in a cooperative learning environment.

Flagler Education Foundation Mini Grants Winners (Dell Trayer Innovation Grants, 2014)