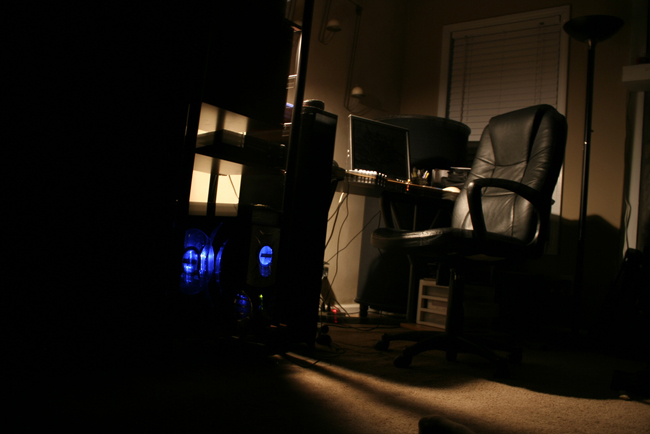 Last Updated: 6:58 p.m.
Michael Stavris, an officer with the Bunnell Police Department, was jailed Tuesday evening on two charges of computer porn and a charge of criminal use of someone else's personal information following a Florida Department of Law Enforcement investigation into several instances where Stavris is accused of soliciting naked images from underage boys.
Stavris was being held on $125,000 bond, but had bonded out by morning. Based on a certified letter the city sent him. he has been suspended without pay pending the outcome of the investigation. Stavris's base pay was $35,651.
According to the FDLE investigation, Stavris created a fictitious profile in 2013, using a local girl's information, and passing himself off as a high school student. Stavris then communicated with the girl's classmate through the Facebook profile on several occasions to request images. See the full arrest report below.
"FDLE Agents began the investigation in December 2013 after receiving a complaint regarding Stavris," the FDLE said in a release issued this morning. "The investigation shows Stavris created a fraudulent Facebook account posing as a teenage girl. Using this fraudulent account, he solicited teenage boys. After the conversations turned sexual, Stavris requested sexual photos from the victims."
In one instance, on April 27, 2013, the investigation states, Stavris's fictitious Facebook persona became friends with a boy at Flagler Palm Coast High School and engaged in a chat, sending the picture of what appeared to be adult breasts.
"Let me see the face and the tits," the boy replied.
"When we hang out," Stavris's Facebook persona said. The two exchanged location information. The boy asked to come over. Stavris's Facebook profile said "she" was at the beach, then asked: "Show me ur dik." "Later when you show me your stuff," the boy, who was 15 at the time, replied.
The investigator's affidavit recounts another instance, on March 26, 2013, when Stavris's "Facebook profile," as it is referred to in the affidavit, became friends with another boy at FPC, and in June had a chat prompted by Stavris's profile asking the boy if he'd ever received oral sex. When the boy replies that he had, Stavris's profile tells him, "I'm bi," and asks the boy for an image of himself receiving oral sex.
"idk if i can get a girl that would let me take a pic doin that to me lol but your bi?" the boy asked.
"Ya and I know u got pics in your phone of other giels [sic.]"
The boy tells him he's deleted all the images. The investigator, who met with the parents of every child involved in the alleged exchanges, notes that the boy is 14.
In a similar instance with another user, the user rebuffs the requests for images, saying, "That's weird."
Stavris admitted to creating the fake profile last Nov. 28, according to the investigator's affidavit. The FDLE obtained a search warrant to look through the account Stavris had created, and notes another instance, in late 2012, of the Facebook profile exchanging messages with yet another Facebook user, using the same pattern: Stavris's Facebook account asking the other user to send a picture of his penis. The picture of a black male's post-pubescent, erect penis was sent. Once received, Stavris's Facebook profile asked: "Take a pic of u jerking it."
No other picture was sent.
The investigator spoke with the Facebook user whose identity was allegedly stolen. She told the investigator that she had never authorized any such use of her account.
After this article appeared, Shonna Foster, who said she was the mother of the girl whose identity was allegedly stolen, contacted FlaglerLive and asked that her daughter's name, used in the fake Facebook account–Dallas Brown–be published. " I ask that you do this to help clear her name since she has suffered for a long time having people not believe they were talking to someone else," Foster said.
Stavris was charged under the Computer Pornography and Child Exploitation Prevention Act, which prohibits any act to "Seduce, solicit, lure, or entice, or attempt to seduce, solicit, lure, or entice, a child or another person believed by the person to be a child."
Larry Williams, the Bunnell city manager, was reviewing Stavris's record when reached for comment early this afternoon. "We have suspended him without pay," he said. "I know everybody else does it with pay. We've checked with legal counsel and our legal counsel felt that was within our legal purview to do that, based on the type of charges."
Stavris started as a cop with Bunnell on Feb. 23, 2011, and is currently a corporal according to city records. Asked for comment about the arrest, Williams said: "Not right now because it's still an ongoing investigation." But he addressed the issue of staffing. "We'll fill the gaps with who we now have. If we do fall short any place I've got full confidence that the sheriff's office will augment what we're doing."
Stavris had worked for the Department of Agriculture and Consumer Services for two years until January 2008, worked almost two years in the Edgewater Police Department, then less than a year with Duval County school police before starting in Bunnell. His personnel record shows no blemishes in his three years with the Bunnell Police Department.
His February 2013 evaluation, while not outstanding, showed him to be consistently above standards, rarely calling in sick, showing initiative, consistently completing quality work and doing so without having to be prompted. That was an improvement from the previous year's evaluation, when he was told that he needed to be "more consistent in taking the initiative." The 2012 evaluation, which showed him merely to be meeting expectations, also found that he needed to "apply more detail when writing reports" and "could improve in his empathy towards the public," but otherwise found that he did a good job overall in his public interactions, thought things through when making decisions and "consistently steps up when coverage is needed." He was asked to improve his consistency–something on which he followed through, as attested by his 2013 evaluation.
"This is my daughter's fiancée," Sherri Blevins told FlaglerLive in a recorded phone message earlier, "this article is totally false. The charges that were brought up have to do with an old girlfriend who got in trouble with something that she was doing."
Blevins said the report said "nothing about child pornography and nothing about porn with young boys." The investigative report below, however, specifies that Stavris admitted to creating the fraudulent Facebook account and himself gave investigators the login and password information. The investigation details the instances of solicitation and requests for sexual images from underage children.
FDLE is asking that if anyone has additional information about Stavris, please contact the Jacksonville Regional Operations Center at (904) 360-7111.

Michael Stavris FDLE Investigation Into Computer Porn Allegations